SALMON, Idaho, Sept 18 (Reuters) - A warming trend has contributed to a sharp rise in the number and size of wildfires on forest lands in the U.S. West, where big burns are likely to become the norm, according to a report released on Tuesday by a climate research group.
The average annual number of fires that cover more than 1,000 acres (405 hectares) has nearly quadrupled in Arizona and Idaho and doubled in California, Colorado and six other Western states since 1970, the study by Climate Central showed.
The report, which analyzed 42 years of records about fires on U.S. Forest Service lands in 11 Western states, linked rising spring and summer temperatures in the region to a fire season that begins earlier, ends later and sparks larger, more frequent blazes.
Those include so-called megafires, or blazes that raze upward of 10,000 acres (4,050 hectares). Those fires erupted at a rate seven times greater each year in the past decade in the western United States than in an average year in the 1970s, according to the report.
The 2012 fire season in the West has claimed several lives, torched hundreds of homes and forced the evacuation of thousands of residents. Record blazes have also been recorded in New Mexico and Oregon.
Conditions contributing to the increase often include fire suppression practices that fostered forests packed with fuel, early melting of mountain snows and fire seasons in the West that now last 10 weeks longer than in the 1970s, the report said.

Richard Wiles, director of research for Climate Central - a nonprofit scientific research organization that reports on climate change - said the data showed massive wildfires greater than 100,000 acres (40,500 hectares) do not appear in records before the late 1980s.
"It may be a relatively new phenomenon for national forests," he said.
Steven Running, professor of ecology at the University of Montana, reviewed the report and told Reuters in an interview that Western states should prepare for more of the same.
In addition to lives and property, the fires threaten human health by pumping smoke, containing noxious gases like carbon monoxide and fine particles, into mountain valleys where historic settlements gave way to present-day communities.
"What public health people need to understand is these may be multi-week or even multi-month episodes and what is needed is a longer term plan to address health issues," said Running.
The pollution emitted by the burning of trees and plants can irritate eyes and lungs and worsen chronic heart and lung diseases, according to the Centers for Disease Control.
Exposure to smoke from landscape fires causes 339,000 deaths a year worldwide, mostly in sub-Saharan Africa and Southeast Asia, according to a study in May in "Environmental Health Perspectives," a peer-reviewed journal published by the National Institute of Environmental Health Sciences.
Pollution levels from wildfires this year have triggered numerous air quality warnings in parts of Idaho, Montana and Wyoming.
In Idaho, health and environmental officials said a weeks-long pollution event in Salmon from a 320,000-acre wildfire just north of the east central Idaho community is unprecedented.
"This is the only time we've seen this and there does not seem to be an end in sight," said Jim Vannoy, program manager for environmental health education and assessment with the Idaho Department of Health and Welfare. (Editing By Tim Gaynor and Christopher Wilson)

Before You Go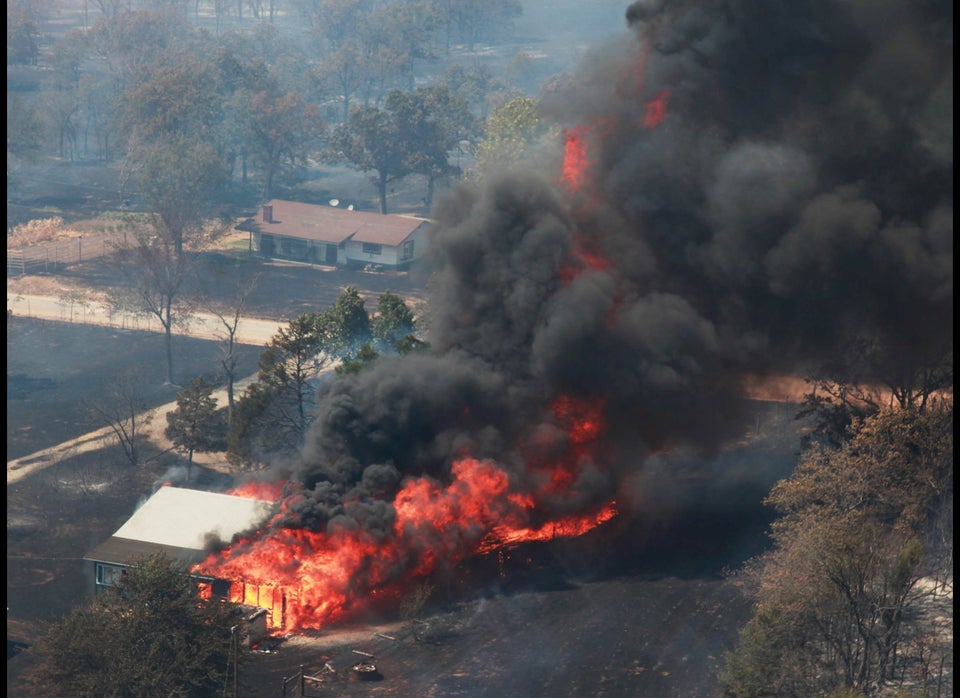 Oklahoma Wildfires
Popular in the Community