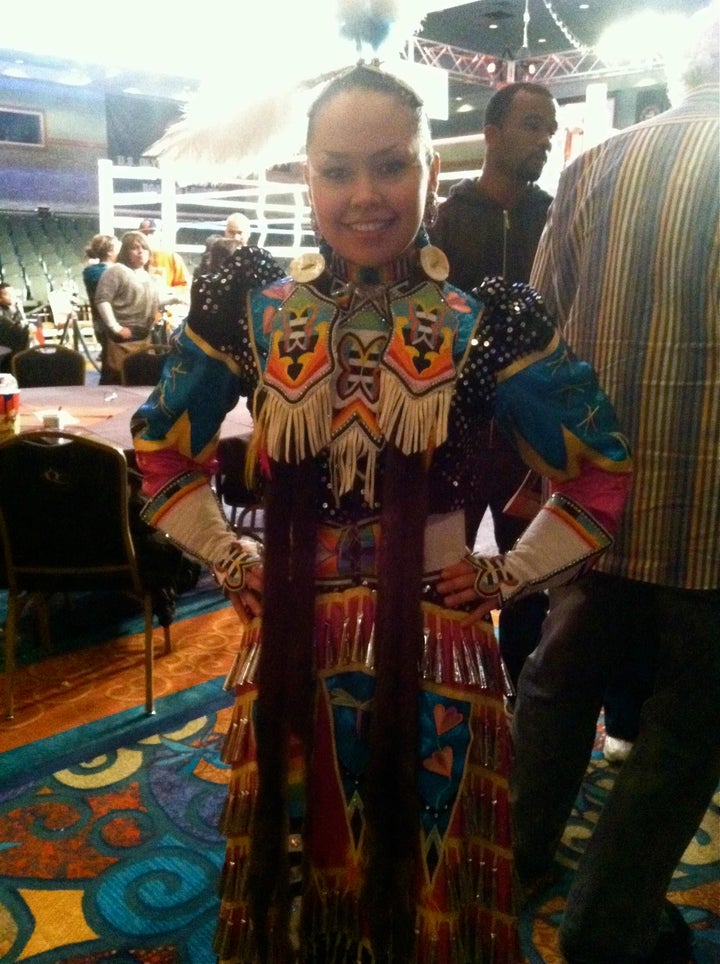 Boxing has always been a sport for the underdog - women's boxing doubly so - and nobody appreciates underdogs more than the Kalispel Tribe.

"This has been a complete blessing for all of us," said tribal elder Francis Cullooyah. "It's wonderful to see these ladies striving for recognition. I got to talk to Claressa Shields about growing up, coming from poverty and trying to get yourself off the ground, and she said, 'You're just like me.'"

Taunie Cullooyah in her jingle dress

Great canoe builders and fishermen, the Kalispel once ranged over millions of acres across Montana and Washington State, but their lands and population dwindled after white colonization. By 1911, there were only one hundred members, and the community grappled with poverty, unemployment, and worsening alcoholism. Life was hard on the small floodplain along the Pend Oreille River.

"There was only one phone line for the whole tribe," recalls Albert Thomas, who drove me out for a visit to the reservation. "The well water was orange. You could make green Kool-Aid and it would still be orange."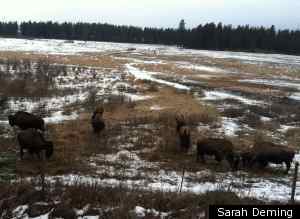 Buffalo grazing on the reservation

Facing bankruptcy, the elders made the difficult decision to build a casino. At first they were adamant about not serving alcohol, but they relented. I enjoyed our frank discussion about the ethics of this decision. When it comes to making money, I've always agreed with the Bhagavad Gita: "No one should abandon duties because he sees defects in them. Every action, every activity, is surrounded by defects as a fire is surrounded by smoke."

Manresa Grotto, a holy site

Prosperity suits the Kalispel. They've invested in projects such as the vast and airy Camas Center for Community Wellness, where I saw teens playing pool, toddlers descending water slides, thirtysomethings lifting weights, and old ladies lunching.

"We're not healthy unless the entire community is healthy," said Francis.

On the ride back, Albert sang me a circle dance song.

Thanks to my spiritual adventure, I floated into the fights on a natural high that no bad decision could quell. Fortunately, all the decisions were excellent. The evening began, adorably, with a bout between two local girls in the 10-11 year age bracket. The ladies of the press row melted.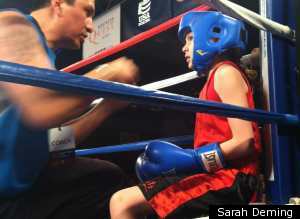 Little Maria Moore gets some corner advice
I told Raquel Ruiz that I might cry. Even the fact that they fought one-minute rounds was cute.

"They look like puppies with big paws," said Ariel from the New Yorker.

Bravo to the New Yorker for covering this. The Atlantic Monthly is here as well. It's nice to see the ladies getting the attention they deserve.

Tonight was the finals of the challengers bracket. Tyrieshia Douglas and Christina Cruz kicked it off with a rematch of Tuesday's fight, in which Cruz outboxed Douglas. This time it went the other way. Tyrieshia looked great, getting in behind the double jab and landing hard lefts to the body and head. In the final round she scored over and over with the right hook. The score was 22-14, advancing Douglas to the finals tomorrow against Marlen Esparza. These two haven't fought yet in this tournament, but Esparza's looking pretty unbeatable.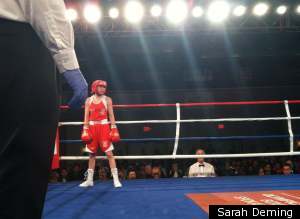 Christina Cruz

I found it astonishing that Cruz fought this whole tournament without her trainer Marcos Suarez. She found good people to fill in - tonight I believe it was Tiffanie Hearn's trainer Rocky and the lovely Carrie Barry - but there's no substitute for your own corner. When I asked her about it earlier this week, Cruz looked wistful and said he might come for the semis. If it was just money that kept Suarez in New York, that's a crying shame. Cruz and stablemate Aracil would have fared better with a familiar hand on the reins.

Case in point: in the next bout, it was only Mikaela Mayer's ability to execute the game plan devised by her excellent trainer that allowed her to take N'yteeyah Sherman 26-25.

"I was up all night thinking about how to beat her," Al Mitchell told me. "She's really tough. We couldn't stand right in front of her, because she gets off all those fast combinations. Then I realized N'yteeyah's only strong hand is her right. So I told Mikaela to box, moving to her right constantly so she's boxing N'yteeyah's jab hand."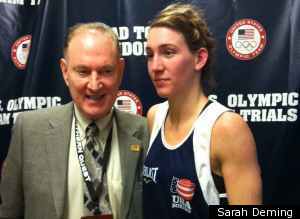 Mikaela, who is an athlete rep on the USA Boxing Board, with Chairman Hal Adonis

Mikaela showed incredible heart when she kicked her activity level up a gear in the last minute of the fourth round. Every fighter is tired at this point, but for some reason I feel like Mikaela has had an extra grueling run. Let's hope she has enough in the tank to challenge Queen Underwood tomorrow, in a rematch of Tuesday's fight. Al Mitchell is probably up right now, plotting.

Raquel Miller's lack of experience finally caught up with her as she lost to the cagey Tika Hemingway 21-6. Hemingway gets a rematch with Claressa Shields tomorrow.

It's an uphill battle for Hemingway, Mayer, and Douglas. A loss tomorrow will send them home. A win won't put them on the team yet, but will mean a rematch on Sunday, which will mean I might miss my flight home.
Calling all HuffPost superfans!
Sign up for membership to become a founding member and help shape HuffPost's next chapter