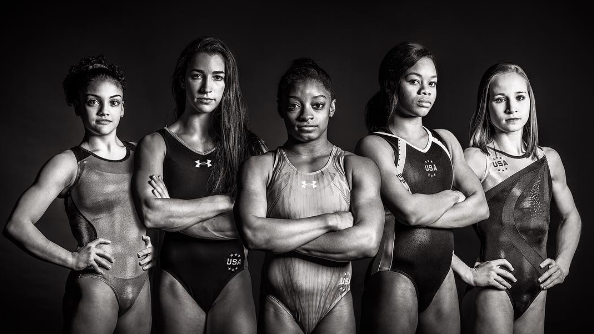 Thanks to the success of the U.S. training program, there was a deep bench of athletes jockeying to fill the five openings. The selection process, like the sport itself, isn't objective ― which means that if the competition doesn't get you, the biases of team coordinator Marta Karolyi, who has the final word on who wears the Team USA leotard, might.
After two nights of trials in San Jose, California, and months of observation by the selection committee, we have our team. The winner of the trials automatically gets a spot. The other four members are chosen by the committee, which considers their performance at trials, their international competition experience, their consistency at meets and their ability to deliver strong performances. The team won gold in London, and they want to do it again in Rio. If the group is assembled correctly, there's a good chance they will.
America, meet your U.S. Olympic gymnastics team:
Douglas is the defending Olympic champion, the first African-American woman to win all-around gold at the games, and newly minted reality TV personality. She took a few years off after London and started competing again in 2015. She won silver in the all-around at the World Gymnastics Championships last year, and came in 4th all-around at nationals this year.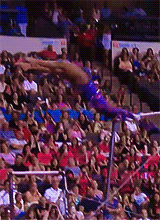 Douglas had a rough competition on the first night of Olympic trials. She looked shaky on floor, took big steps on her landings on vault and bars, and then fell off the beam while doing a turn. (A fall is a 1-point deduction.) She finished the night in 7 place.
The second night was rough as well. Douglas fell off the beam again and had more iffy landings on floor. She finished up in 7th after the two nights of competition.
But since she's the defending Olympic champion, there's one thing you'll hear about Douglas over and over: She knows how to perform when the pressure's really on. She's the first champion to head back to the games since Nadia Comaneci did it almost 40 years ago.
Next up is another face you'll probably recognize: Aly Raisman.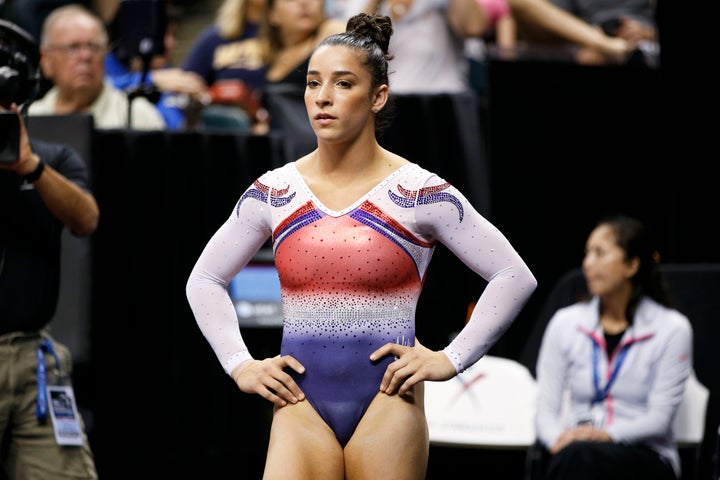 If you watched the U.S. women win gold in London, you remember Raisman's deal-sealing floor routine, and the hilarious videos of her parents nervously squirming through her routines. At 22, Raisman is the group's older sister figure, and will probably be team captain. Like Douglas, she's been working on a comeback in the last two years ― she was on the gold medal-winning World Championship team last year, and came in second all-around at nationals this year. Some commentators think she's in even better shape than she was in 2012. Her strengths are vault and floor: She's a tumbling machine.
Raisman turned in a solid performance on the first night of trials, staying steady on the beam after a string of falls by other gymnasts. She did one of the meet's most difficult vaults, the infamous Amanar. Her second night was just as impressive ― she's the most experienced person competing today, and it showed. Raisman finished the meet in third, having had the most consistent and solid performance of pretty much anyone.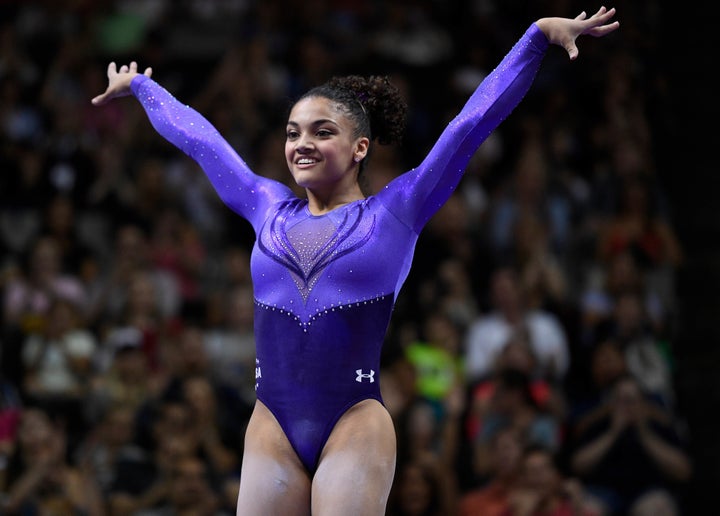 Aka the human emoji, aka the woman NBC viewers are about to fall head-over-heels in love with. There isn't a lot of dance left in gymnastics, but most of what remains you'll find in Hernandez's floor routine.
And that's not all she brings to the table. She's explosive and elegant on beam.
Hernandez finished the first night of competition in second place. She made a fairly large mistake on bars, but managed to recover. And except for a little wobble on beam, she turned in a great performance. On the second night, she locked it up, keeping her second-place spot. Despite some shaky landings, she made it clear to everyone that she belongs in Rio.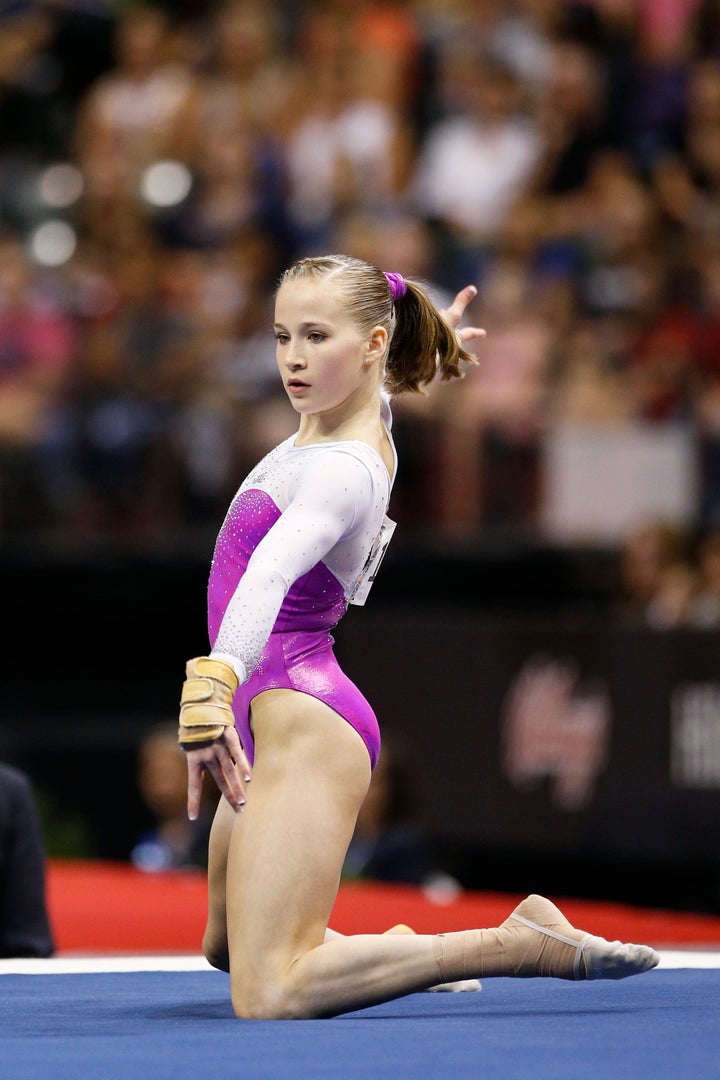 Kocian is the current world bars champion, making her a welcome addition to a team that's weakest on bars. On the first night of trials, she turned in a solid performance on the two events where the team would need her most: bars and beam. Since only three gymnasts from each country can compete in each event in the Olympic team final, some gymnasts are chosen solely for their ability to deliver best-in-the-world routines on one or two events. Kocian fell off the beam on the second night of competition and fell back to 9th place, but her bars performance was spectacular.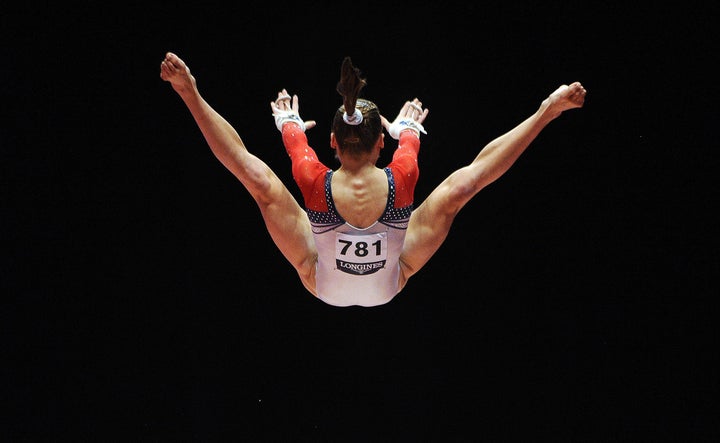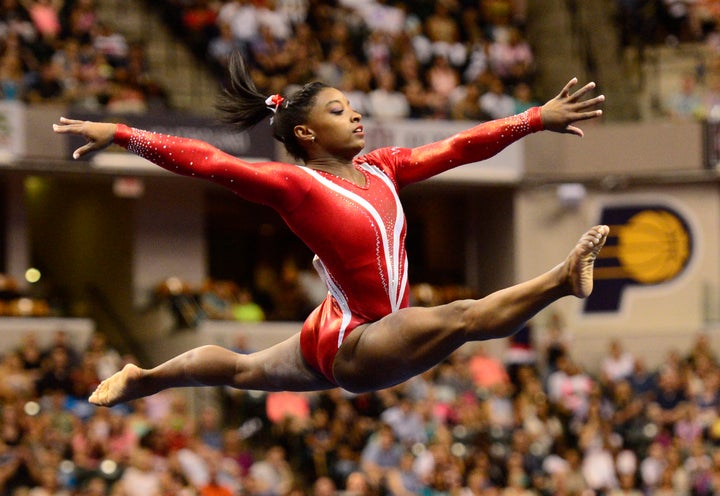 There was never any chance Simone Biles was not going to make this team. She's been the world champion three years in a row (the only woman ever to pull that off), and national champion four years in a row (the first American woman in 42 years to pull that off). Biles might be the greatest gymnast of all time. She is the favorite to win the all-around competition in Rio, which would make four Olympic Games in a row where an American woman has won that title.
Biles had an uncharacteristically rocky first night at Olympic trials. She flubbed a move in her bar routine. Then, she nearly fell off the beam in the infamous wolf turn ― a move that makes for a great gif, but even when done by a master like Biles is pretty awkward and ugly. Seriously, just ban the wolf turn.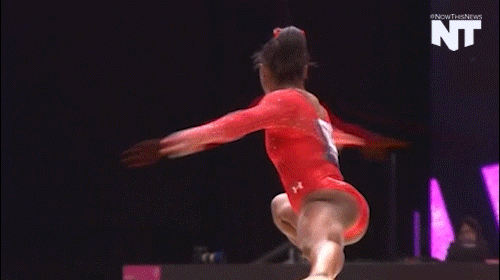 Biles attributed her wobbles and mistakes to an excess of adrenaline ― the atmosphere in the arena, she said, "was just insane."
She still won the first night of competition, finishing a full point ahead of Hernandez, who took second place. That means Biles could have fallen off out of that wolf turn and still tied for first. She's that good. On night two, she actually DID fall off the beam, after years of performing like a near-perfect gymnastics automaton. But Biles starts so far ahead, because the degree of difficulty on her routines is so high, that she could have fallen twice more and still won. THAT'S HOW GOOD SIMONE BILES IS.
The team will be joined in Rio by three alternates: Ashton Locklear, whose strengths are bars and beam; MyKayla Skinner, who's a powerful vaulter and tumbler; and Ragan Smith, who's also very strong on bars and beam and who is, as the NBC commentators noted many times this weekend, aggressively adorable.
We can't wait to see this crew perform in Rio.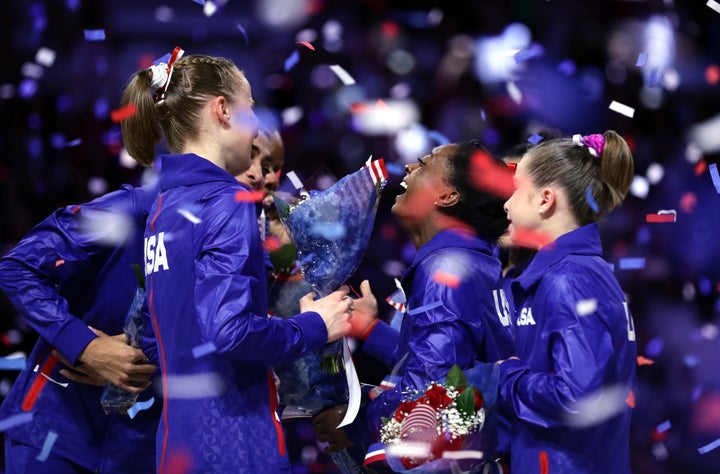 CORRECTION: A previous version of this article misstated that Simone Biles fell off the beam during the first night of the trials.
For more Olympic coverage:
Related
Before You Go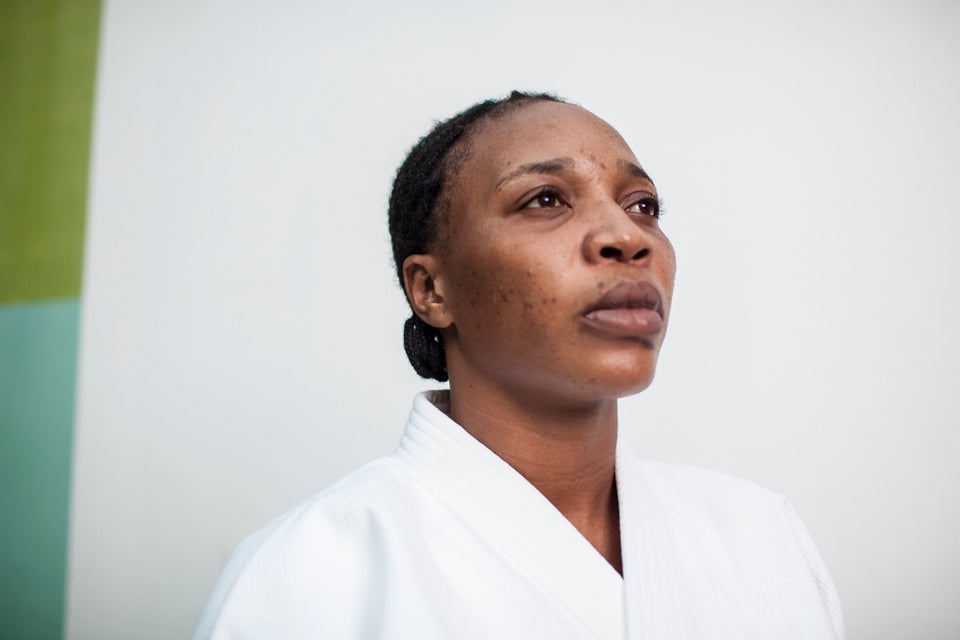 Meet The 2016 Olympic Refugee Team