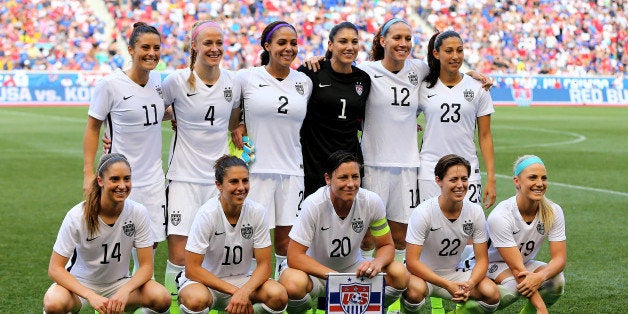 However, there was a much more important number from the evening: 26,467.
Twenty-six thousand, four hundred and sixty-seven was the official attendance number of the sold-out crowd at the Red Bull Arena in Harrison, New Jersey, with many of the fans donning red, white and blue and chanting the names of players: Alex Morgan, Abby Wambach, Hope Solo and Sydney Leroux.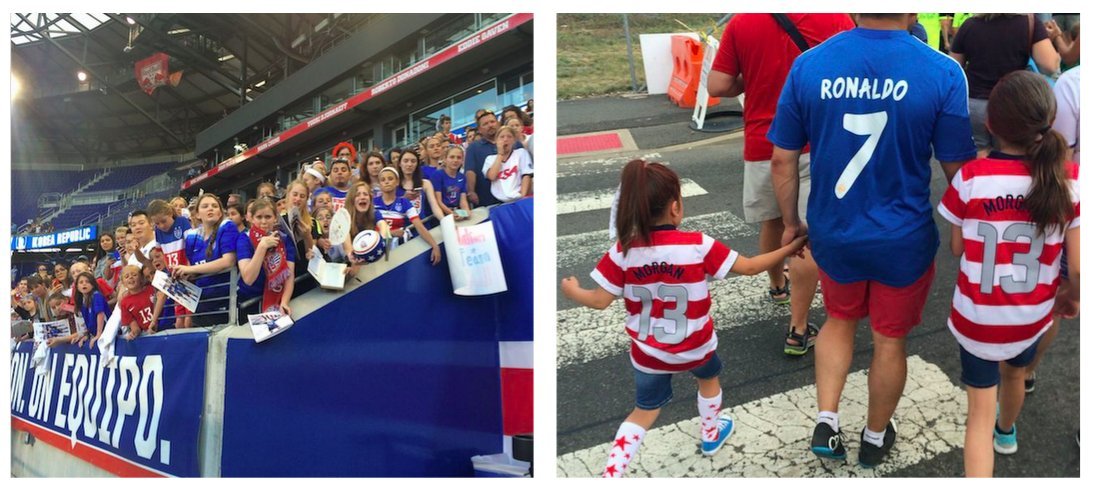 Fans attend Saturday's USWNT match against the Korea Republic.
(Credit: Lucy McCalmont)
It's stark reminder of just how far women's soccer has come in America since the women's last World Cup send-off game in 2011 against Mexico, also played in Red Bull Arena.
The size of that crowd? 5,852.
Saturday's match wasn't an anomaly. The sport has been growing with record attendance numbers for the national team. It's enjoyed sold-out crowds for its two previous games, and 35,817 witnessed the U.S. Women's 4-0 victory over New Zealand at Busch Stadium in St. Louis, Missouri, on April 4, a record number in the team's history.
For the players, this year's World Cup is an opportunity to take the momentum that largely started with the legendary 1999 World Cup-winning team and solidify the presence of women's soccer in the U.S. permanently, with hopes that the enthusiasm may extend long-term to the professional and youth levels.
"We don't want to go through our group stage and get to Game 4 and Game 5 and lose, because that means what these fans have done for the last four years, and following us, and building the game and building women's soccer -- it'll be all for nothing," team captain Abby Wambach told The Huffington Post.
"So I want to give these fans something to cheer about and continually cheer about," she added.
A World Cup victory could be a particularly bittersweet ending for Wambach, 35, who appeared in her first professional game 13 years ago and has played in all three iterations of professional women's soccer in the U.S., starting with the first professional women's soccer league, the Women's United Soccer Association. She then played for the Women's Professional Soccer league, then today's National Women's Soccer League. With her career winding down, she aims to add a World Cup ahead of her exit.
Wambach, who joined the national team in 2001, has won three Olympic gold medals and taken over as the the face of women's soccer for her generation. She's topped, and since long passed, Mia Hamm's once-held record of 158 goals, netting 182 (and counting) of her own so far.
And while Hamm jerseys may have been aplenty following the team's historic 1999 championship and in the many years since, on Saturday it was Wambach, Morgan and Leroux's names on the backs of jerseys worn by girls, many of whom weren't even born when former USWNT player Brandi Chastain made what has become the most iconic goal in U.S. women's soccer history, beating China 5-4 in a penalty shootout.

Brandi Chastain's unforgettable celebration following her game-winning penalty shootout kick.

Nevertheless, long after Saturday's match ended, these young girls were kicking soccer balls around in the gravel parking lot just outside Red Bull Arena, surrounded by empty warehouses and in-construction condo buildings.
Rampone acknowledged that players like Hamm, Chastain and Julie Foudy "paved the way," adding that "they're not forgotten." She echoed Wambach on how critical the World Cup will be in continued success of women's soccer.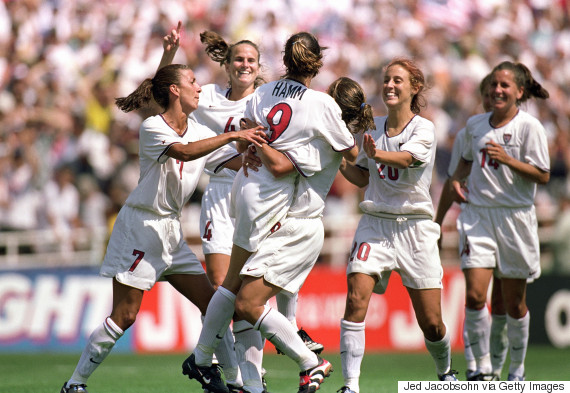 Hamm and teammates celebrate after winning the 1999 Women's World Cup. (Getty)

"I want to leave this sport in a better place than I found it," Rampone said. "And that's the goal: to keep pushing and have these young kids to aspire to not only have the U.S. to look up to, but now they have a professional league, and there's more opportunity for girls to go further past college."
The 1999 Women's World Cup game had an estimated viewership of 40 million and just over 14 million watched the U.S. fall to Japan in the 2011 Women's World Cup final.
Rampone agreed that the 1999 team really resonated with fans, adding that "we had a little bumps in the way, where I think attendance started to drop."
She believes women's soccer, however, is "heading in the right direction."
All this shows a vastly different landscape for women's soccer in the U.S. -- and the roaring crowds at Red Bull Arena (with a noticeably higher pitch than most soccer matches) emphasized that point ahead of Canada. But for the women, they've hardly reached the finish line.


Alex Morgan celebrates after scoring a goal during a 2012 Olympics match. (Getty)

"We could do something really special with this World Cup, and if we win it, it'll be a major turning point in women's soccer," said midfielder Carli Lloyd as groups of young girls screamed her name from the stands.
And one group of girls, just in kindergarten when the U.S. women's team won in 1999, said they are heading to Canada next week, hoping to see history be made again.
"Just growing up watching them has been incredible," Kelly Westerman, 22, said.
And whether it's from older fans of the 1999 team, or new generations aspiring to be the next Alex Morgan, Wambach said it's the support that keeps them going.
"For me, it makes even more special, it makes it -- makes me wanna play more, makes me wanna play harder, makes me wanna reach for that last ball," Wambach said. "And I want to go off into the sunset with a world championship around my neck."


Wambach celebrates with her team during a 2012 Olympics match.
Calling all HuffPost superfans!
Sign up for membership to become a founding member and help shape HuffPost's next chapter