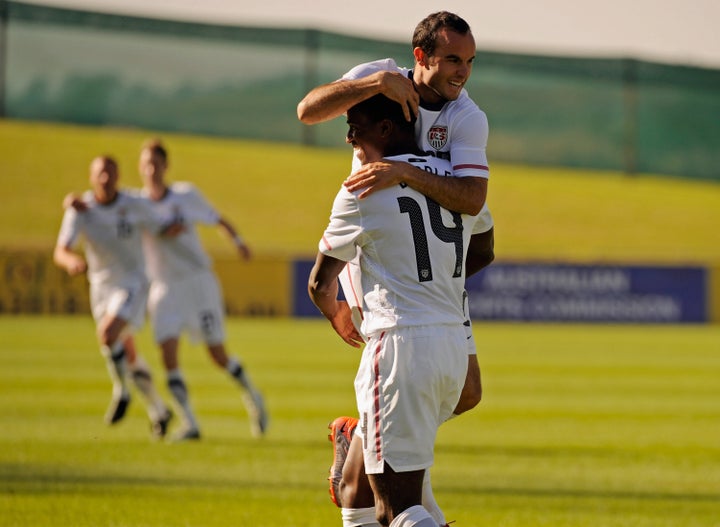 USA fans all over the world were exhausted by USA's dramatic come-from-behind tie. Once again, like an inexperienced house painter, they trapped themselves in a corner with lackadaisical, idiotic, dopey defense. Coach Bob Bradley, who made inspired substitutions late in the game, must figure out a way to get Team USA to understand that when the whistle blows at the beginning of the game, they have to start planning. As opposed to inviting easy, unwanted, and painful penetration. Sure enough, barely 10 minutes in, above the penalty box, Michael Bradley lollygagged about while the Slovenian striker Birsa had time to eat a sandwich, have a beer, and score a lovely left footed goal. Then, after barely missing a chance of their own, Team USA were ripped apart like the guts of a young wildebeest by a pack of ravenous dogs. And suddenly, America was down 2-0, their dreams of World Cup glory fading like smoke in a wind tunnel.
But this is a team that never, ever, ever says, "Die." Tim "T-Ho" Howard, at fault on neither goal, was at his screaming best, bad ribs be damned. Gooch, with his gigantic head rocking Wolverine muttonchops, was again a just-mobile-enough rock in the defense. Jozy "Pussycat" Altidore was a highly skilled tank engine who could not be knocked off the ball. Jay "Maximum" DeMerit laid some heavy wood on the vampiric Slovenians, who remain undead as they sucked the blood of yet another opponent. Son of coach Michael "Bigboy" Bradley finally got his South African groove on. He was everywhere, tracking back, intercepting opponent missiles, playing some restaurant-quality passes of his own. Landon "Manchild" Donovan ran about 50 miles up and down the flank. Finally, it all paid off, when Donovan got his junk out and started waving it around. He walked right into Slovenian's nether regions, looking for someone to pass to. No one was there. So he created a piece of World Cup magic, and finally put his mark on the continent of Africa. It was a goal of staggering brilliance, rifled over the head of the keeper into the roof of the net. Suddenly, Team USA World Cup could be heard whispering, "We're not quite dead yet."
Slovenia tried playing keep-away, and in doing so lost their Eastern European aggression. America, on the other hand, just kept coming. This is what we do. We just keep coming. After a beautiful knock down by Altidore, "Bigboy" Bradley galloped into Slovenia's box like a stallion after a mare in the heat, and took the goal with a spectacular aplomb, bombing the ball past the brilliant but suddenly impotent Slovenian keeper, providing an ecstatic balm for Americans everywhere. Game on!
Koman Coulibaly. Remember that name. He is the vile culprit who cost Team USA a crucial victory, and one of the great comebacks in American sports history. For no apparent reason, he disallowed a lovely goal by Maurice Edu, which would've made this final score 3-2 for America, basically ensuring USA of going through to the next round. It was a shocking display of idiocy, and many are calling for close scrutiny of Koman Coulibal's bank account, to see if the fix was in and he was paid off by the Mali mafia. There can be no other explanation, except for possibly grotesque, pathetic, inexcusable ineptitude. But then again, this was but one of a series of horrendous decisions made by this monstrosity of a man. Early in the game, a ball struck an American player in the face. This moron, masking as a referee, produced a yellow card. I've gone back and read the rules of soccer: if you get hit in the face of the ball, you don't get a yellow card. This man should never be allowed to referee ever again anywhere.
What's next? USA must clearly thump weak-ass Algeria, preferably by four or five goals. And they must, ironically, now root for England to bring themselves back from the dead and beat Slovenia next week. And for every American who's said that soccer is boring, I ask you this: What game were you watching?
David Henry Sterry is, with Bay Area literary legend Alan Black, co-author of The Glorious World Cup: A Fanatics Guide, for those who like their soccer with a side of kick ass.
Calling all HuffPost superfans!
Sign up for membership to become a founding member and help shape HuffPost's next chapter