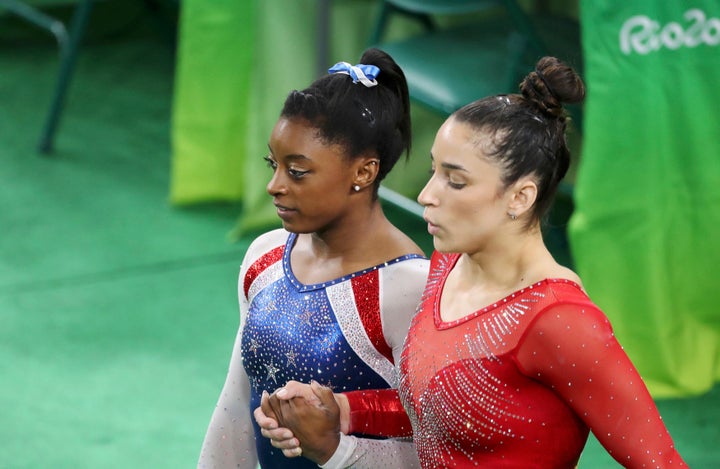 Three USA Gymnastics directors have resigned amid fierce criticism that the organization failed to protect its athletes from team doctor Larry Nassar, a serial predator whose sentencing hearing continues this week.
"USA Gym Board of Directors executive leadership ― Chairman Paul Parilla, Vice Chairman Jay Binder & Treasurer Bitsy Kelley ― tendered their resignations, effective Jan. 21, 2018," a tweet from the organization on Monday says. "The Board of Directors will identify an interim chairperson until a permanent selection is named."
The announcement comes during Nassar's sentencing hearing on 10 counts of first-degree sexual misconduct, which began Jan. 16 and will end later this week. The former USA Gymnastics and Michigan State University team doctor has been accused of sexually abusing over 140 young girls under the guise of medical treatment over the course of two decades.
Kerry Perry, president and CEO of USA Gymnastics, said she supports the resignations.
"We believe this step will allow us to more effectively move forward in implementing change within our organization," Perry said in a statement. "As the board identifies its next chair and fills the vacant board positions, we remain focused on working every day to ensure that our culture, policies and actions reflect our commitment to those we serve."
USA Gymnastics did not immediately respond to HuffPost's request for further comment.
Attorney John Manly, who represents more than 100 Nassar victims, called the resignation "a public relations ploy" in a statement to HuffPost.
"In speaking with some of our clients this morning, all of them wondered whether USAG will change the position they have taken in court that USAG had no duty to warn its member gymnasts even though they knew Larry Nassar was a molester," he said. "Until that happens, this move is simply a public relations ploy to save a sinking ship of an organization."
Manly demanded Congress open an investigation into how the U.S. Olympic Committee, USA Gymnastics and MSU have handled the Nassar accusations. He added that many of the board members who remain were "well aware of USAG's concealment of sexual abuse, its non-compliance with reporting statutes and harsh treatment of sexual abuse survivors."
"It should not have more than 100 young women publicly baring their souls about their sexual assault by Larry Nassar to finally get USAG to act," Manly said. "It's important to note that 54 USAG Coaches have been credibly accused of sexually molesting little girls and boys in the last 20 years. Child molestation is a cancer in USAG and those responsible need to be completely ousted from the organization so there is nothing left of their influence."
More than 100 women have read victim impact statements during Nassar's sentencing. Many called out USA Gymnastics and Michigan State University for disregarding or failing to report warnings about Nassar's abuse.
It appears the organizations "only see us as a financial burden that needs to be silenced and squashed, devalued and discredited all while trying to say they are sorry it happened to us and are on our side," survivor Larissa Boyce recently told HuffPost.
Olympic gymnast Aly Raisman wrote in a series of tweets this month that USA Gymnastics is "100 percent responsible" for Nassar being allowed to continue his abuse for so long.
"We must understand how this happened to make sure it never occurs again," Raisman tweeted. "... The system has to change so that athletes are safe. Enablers need to be held accountable."
The president of USA Gymnastics, Steve Penny, resigned in March 2017 amid the investigation.
Nassar is already serving 60 years in prison on child pornography charges and faces a minimum of an additional 25 years on the sexual misconduct charges.
This article has been updated to include a comment from attorney John Manly.