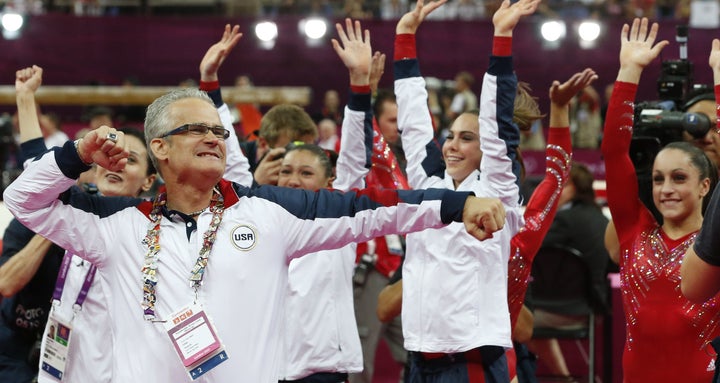 UPDATE: 3:45 p.m. ― Former women's Olympic coach John Geddert is retiring from gymnastics, he announced Monday in an email to athletes who train at his Michigan gym and their families.
He sent the email, which was obtained by the Lansing State Journal, shortly after USA Gymnastics announced his suspension.
"At a time when we should only be paying attention to the courageous young women who have demonstrated their commitment to the truth, the governing body of our sport is doing everything to upstage their victim statements," he wrote.
Geddert wrote in the email that he was "not perfect" but said he was "deeply committed to protecting the safety and well-being" of his athletes.
"Most of you have noticed that I have been taking a back seat this year," Geddert wrote. "This has been party of my exit strategy to retire at age 60. Well 60 is here... Gymnastics has been my life for 45 years. I really know nothing else. I have poured every ounce of my being into creating a place where aspiring kids could be challenged and directed towards their goals." (Read the full email here.)
USA Gymnastics has suspended former women's Olympic gymnastics coach John Geddert, who reportedly was close to former team doctor Larry Nassar, the organization said Monday night.
Geddert was the head coach for the women's gymnastics team during the 2011 World Championships and the 2012 London Olympics, and was personal coach to Olympic champion Jordyn Wieber. He reportedly was close with Nassar, who awaits sentencing in Michigan on sex crimes charges, and owned two training centers where Nassar worked as team doctor for USA Gymnastics and Michigan State University.
"John Geddert has been suspended under the interim measures provisions of Section 10.5 of USA Gymnastics' Bylaws. USA Gymnastics is unable to comment further as this is a pending matter," the organization said in a statement.
Neither Geddert nor USA Gymnastics immediately responded to HuffPost's requests for comment.
Three USA Gymnastics directors resigned on Monday amid criticism that the organization failed to protect its athletes from Nassar.
According to USA Gymnastics bylaws, Section 10.5 states that interim measures "may be imposed to ensure the safety and well-being of the gymnastics community or where an allegation is sufficiently serious that an Adverse Party's continued participation could be detrimental to the sport or its reputation."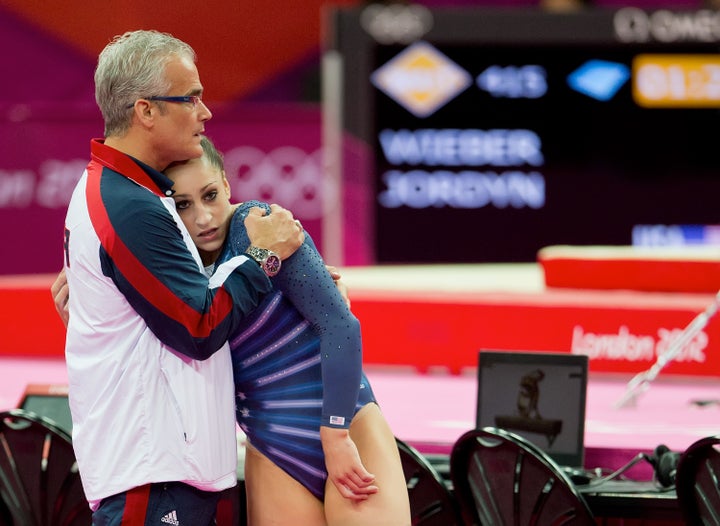 Nassar, accused of sexually abusing more than 140 girls and women, is sitting through a sentencing hearing on charges of first-degree sexual misconduct in Lansing, Michigan. The hearing, which began last week, is continuing this week as 144 women are set to read victim impact statements.
According to a recent investigative report from Outside the Lines, Geddert and Nassar "were all but inseparable, professionally and socially," and some people questioned whether Geddert knew about Nassar's predatory behavior.
At least one athlete said in her victim impact statement during that Geddert walked into the room while Nassar was molesting her.
Geddert and Nassar first began working together at the Great Lakes Gymnastics Club. Later, in 1996, Geddert brought Nassar on to work at the gym he currently owns, Twistars USA Gymnastics Club. According to court documents, several young women say they were sexually abused by Nassar at Twistars.
Geddert was competitive and was borderline abusive, verbally and physically, to gymnasts, according to Outside the Lines.
"John's very good at emotional manipulation. He can make you feel like nothing very quickly," former office manager at Twistars, Priscilla Kintigh, told Outside the Lines. "Larry was the one to calm the girls down when they had a practice with John."
Nassar is already serving 60 years in prison on child pornography charges. Prosecutors are seeking at least 40 additional years on the molestation charges.
Related
Popular in the Community