USA Gymnastics President Steve Penny resigned Thursday amid claims the organization responded too slowly to sexual abuse allegations, roughly a week after U.S. Olympic Committee officials reportedly called for his ouster.
"The board believes this change in leadership will help USA Gymnastics face its current challenges and implement solutions to move the organization onward in promoting a safe environment or its athletes at all levels," Paul Parilla, USA Gymnastics chairman, said in a statement.
Penny was named president of USA Gymnastics, the sport's Indianapolis-based national governing body, in 2005 after joining the organization in 1999. Under his leadership, dozens of athletes have accused the organization of mishandling complaints related to sexual abuse.
Penny said he quit "solely to support the best interests of USA Gymnastics at this time."
"We all care deeply about the safety of our athletes, which is fundamental to a rewarding experience at any level of gymnastics," Penny said in a statement. "It has been heartbreaking to learn of instances of abuse and it sickens me that young athletes would be exploited in such a manner."
Parilla will lead the organization while it searches for a new CEO.
Penny's ouster follows an Indianapolis Star report in December that revealed 350 gymnasts had alleged abuse in gyms over two decades, and that top USA Gymnastics officials mishandled complaints and allowed accused coaches to move from gym to gym.
Penny, 53, has denied any wrongdoing, although he has acknowledged he was personally responsible for handling the complaints.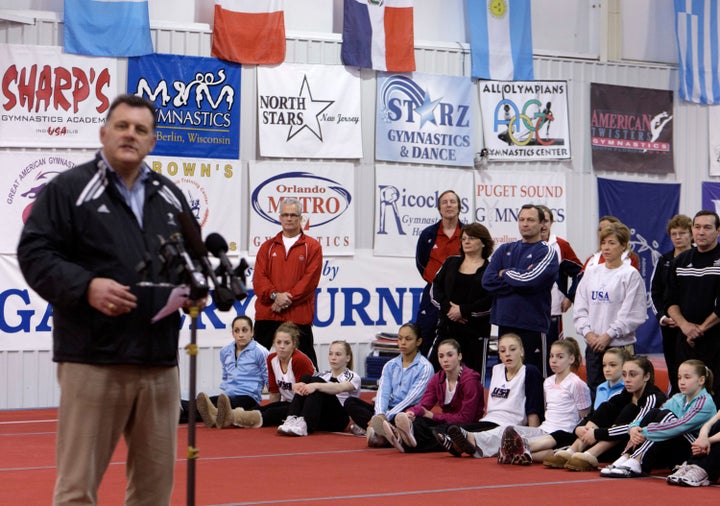 U.S. Olympic Committee Chairman Larry Probst said in a one-sentence statement that Penny's departure "will hopefully allow USA Gymnastics to shift its attention to the future with a secure environment for its athletes and continued success in competition."
The Olympic Committee couldn't dictate Penny's firing, but could have cut roughly $2 million in annual funding to USA Gymnastics, according to The Associated Press. Penny had the backing of USA Gymnastics' board until the USOC demanded his ouster, AP reported.
On Wednesday, former rhythmic gymnastics champion Jessica Howard wrote an essay in The New York Times condemning USA Gymnastics for what she called a "crippling" tolerance of abuse, which she experienced nearly 18 years ago.
"The institutional tolerance of abusive training and the penchant of USA Gymnastics to look away create a culture conducive to sexual abuse ― for gymnasts of all skill levels," wrote Howard, the U.S. champion of rhythmic gymnastics from 1999 to 2001.
Howard, a Florida native, alleged she was 15 when the national team's doctor, Larry Nassar, sexually abused her.
Nassar was arrested in December on federal child pornography charges and was accused last month of 22 counts of first-degree criminal sexual conduct. He has pleaded not guilty. Officials say more than 80 women allege he sexually abused them.
On March 3, the Indianapolis Star obtained roughly 5,600 pages of USA Gymnastics records revealing the organization waited years to ban some 54 coaches who were the subjects of sexual abuse complaints. USA Gymnastics took five weeks to fire Nassar and notify the FBI of a complaint against him in 2015, according to CBS.
Howard, now 33, spoke out on CBS' "60 Minutes" in February. She appeared alongside two other former Team USA gymnasts, Jamie Dantzscher and Jeanette Antolin, who also claimed they were abused by Nassar.
"Emotional abuse is rampant and physical abuse is out there and sexual abuse is a byproduct of what happens when that is the culture," Howard said during the segment.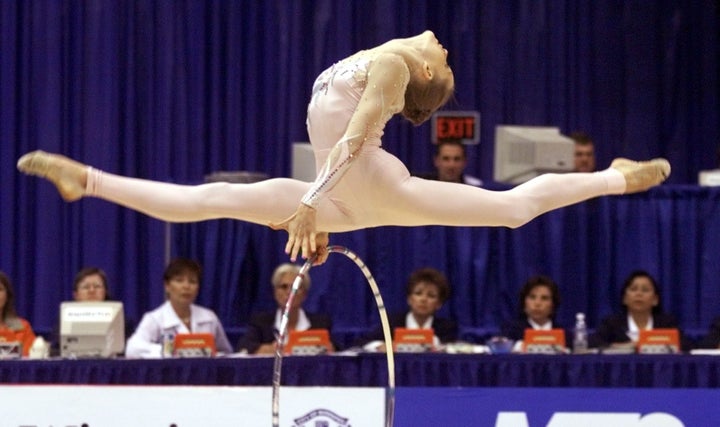 Victims and their allies have called for more than Penny's resignation. California attorney John Manly, who represents more than 70 women suing Nassar, sent a letter to Probst, the USOC president, earlier this month demanding the organization strip USA Gymnastics of its certification as the sport's national governing body.
"Without question, the serial rape and molestation of hundreds of girls, by coaches, trainers and other USA Gymnastics' staff, materially inhibits these women's ability to participate in their sport and is discriminatory on its face," Manly wrote.
"While the call for Mr. Penny's resignation is long overdue and applauded, Mr. Penny is only a symptom of this endemic problem," Manly added. "The entire USA Gymnastics' leadership and management shares the blame for this failure."
Gymnast Rachael Denhollander, who also accused Nassar of sexual abuse, told the Indianapolis Star on Thursday that Penny's decision to step down doesn't spare USA Gymnastics the necessary act of admitting and taking responsibility for failing to protect its athletes.
"While I am grateful to see this step, I am disheartened to see that there still has not been a recognition of the deep failures that allowed so many children to be abused while participating in USAG gymnastics," Denhollander said.
Former federal prosecutor Deborah Daniels has been hired by USA Gymnastics to review the organization's policies. She is expected to release her findings in spring or early summer.
Congress has also taken notice of the scandal. More than a dozen senators, led by Sen. Diane Feinstein (D-Calif.), introduced a bipartisan bill last week that would require adults working at Olympic governing bodies to immediately report abuse complaints to law enforcement. Failing to report allegations "as soon as possible" would be a crime punishable by fines and up to three years in prison.
"Sexual abuse stays with victims their entire lives," Feinstein said in a statement. "Amateur athletic governing bodies, coaches, and personnel have a special obligation to do all they can to protect young athletes in their care."
Popular in the Community