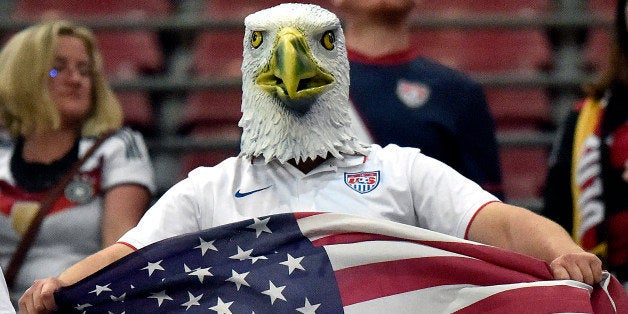 The United States, long the country of the free and the home of the brave, has had one mission since its inception: to be better than everyone else at everything. It's why we perfected the fried potato and automobile and put a man on the moon. That, my fellow Americans, is the root of who we are, and what we strive to be: fry-eating astronauts who own fancy Mustangs.
Annoyed international detractors may feel that this hubris is damning, that American exceptionalism has no place in the 21st century, especially in a supposedly post-colonial, post-imperialist world. Fine. Whatever. We've all seen "The Newsroom" rant. Apparently, the U.S. ain't shit anymore.
Except in one incredibly unlikely area right now: Soccer. That's right, over the past three weeks, the United States' soccer teams, across three different levels of play, have won every match they've played. Off the field, our almighty justice system has been cleaning up the game. What Americans are doing within soccer is starting to matter. NFL fans aren't burning their jerseys and heading to MLS matches, but somehow, some way, the U.S. has flexed itself into winning positions on the world's soccer stage.
What have we done? Well, a lot: American action has turned FIFA, soccer's governing body/dirty money pit, into a wobbly Jenga tower. (Basically, we saved soccer.) But that's old news as this point. Litigation isn't exciting. Goals are, and on the the field, American soccer players have been firing them past supposedly superior footballing nations like Germany, Holland, Colombia and Australia. We're on fire.

Americans are lighting soccer on fire in recent weeks. (Credit: Animation Plaza)
Every streak has its origin point, and this one begins with one woman: U.S. attorney general Loretta Lynch. After a mere month in office, Lynch spearheaded the kind of international soccer takedown that whistleblowers, like journalist Andrew Jennings, author of 2006 book FOUL! The Secret World of FIFA: Bribes, Vote Rigging and Ticket Scandals, have been awaiting for years.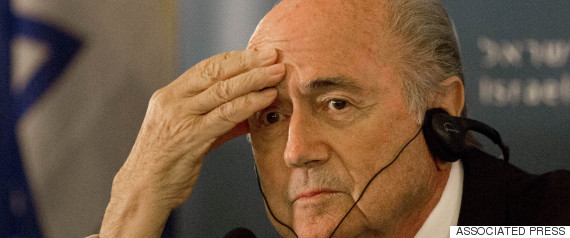 In May, Sepp Blatter resigned four days after being re-elected as FIFA president.
So much, in fact, that this streak's starting point has been viewed as a catalyst for Team USA's actual soccer victories. After the United States Men's team secured a thrilling 4-3 comeback win against the Dutch last week, Twitter was quick to shout out Lynch, because, well, who else could people credit for the 27th-ranked team in the world beating the 2014 World Cup semifinalists?
This week has been the proverbial "heat check" for the United States' dance with international soccer. In the U-20 World Cup, our men's team drew Colombia in the round of 16. They played on Wednesday. On the international friendly circuit, the senior team traveled from Holland to Cologne, Germany, to face the national team. You know, the one that beat Lionel Messi's Argentina last July to win the World Cup. Team USA played the Germans on Wednesday too.
And we beat both teams. The U-20 kids beat Colombia 1-0 on an 83rd-minute penalty kick. Later that afternoon, the grownups (surprisingly) traded blows with Germany and made another late comeback to steal a 2-1 victory from the reigning world champions ON THEIR OWN TURF. It was, unequivocally, the greatest western victory in Germany since the fall of the Berlin wall.
The men accomplished all of this with the swagger and confidence one would expect out of the women's team. Taking philosophical direction from head coach Jürgen Klinsmann, Germany's 2006 World Cup coach who agreed to take over the United States' team in 2011, they passed the ball about with fluidity, class, and most importantly: FREEDOM. Freedom of play and freedom from low expectations.
Our standard, contrarian "work hard, run fast" soccer identity seems to have been left stateside. Three years into his reign, American footballers are beginning to play to Klinsmann's style. The results are stunning: This group of impressionable young American footballers, led by 27-year-old Toronto FC midfielder Michael Bradley, engineered passing sequences against Germany previously unknown to U.S. soccer fans:
The U.S women's team will face Sweden tonight in their second World Cup match. Even if the women's team bombs, the men go back to playing like neanderthals and Lynch's investigation flames out, we'll always have these three weeks -- when soccer-loving Americans dug deep, went back to their innovative astronaut roots and won.
CORRECTION: This article credited American inventors with the creation of the automobile. A few other folks, notably the Germans, did get there first.
Calling all HuffPost superfans!
Sign up for membership to become a founding member and help shape HuffPost's next chapter
BEFORE YOU GO