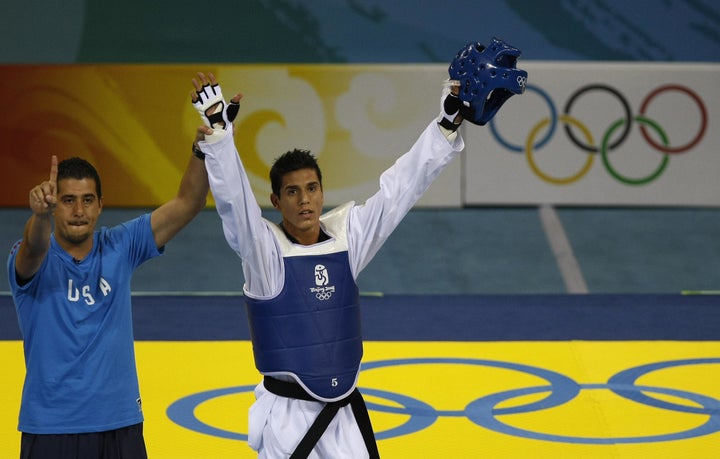 USA Taekwondo coach Jean Lopez was banned from the sport on Tuesday night following multiple allegations of sexual misconduct.
Lopez, 44, is accused of sexually assaulting four female taekwondo athletes dating back to 1997, according to a report from the U.S. Center for SafeSport obtained by NPR. He had a "decades-long pattern of sexual misconduct" and allegedly used his authority as a coach to "groom, manipulate, and ultimately, sexually abuse younger female athletes," the report states.
"Given the number of incidents reported over a span of several years and by multiple reporting parties, most of whom have no reasonable motive to fabricate an allegation ― much less multiple, distinct incidents ― of misconduct, the totality of the circumstances clearly shows a recurrent pattern of behavior on the part of Jean," reads another part of the report, according to USA Today.
Lopez coached the U.S. Olympic taekwondo team between 2004 and 2016, through four Olympic games. Most notably, he coached his younger brother Steven Lopez, 39, the most decorated and best-known American athlete in the sport. Steven Lopez ― who won two Olympic gold medals, a bronze medal and five world championships ― has separately been accused of rape by two women.
HuffPost reached out to both Jean and Steven Lopez for comment but did not immediately hear back from either. Both men have previously denied all allegations against them.
Jean Lopez also trained two other younger siblings, Diana and Mark Lopez, who competed on the Olympic level as well.
The former coach was declared "permanently ineligible" as of April 3, according to SafeSport's website. Permanently ineligible is defined by SafeSport as "permanently prohibited from participating in any capacity in any activity or competition authorized by, organized by, or under the auspices of the United States Olympic Committee, the national governing bodies recognized by the USOC, and/or a Local Affiliated Organization of a national governing body recognized by the USOC."
A spokesperson for SafeSport declined to comment further on Lopez's ineligibility.
Heidi Gilbert, a former taekwondo fighter who trained under Lopez, told NPR that he had sexually assaulted her after she won a gold medal in the Pan American Games in Ecuador in 2002, when she was 19. Gilbert said Lopez drugged and assaulted her again a year later while the two were in Germany for the World Championships.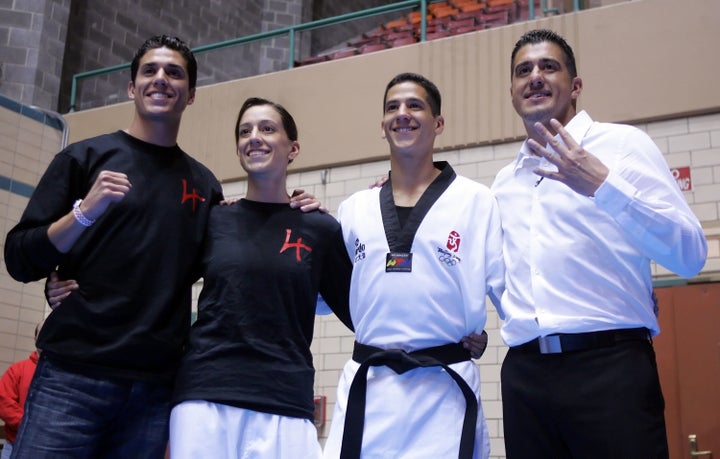 "I am relieved and excited that he will no longer be able to coach young athletes or manipulate girls in these kinds of settings," Gilbert told USA Today, adding that she's still "highly disappointed" that the process took so long to penalize Lopez.
Another elite taekwondo fighter, Mandy Meloon, filed a formal complaint against Lopez with USA Taekwondo in 2006. According to Meloon, Lopez inappropriately touched her in 1997 when she was underage while the two were traveling internationally for a competition.
Meloon was also in a long-term relationship with Steven Lopez and claims that he physically abused and raped her multiple times.
USA Taekwondo opened an investigation into the sexual assault allegations against Jean and Steven Lopez three years ago, but little was done. Both brothers were allowed to participate in the 2016 Rio Olympics. It wasn't until the two cases were handed over to the U.S. Center for SafeSport in March of last year that action was taken. SafeSport declined to comment on the current status of Steven Lopez's case, according to NPR.
Steve McNally, the executive director of USA Taekwondo, declined to comment about the allegations against Jean Lopez. He told HuffPost, "Unfortunately we can't comment beyond what's been published on our suspension list at this time. As the decision is still subject to appeal it would be inappropriate to comment further until due process is concluded."
The U.S. Center for SafeSport was created in 2017 to investigate all sexual abuse complaints in amateur Olympic sports organizations. The nonprofit center was launched in response to the Larry Nassar scandal in the gymnastics world and various other systemic issues of sexual abuse in Olympic sports.
Popular in the Community