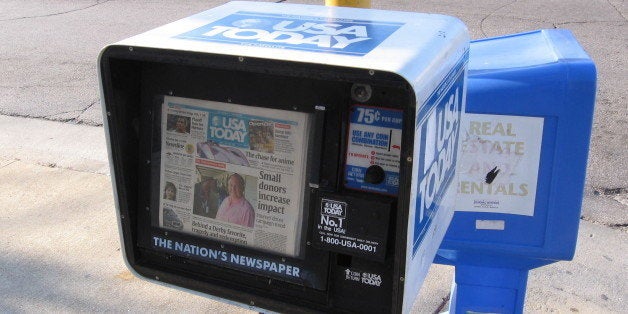 USA Today has begun a painful round of layoffs, the paper's owner confirmed Wednesday.
Jeremy Gaines, vice president of corporate communications with Gannett, told the Huffington Post in an email that there were about 60 to 70 total job cuts, with about half of those hitting the newsroom.
"USA TODAY is working to align its staffing levels to meet current market conditions," Gaines told HuffPost. "The actions taken today will allow USA TODAY to reinvest in the business to ensure the continued success of its digital transformation."
Longtime pop music critic Edna Gundersen announced that she had been laid off Wednesday morning:

Jim Romenesko said first on Wednesday morning that he was told that "widespread layoffs have begun at USA Today. More than 50. More than half in newsroom." He added that an announcement was expected to be made sometime Wednesday afternoon.
Poynter's Andrew Beaujon later reported that he too was made aware of upcoming job cuts, including one source who said staffers were already seen taking their things from the newsroom.
Gannett announced in August that it would be spinning off its print and broadcast divisions into two separate companies. The spinoff comes as publishers focus increasingly on digital platforms as a result of annual newspaper ad revenue continuing to decline. Gannett still owns 81 local daily publications in the US, along with USA Today and Newsquest, and has cut more than 200 jobs across newsrooms nationwide in the last year.
Note: This story has been updated to reflect confirmation of the layoffs.
Related
Popular in the Community