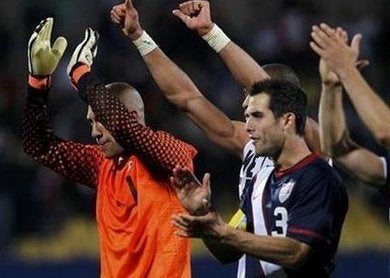 POSTGAME: Another heroic draw from the US. They went behind early yet again and looked to be in serious trouble of falling apart after ending the first half down 2-0. But the U.S. showed real heart to claw their way back in the second half on spectacular goals from Donovan and Bradley. It looked like the US deserved to have won it on a late strike from Edu off a free kick, but the goal was disallowed due to a truly mysterious call from the referee, who was pretty terrible overall. No doubt that decision will be puzzled over for some time. Nonetheless, there was a lot to feel good about in the US performance in the second half. The team should feel confident about their chances of taking 3 points from the game against Algeria and advancing to the knockout phase.
Full archive of today's live blog is below. Thanks for following along.
PREVIEW: Looking to build on last Saturday's gritty performance against England, the U.S. take on Slovenia today at Ellis Park in Johannesburg in a match they can ill afford to lose. And while the U.S. are certainly the favorites against the smallest nation playing in the World Cup, Slovenia has proven to be the kind of team that can upset the big dogs. (Their knocking off of Russia in a playoff to win their World Cup spot being one such instance.) With Slovenia siting atop Group C with three points following their 1-0 win over Algeria, this game is basically a must-win for the Yanks. As U.S. centerback Oguchi "The Gooch" Onyewu told the AP this week, "The game against Slovenia is going to determine if we get out of the group or not." Yes, it's pretty much that important.
Potentially complicating matters for the Americans is the fact that, as a number of commentators have pointed out, the U.S. and Slovenia squads are mirror images of each other. Both sides prefer to sit back and soak up the pressure and then strike on the counterattack; Neither team is blessed with players of remarkable skill or an abundance of creativity going forward. Physical toughness, team discipline, and a tireless work ethic are what they rely on to win matches. Beautiful soccer is not their forte. Both team's best player is probably their goakeeper.
And so the question for both teams is where will the offense come from. The U.S. and Slovenia each benefited from major blunders by the opposition's goalies for their only appearances on the score sheet in their first games. (The one by Algeria's keeper managed to be only lightly less ghastly than Robert 'Hand of Clod' Green's immortal miscue.) Given that the U.S. is under the greater pressure to grab a result, they likely be forced into being the more aggressive team going forward, which does not play to their strength. They will need Donovan and Dempsey to provide a moment of inspiration to unlock the solid Slovenian defense.
Fortunately for the U.S., Tim Howard is expected to play, albeit after getting shot up with pain killers as he is still hurting from the nasty collision with England's Emile Heskey last week. The line up will likely remain the same from the England match, though there is the possibility that U..S. coach Bob Bradley will bring in a more creative and attacking-minded player such as Jose Torres at central midfield, particularly if the U.S. struggles to create chances in the first half.
So, do the U.S. truly need to win this game in order to make it through? Not quite, however losing would all but eliminate them. The U.S. can remain in contention with a draw today, though this would almost certainly put them in the difficult position of needing a win against Algeria plus some help from the other teams in order to get through. A win for Slovenia would clinch them a spot in the knockout phase and reduce America's chances of getting through to a real long shot. With a win today, the U.S. would be in a very strong position to advance, and could even afford to draw against Algeria. In other words, their fate is still firmly in their hands.
As for predictions, today's game will likely be a fairly inelegant battle of attrition played in the middle of the pitch, with one goal deciding matters. Who will get that goal is hard to say. I'd favor the U.S. to tally, but we may also be looking at yet another hard-fought draw.
REAL LIFE. REAL NEWS. REAL VOICES.
Help us tell more of the stories that matter from voices that too often remain unheard.