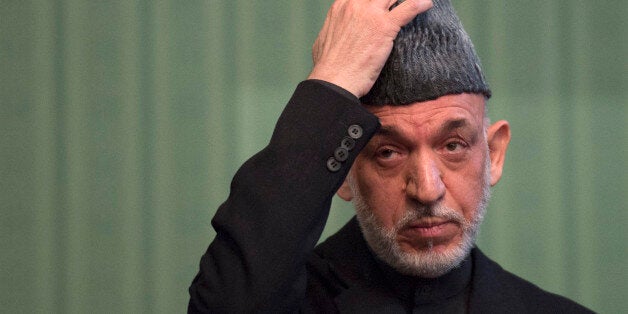 Afghan government ministries are teed up to receive $1 billion in direct aid as U.S. and NATO troops leave the country -- but that loosely supervised flow of money will create a massive opportunity for waste and corruption, a new inspector general report has found.
The special inspector general for Afghanistan reconstruction's withering report concluded that the U.S. Agency for International Development has committed to giving hundreds of millions of dollars to Afghan ministries under exemptions to its own anti-corruption guidelines. It also found that USAID had "compromised" Congress' ability to provide oversight for that money by failing to provide a full picture of the risk involved.
Direct aid will become one of the cornerstones of American influence in Afghanistan as its military presence diminishes. But the country is rated by Transparency International, an international anti-corruption nonprofit, as one of the three most corrupt in the world, along with Somalia and North Korea, and many fear that money will wind up being siphoned off by Afghan officials.
According to the inspector general's report, USAID's own internal risk reviews found that the seven Afghan ministries that will receive direct aid have "104 major risks -- such as 'concealing vital monitoring and evaluation information' and 'misappropriation of cash arising from payment of salaries in cash' -- with 99 of the risks rated either critical or high."
And while USAID suggested 333 recommended "risk mitigation measures," the Afghan ministries were only required to implement 24 of them before receiving commitments for funds.
USAID also tried to keep its risk reviews from both Congress and the public by marking them sensitive and asking the inspector general to keep them undisclosed, the report asserted.
"I simply cannot find any support for this proposition in the law or as a matter of good public policy," the special inspector, John Sopko, wrote in a letter accompanying the report. "Frankly, USAID's continued insistence that SIGAR withhold this information from Congress and the public may undermine the credibility of its assertions that it has appropriately mitigated the risks uncovered by the ministry assessments and its internal risk reviews."
"SIGAR's audit describes risks which USAID itself identified as a first step in our process of due diligence," Larry Sampler, USAID's assistant to the administrator for Afghanistan and Pakistan, told HuffPost, "but SIGAR chose not to examine in this audit the mitigating measures USAID implemented in response to these identified risks. It's important to note that SIGAR's audit did not identify any fraud, waste or abuse in our direct assistance program. Because this audit -- as noted on the first page -- '...did not examine the implementation of USAID's methods for safeguarding U.S. direct assistance...' we do not believe the report then has any basis on which to question whether the identified vulnerabilities have been addressed prior to funds being made available. USAID is and remains committed to aggressively safeguarding U.S. taxpayer resources. We take seriously our responsibilities regarding oversight of U.S. funds."
Popular in the Community