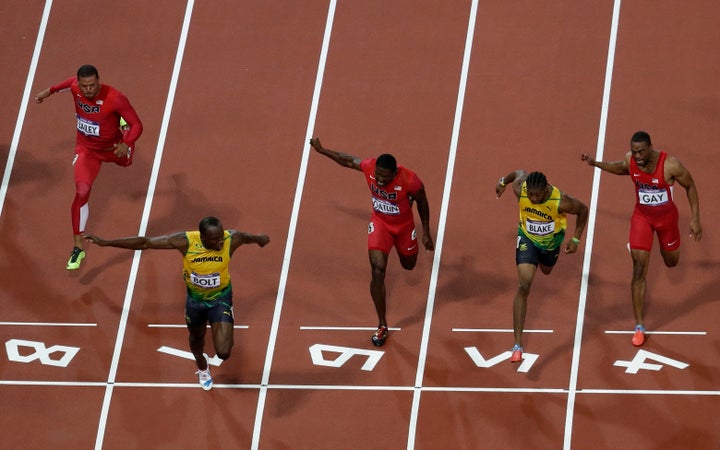 "I executed, and that's the key," Bolt told reporters after celebrating his fourth career gold medal with a victory lap. "I stopped worrying about the start. The end is what's important."
Yohan Blake of Jamaica took silver in 9.75 seconds, with Justin Gatlin of the United States capturing bronze in 9.79 seconds. A training partner of Bolt, Blake equalled a personal best with his runner-up time. Also setting or equalling personal best times were Gatlin and Ryan Bailey of the United States, who finished fifth. Of course, with a who's who of international track stars -- largely hailing from the United States and Jamaica -- it was no surprise to see the scoreboard light up with such stellar times.
"It will take a 9.7 to even get a medal. It's mind blowing," Tyson Gay of the United States told the Daily Mail shortly before the Games. Gay burned to a personal season's best 9.80 to finish fourth. True to his prediction, all top three finishers crossed the line under 9.8 seconds.
While the 25-year-old Bolt did not better the world record mark of 9.58 seconds that he established in Berlin in 2009, he did best the 9.69 time he posted in the event at the 2008 Olympics. Despite noticeably slowing up to celebrate before even reaching the finish line during the 100-meter dash in Beijing, Bolt's time was then a world record. While that mark didn't stand very long, rumors of Bolt's lack of fitness lingered for months leading up to the games. He was defeated by Blake in the 100-meter and 200-meter races at the Jamaican Olympic Trials and revealed just days before the Olympics that he had been dealing with a back problem that had created hamstring issues. By the time that Bolt reached the track for his first 100-meter heat on Saturday morning, there were more questions swirling around him than answers.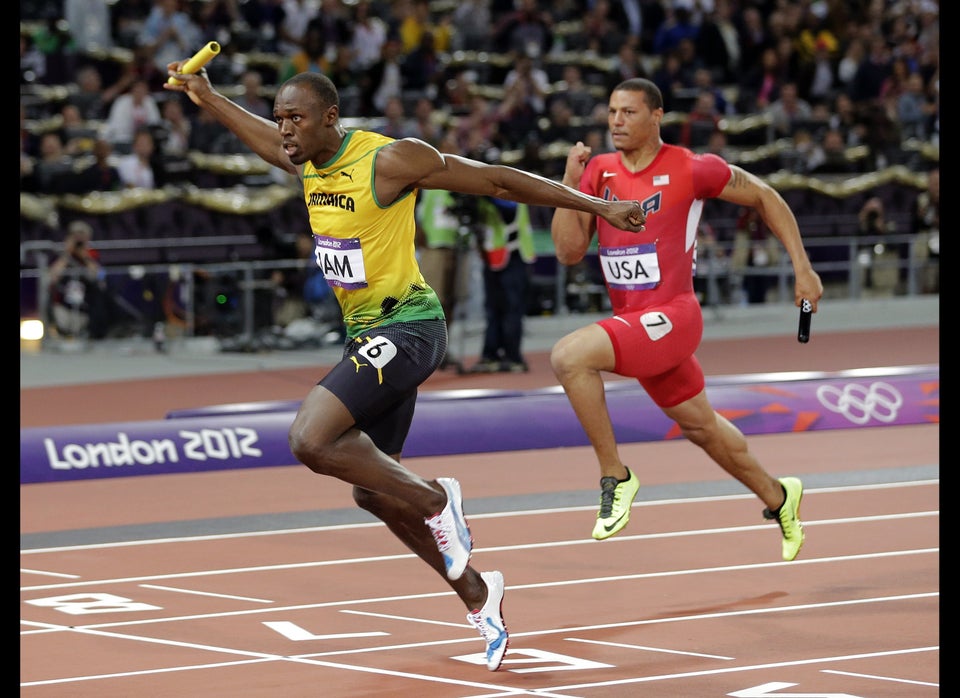 PHOTOS: Usain Bolt At 2012 Olympics
With the world watching, Bolt delivered a resounding record-setting victory and emphatic answers to those many questions. Unfurling his long, graceful leonine strides, Bolt overtook his talented opponents despite having the fifth slowest reaction time and being mired in the pack midway through the race.
Yes, he is still the world's fastest man. Yes, he can still find that extra gear when he needs it. Yes, he still has the same joyfulness about him that so enchanted the world in 2008. And, yes, he is in the minority of people that are totally cool with Wenlock, the bizarre mascot of the London Games.
STORY CONTINUES BELOW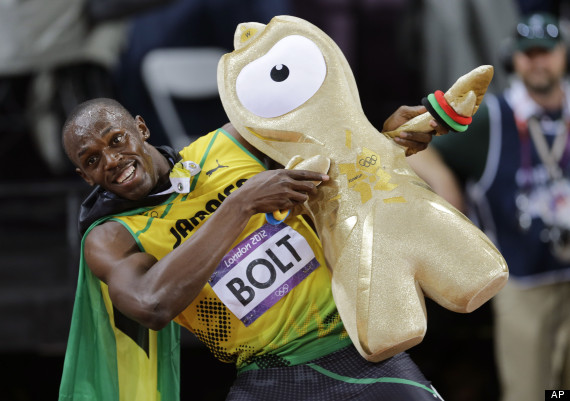 "There's no doubt he's the greatest sprinter of all time now," gushed Richard Thompson of Trinidad and Tobago to The Associated Press after finishing seventh in the 100. The only person who may want to argue with Bolt's claim is Carl Lewis, the only other sprinter with back-to-back gold medals in the 100 meters (1984, 1988). Not long before the London Games, Lewis expressed doubts that Bolt would be able to repeat as Olympic champ.
Having successfully repeated in the 100 meters, Bolt now turns his attention to the 200 meters and the 4x100-meter relay. In 2008, Bolt won all three events in world-record time. When reporters finally tracked Bolt down, he shared a message that he'd given Blake, who will be competing against him in the 200.
Any remaining doubters should take note of the verb tense. Bolt isn't talking about what he did. Rather, he's talking about what he currently does. Stay tuned.
Support HuffPost
The Stakes Have Never Been Higher
Related
Popular in the Community