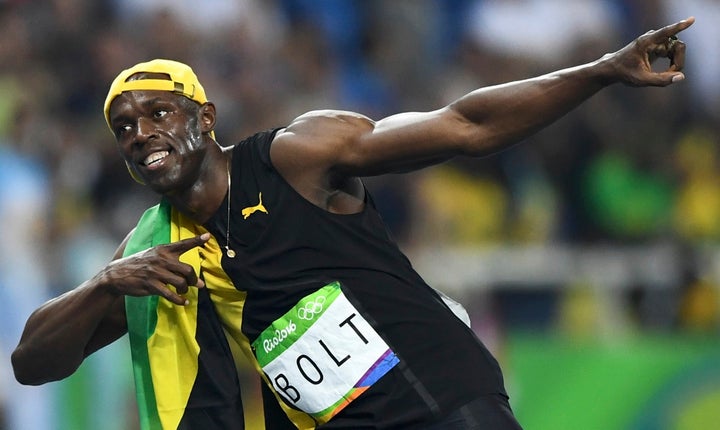 Just moments before Bolt's first gold in Rio de Janeiro on Sunday, NBC's camera angle panned wide: The assortment of world-class runners were locked into stretching and focused beyond imagination. Then we saw Bolt ― winking at the crowd, pointing at friends, laughing.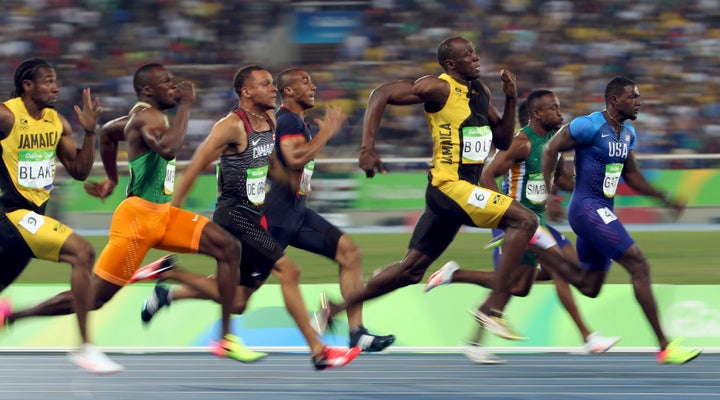 However, behind Bolt's unmistakeable confidence, there is a purity to him. He exudes sheer joy. 
Bolt isn't just different than other Olympic champions ― he's cooler.
The amiable athlete has made a once dying, drug-infused sport must-watch TV again. Bolt seldom loses and at 6-foot-5, he towers above much smaller sprinters. Somehow, he doesn't decelerate during the final 40 meters ― like everyone else ― and somehow he has shattered every world record previously held. And he has never failed a drug test. Nothing he does seems normal. Everything he does seems special.
Bolt knows he is the best sprinter ever and so does his competition. He was so abundantly talented and imposing as a boy that his coach grew fearful young Bolt would grow complacent. Only then, he found himself utterly shellshocked at his pupil's relentless work ethic even during the blazing heat of Jamaican summers, joking and pulling off extensive pranks all the while.
So it was only fitting that during a press conference confirming that Rio would be his last Olympic Games, Bolt threw himself a party with salsa dancers  ― and then joined in the dancing while an onslaught of journalists from around the globe watched in awe.
Bolt's brilliance also extends to an unmistakeable post-race "lightning bolt" pose. Pablo McNeil, a two-time Olympic sprinter from Jamaica, gave the sprinting great the nickname after watching him run for the first time as a kid. Bolt, to enhance the drama, often doesn't even unveil the pose until minutes after winning. He plays with the crowd beforehand ― often taking selfies with fans and kissing babies like a president would.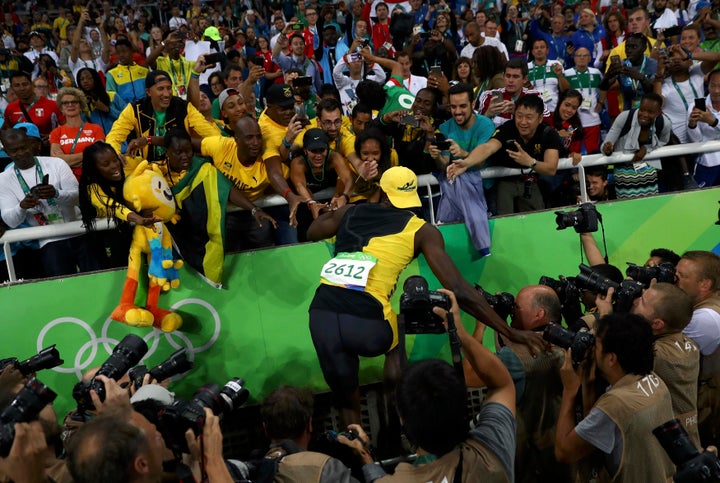 Even still, the drama and question marks behind Bolt entering Rio were legitimate. Sprinting is a young man's game and, at 29 years old, (he will turn 30 during the games) he is typically much older than his counterparts. And the peak age of performance for athletes in track and field is 26.1, according to a study from the Institute of Biomedical Research and Sports Epidemiology in France. Additionally, Bolt pulled out of the Jamaican qualifiers with a hamstring issue. He had even shown vulnerability, after American Justin Gatlin and countryman Yohan Blake, whom the sprinting world had once deemed the next Bolt, beat him.
But the grandest of moments call for greatness. And Bolt is greatness personified. Despite a choppy start, and with the whole world watching, he not only caught up to Gatlin, he accelerated past him over 40km per hour without a hint of difficulty. He made the greatest collection of sprinters in the world look average, and he did it while tapping his chest and quieting the crowd with his finger.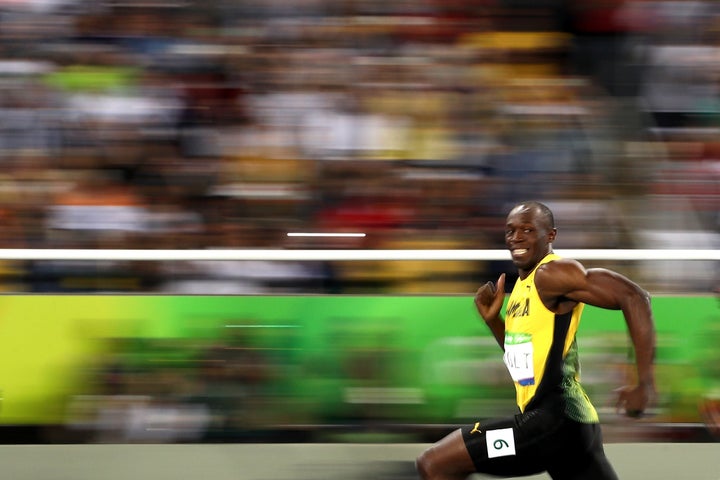 Bolt's beauty isn't merely his unparalleled speed, but rather the way he has transcended track and field with his dynamic personality. In many respects, it mirrors the way Ali transcended boxing. Maybe it's only fitting that he is retiring at the peak of his powers, with his legacy unquestioned. The shelf life of a sprinter isn't dissimilar to that of an NFL running back. After a certain number of miles on their tires, the tread wears off and it does so very quickly. Bolt ― who hopes to attain golds in both the 200 and the 4x100 relay for a three-peat ― has dominated his sport for nearly a decade.
"He loves to party, to dance," Alcia Bromfield, his high school headmistress told The Daily Telegraph this month. "All those things you see Usain doing after a race? That's not a show, it's just who he is."
For more
Olympics

coverage:
REAL LIFE. REAL NEWS. REAL VOICES.
Help us tell more of the stories that matter from voices that too often remain unheard.
BEFORE YOU GO