Did you know that the USA already won its first Olympic gold medal this summer? It was awarded a month ago in Hong Kong, rather than Rio. A team of six U.S. high school students won first place at the 57th annual International Mathematical Olympiad, their second consecutive win after a 21-year hiatus. This win not only brought home the top prize, but each team member captured a gold medal, two with perfect scores.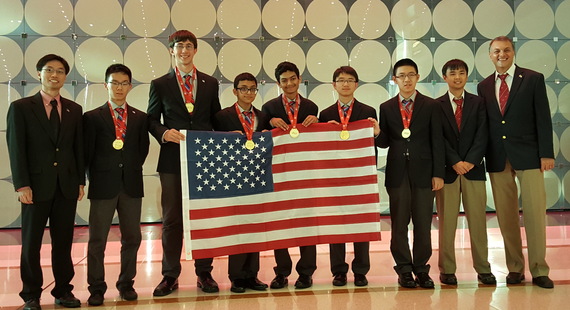 If this seems far afield from your own mathematical prowess, think of the Rio Olympics as a parallel. Every event contains stunning athleticism far beyond the ability of the average American. Still, a child imagines a goal on the playground basketball court as the winning shot for team USA. As the Olympics games are broadcast this summer, we can all live out our own Olympic-inspired dreams at community pools, volleyball courts and tracks around the country.
While we may not become Olympians during our weekly workouts, our physical training leads to stronger and healthier bodies. So too, does mathematical problem-solving for the mind. At Expii.com, a site with puzzles and problems for many levels of math training - from beginner to advanced, there is a gym, of sorts, to train for mathematics with a world-class coach. Hear it in his own words:
'After becoming the lead coach of the U.S. International Mathematical Olympiad Team, I started Expii as a way of raising the bar in math and science education,' said Po-Shen Loh. 'Instead of focusing my efforts on a handful of students, I wanted to make it possible for anyone, anywhere to become a math genius.'
Dubious about improving your math skills through general training? Interestingly, our U.S. International Mathematical Olympiad Team switched their training focus from solving mathematics competition problems to helping the team members maximize their mathematical abilities and problem-solving skills. This change in training led to back-to-back wins at the IMO and the gold medals.
While we may not all compete in the International Mathematical Olympiad, our training in math has important consequences. Our country is facing a tremendous opportunity to meet the forecasted demand for 1 million STEM-related jobs. The U.S. International Mathematical Olympiad Team was selected through a series of competitions organized by the Mathematical Association of America (MAA), the world's largest community of mathematicians, students, and enthusiasts.
Like Expii.com and math educators, the Mathematical Association of America is dedicated to building our nation's next generation of problem solvers.
'For 350,000 American students each year, the MAA's American Mathematics Competitions is their opportunity to train like an Olympian, developing skills that reach far beyond these rigorous mathematics competitions,' said Michael Pearson, MAA Executive Director, 'I look forward to continuing to develop mathematical talent in our country with U.S. team members and coach, Po-Shen Loh and to witness the passion within these students for mathematical problem-solving,'
Let's jump right into training the mind with two Olympic-related math problems posed in this week's Expii problem sets.
Problem 1: (Level 2 difficulty) Risky Routine
As written in The New Yorker, Women's Gymnastics is a sport often contested in hundredths of a point, but Simone Biles is so dominant that she wins by whole numbers. The complex scoring system is based on a Difficulty Score (predetermined by the planned routine), and an Execution Score (out of a perfect 10.0, quantifying mistakes). There is a risk/reward tradeoff, as increasingly difficult routines bring higher chances of failure. Biles's dominance comes from her ability to significantly push up her Difficulty Score while still executing the routines with extreme reliability.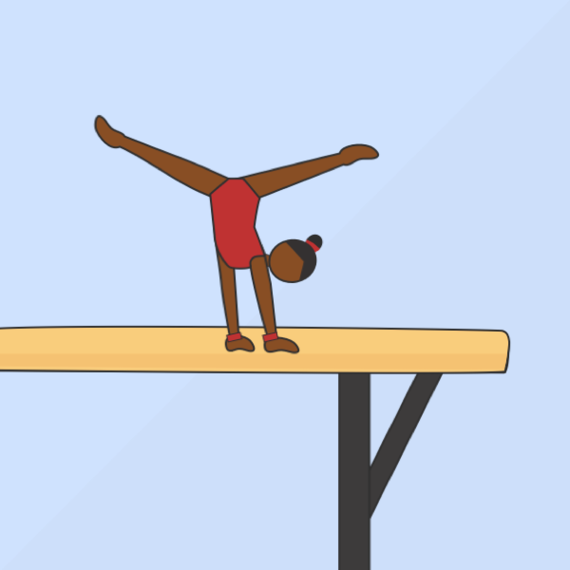 To get a feel for the game theory involved, suppose that you are a gymnast planning a routine where you need to perform 8 elements. For each of these 8 elements you can attempt at a C level (for 0.3 points) or an E level (for 0.5 points) level of difficulty. Your difficulty score is the sum of these 8 numbers, and you can mix and match between C's and E's. You are 100% confident of being able to execute every element at the C level, but for each element you attempt at the E level, you risk a 50% chance of a 0.5 point deduction in your Execution score.
You know that your opponents are extremely talented. What number of elements should you attempt at the E level in order to maximize your chance of achieving a Difficulty + Execution score of at least 13?
Problem 2 (Difficulty 3) Strength in Numbers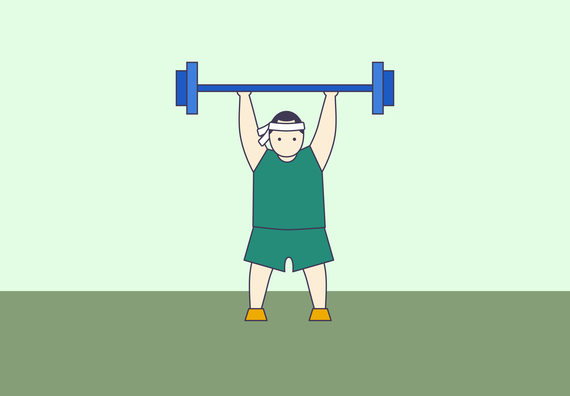 Suppose that Country A has 400 million people, Country B has 100 million people, and each country always sends its strongest person to the Olympics for weightlifting. The strength of each person is an independent Normal random variable with a common mean and variance, which is the same across both countries. What is the probability that country A wins, rounded to the nearest whole percent?
Want more help? Visit the Expii site's posting of these and other Olympic themed problems.
Get ready for inspiring Olympic performances. If it inspires you to get off the coach and exercise, remember that you can also stay on the couch and train your mind in math. Do both and you'll be a healthier you!
Related
Popular in the Community