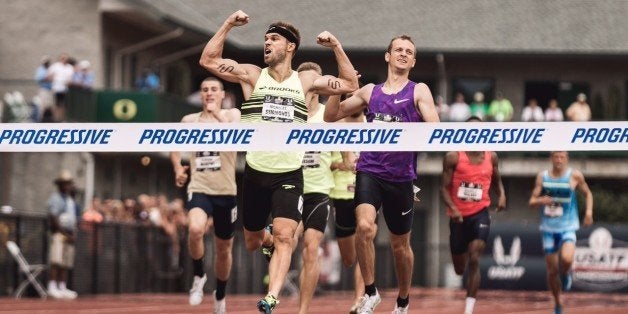 Every day for the past two years I woke up with a purpose: to return to the IAAF World Championships to win another medal for my country. For two full years I trained. Thousands of miles logged, hours spent in the pool, at the gym, and countless other sacrifices made.
My hard work seemed to be paying off when I won my fifth consecutive 800-meter title at the 2015 USA Outdoor Championships. This punched my ticket to the World Championships, set to take place in Beijing at the end of August.
Doubling down on the hard work, I skipped a lucrative summer racing season in Europe so I could stay home and maximize my training. In between grueling sessions on the track, I purchased a ticket to Beijing, bought a Chinese visa, and packed my bags. I was all set to go until last night when I received an email from American track and field's governing body, USATF: "Without you having submitted a fully executed USATF Statement of Conditions for the 2015 IAAF World Championships, I am disappointed to have to inform you that you will not be named to the U.S. Team in the men's 800m event."
The "Statement of Conditions" referred to is a contract that USATF demands all potential team members sign in order to be selected for a USA national team. One of its conditions is that all team members wear the Team USA gear manufactured by Nike at all "official team functions," but it fails to define what an official team function is. This vague commitment is hugely problematic for all non-Nike sponsored athletes who are contractually obligated to wear their sponsor's gear at all times outside of official team functions.
I made several offers to help USATF draft a new Statement of Conditions, one that protects their obligations as well as athletes' rights, but USATF chose instead to ignore my offers and leave me at home. As things stand now, instead of competing for Team USA, I'll be watching the race I qualified for from my couch.
USATF spokeswoman Jill Geer defended USATF's actions saying, "It's very common in all sports to have star athletes whose personal contracts conflict with their teams'. Steph Curry is with Under Armour, and LeBron James is with Nike. Both men played in Adidas uniforms in the N.B.A. Finals last season."
This is true, but what Geer fails to mention is that the NBA shares roughly 50 percent of their revenue with the players.
Compare that to the USATF, which shares only 8 percent of its gross revenue with athletes. That's right, only 8 percent of gross revenue goes to the hard working men and women that allow USATF to exist in the first place.
A study conducted by renowned sports economist Andrew Zimbalist breaks down the numbers. His analysis shows that USATF's expected 2015 gross revenue will be $42.92 million. Of that, only $3.46 million or 8.06 percent of all revenue is expected to be paid out to athletes. Zimablist reports, "In other professional sports athletes roughly earn between 25 and 35 percent of revenues in individual sports and between 45 and 55 percent of revenues in team sports."
Zimbalist concludes by saying, "These assets have been earned by virtue of the athletic prowess and efforts of the elite athletes and it is reasonable to expect a share of these assets would be distributed to the athletes in bonuses or benefits."
In my opinion, the 8 percent that USATF pays out to its athletes is insultingly low in comparison to what other sports pay out to their athletes.
It's also interesting to note that Zimbalist points out that the USATF has an "accounting inconsistency" that seems to show that at least $3.52 million of its funds are missing. Where did this money go?
Moving forward my goals are threefold:
(1) Work with USATF to rewrite the "Statement of Conditions" so that it better protects the rights of all parties involved.
(2) Demand that USATF increase revenue sharing with athletes to at least 50 percent of gross revenue.
(3) Get some answers as to where that missing $3.52 million went.
I want to conclude by thanking all of the people who have supported me during this particularly difficult time. Your kind words have helped to lessen the emotional blow that USATF has dealt me.
Related
Popular in the Community