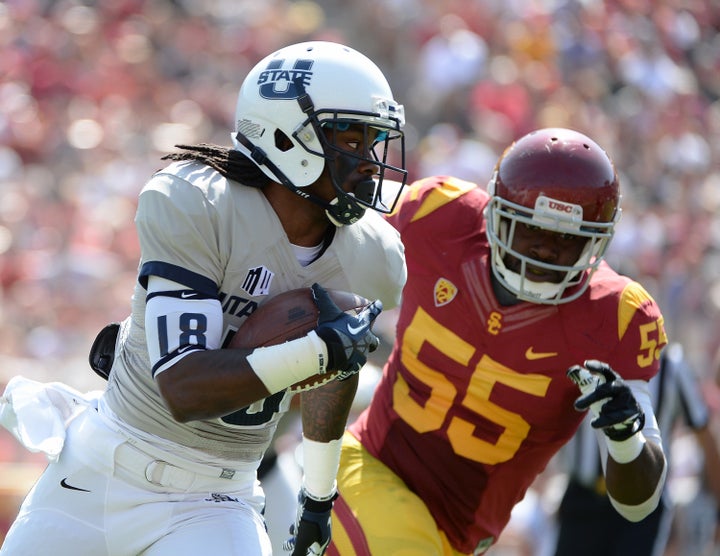 College athletes are employees who should be paid wages, a former University of Southern California football player asserts in a lawsuit filed against the NCAA and the PAC‑12 Conference this week.
The lawsuit differs from other high-profile cases against the NCAA, which have alleged that the governing organization for college sports has violated antitrust law by placing artificial caps on the amount of money athletes can receive.
This suit, by contrast, contends that athletes meet the definition of "employees" under both federal and California state wage and hour laws, and that the NCAA and PAC-12 violated those laws by not properly compensating them for work and overtime. Players, it says, were required to work more than eight hours a day and 40 hours a week without adequate compensation, and the suit seeks unpaid wages, overtime pay and damages.
At USC, Dawson was "repeatedly paid a substandard wage insofar as he was denied full pay for all hours worked, including overtime pay, and was frequently permitted to work without receiving required minimum wage payments," according to the suit.
Both the PAC-12 and NCAA said they disagreed with the claim.
"We are currently evaluating the claim, but strongly disagree with the notion that college students participating in athletics are employees," NCAA chief legal officer Donald Remy said in an email statement. "Our experience is that these college students, like their non-athlete colleagues, are very focused on their academic endeavors. Moreover, they have a passion for their sport and a commitment to their teammates that can't be equated to punching a time clock."
"We have conducted an initial review of the complaint and will vigorously defend ourselves," a PAC-12 spokesperson said. "As has been made clear through the legal process, student-athletes are not employees."
The suit's claim rests on the argument that under NCAA and conference rules, school athletic programs exert enough control over athletes to qualify them as employees under federal and state labor law. That argument is similar to the one Northwestern University football players made when they attempted in 2014 to create the first players union for college athletes ― however, those players made no mention of wages.
"All athletes make great sacrifices, and they all make great contributions, but players who play in big-time, big-revenue sports really stand in a different position."
The Chicago regional chapter of the National Labor Relations Board agreed that the Northwestern athletes met the definition of "employee" under federal labor law. The full NLRB, however, invalidated that ruling when it declined last year to assert its jurisdiction in the case.
In February, a federal court in Indiana dismissed a suit filed by track and field athletes at the University of Pennsylvania that was similar to Dawson's. The athletes have appealed the ruling.
Mark C. Rifkin, one of Dawson's attorneys, believes the new case is stronger because it involves college football players.
"I think there's something special about players in the big-revenue, big-money sports like [major conference] football," Rifkin said. "It's just different. All athletes make great sacrifices, and they all make great contributions, but players who play in big-time, big-revenue sports really stand in a different position. It's a totally different relationship between the conference and the player and the NCAA and the player."
The NCAA is currently facing at least two other major legal challenges over compensation for college athletes. A class-action antitrust suit originally brought by former UCLA basketball star Ed O'Bannon could soon end up in front of the Supreme Court; in August, a federal judge rejected the NCAA's efforts to dismiss another antitrust case headed by prominent labor attorney Jeffrey Kessler.
Rifkin's case differs from those, but he said it takes on the same basic idea.
"These are all part of a sort of growing trend toward recognizing student-athletes as participants in a major business venture, and treating them fairly given their role in that business," Rifkin said.
Related
Popular in the Community