University of Southern California senior Ariella Mostov wondered in May why neither the Los Angeles Police Department nor the school Department of Public Safety had attempted to contact her more than a month after she reported being sexually assaulted.
Mostov said she visited the campus Department of Public Safety to follow up, but the records manager couldn't find the crime report she had filed March 27. When the report was located later, it listed the crime as "injury response," rather than rape or sexual assault, according to a copy provided to The Huffington Post. Mostov said the campus police later told her the crime wasn't rape because the assailant didn't orgasm.
Mostov joined with several other USC students in filing a complaint with the U.S. Department of Education against the university over the weekend, alleging violations of the Clery Act, a federal law mandating accurate and timely reporting of crime on campus, including sexual violence. Mostov said she believes her case shows USC's routine failures in responding to sexual assaults and reporting the crimes.
USC is "persistently underreporting sexual battery, sexual assault, and rape in the Annual Clery Security Report by ... categorizing instances of 'rape' as 'personal injury,' 'domestic dispute,' and other less serious crimes or non-crimes," the complaint says.
Mostov said the campus police report of her attack also was inaccurate, and she was "furious" about the discrepancies. She said she told an officer she had asked the assailant several times during the attack to stop. The police report said Mostov told the suspect once to stop and he did. Mostov said campus detectives discouraged her from reporting the crime to Los Angeles police on her own, saying the district attorney would never take the case. "They made it seem like it'd be a total nightmare to go through the justice system," Mostov said.
"I feel like I was denied justice," Mostov said. "These people who are assigned to protect us and guarantee our safety, who are supposed to help us through these especially hard times, are people who are incredibly incompetent."
The Clery filing adds to USC's woes. The U.S. Education Department's Office for Civil Rights opened an investigation of the school in late June under Title IX, the federal education law that bars sexual discrimination. A lead complainant in the Title IX filing that sparked the U.S. investigation, USC senior Tucker Reed, organized the Clery complaint.
Reed said she found multiple students who saw their sexual assaults marked as lesser crimes, such as sexual battery or "injury caused by acquaintance," and campus police frequently discouraged victims from reporting sexual misconduct. The faulty reporting means the school's annual Clery log detailing the total number of sexual assaults in the past year is inaccurate, Reed claimed.
"Victims are told by campus security that turning in their assailant can ruin the perpetrator's life and that the investigation will be rough on them and traumatizing," Reed said. "They want to make it seem less bad than it is, because they have to report them, Clery-wise, and it's just sick."
USC officials said they "welcome reviews of our reporting process." [See UPDATE below for the statement of university officials.] A school spokesman pointed to a July 26 campus letter from Provost Elizabeth Garrett boasting that USC is "a national leader in procedures to deal with sexual violence," and pledging to continue improvements.
"As part of our ongoing process of improvement, in both of the last two academic years, I asked task forces to comprehensively review our policies and practices," Garrett wrote. "In addition, federal guidelines for universities change, and we update our policies accordingly. We are proud of our compassionate, professional leadership team."
When Reed reported her own sexual assault to USC in November 2012, it was logged as "sexual battery" by the campus Department of Public Safety officer, according to the complaint. Reed didn't know this until July 2013, she said, when she got a copy of the report.
Reed said she was told by Raquel Torres-Retana, student judicial affairs and community standards director, that the university had difficulty taking Reed's side because "we know that all the students at this university are good students. They're good people. That's why they're here."
The Clery complaint includes the statement of an accused male student, who says the university provides alleged assailants copies of the victim's statements:
They present me with a report that they had put together based off her version of the incident, right? They present you with a piece of paper that describes what the accuser –– their version of the incident, essentially. They have you read that, kind of silently to yourself and, uh, then they ask you to describe your version of the incident and sort of differences between them.
A student says in the complaint that her report with USC campus police of repeated assaults in one night was narrowed by the recording officer to just one incident. Another student in the complaint said she was told by USC officials a male student she accused of stalking was not a stalker because he had not "threatened" her.
Reed said after receiving a death threat from the accused attacker, she sought a "stay-away" or "no-contact" letter from USC for protection, but it took a week for the university to follow through and issue one.
If the Education Department decides to investigate the Clery complaint against USC and finds errors on the school's part, it could fine the university up to $35,000 per violation.
"We're trying to make USC a better place," Mostov said, "so that future students don't have to be in this situation."
UPDATE: Aug. 13, 6:49 p.m. -- John Thomas, chief of the USC Department of Public Safety, and Ainsley Carry, vice provost for student affairs, issued this statement:
The university fully respects and supports the Clery reporting process. Only campus safety officers with state training in the issues of sexual violence can take a report from a complainant. Our officers receive training in accurately reporting and classifying Clery incidents and do so in collaboration with the Los Angeles Police Department, which is responsible for investigating all sexual assault cases. Clery classification is based on the facts available to DPS and LAPD. We welcome reviews of our reporting process.

Portions of the student complaint and excerpts taken from confidential conversations, as reported, misrepresent the judicial process at USC. We make decisions according to the preponderance of the evidence and after a careful review of the facts. Determinations in sexual assault cases are often complicated. We recognize the trauma suffered by complainants regardless of where the weight of evidence falls.
Related
Before You Go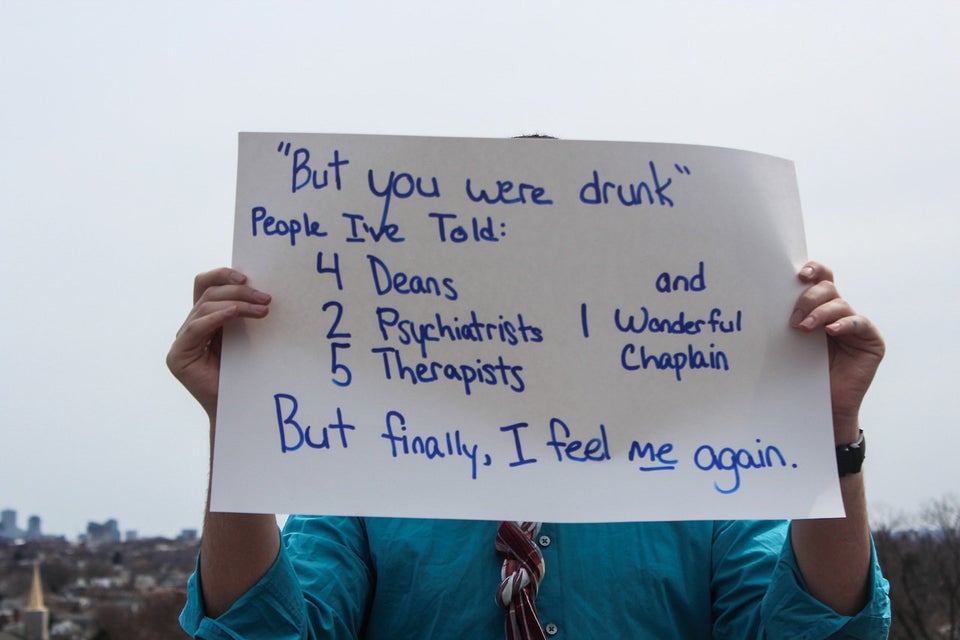 Surviving In Numbers: Stories Of Sexual Assault Survivors
Popular in the Community