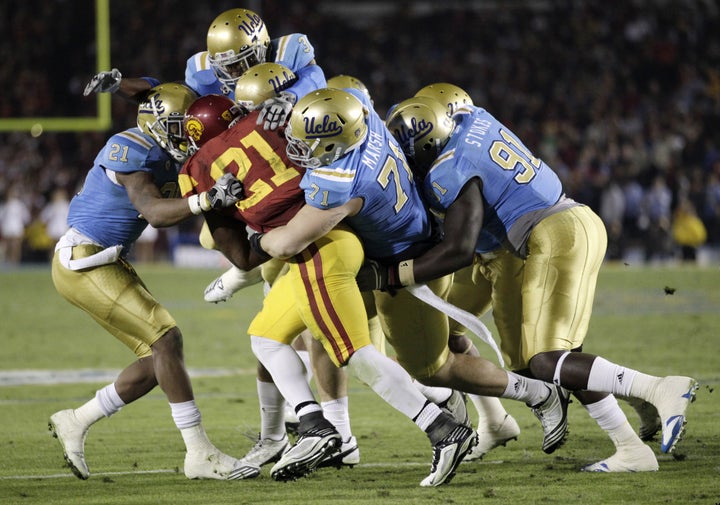 PASADENA, Calif. – A fight among dozens of fans in a parking lot before the Southern California-UCLA football game has left two men with stab wounds and two police officers with minor injuries, authorities said.
Three men were arrested after about 40 fans of both schools fought in a grassy part of Brookside Golf Course that the stadium uses for event parking, Pasadena police Cmdr. Darryl Qualls said.
One person was stabbed in the cheek and the other was stabbed in the back during the melee some three hours before Saturday's crosstown-rivalry game between the Bruins and Trojans was set to start, Qualls said. Both were taken by ambulance to Huntington Memorial Hospital. He described their condition as stable.
There appears to have been multiple incidents at the stadium.
One officer was treated for a sprained hand, the other for a sprained ankle, and both were released, Qualls said.
Arturo Cisneros, 44, was arrested on suspicion of attempted murder, police said. Steven Radu, 27, and Joshua Elder, 23, were arrested for investigation of assault on a police officer. They were being held in Pasadena City Jail.
Police did not know if any of the men had retained attorneys.
USC later beat the Bruins for the 11th time in 12 games, 28-14.
Police said the school rivalry and tailgate party drinking were major factors.
"The fans are pretty passionate about their football teams," Qualls said.
Friends and family of the stabbing victims said the fight broke out when Vimal Patel, 24, and another man who were part of a group of UCLA fans were tossing a football that accidentally hit a black Mercedes-Benz belonging to members of a nearby group.
Three men from that group confronted Patel, which ended with his being stabbed in the back, his friend Martin Keeley told the Los Angeles Times.
Keeley said he tried to defend his friend as his wife called 911, and many more people followed.
They included Joshua Dirling, 27, who was stabbed in the cheek, according to his brother.
"We were in the middle of it and my brother got popped in the face," Matthew Dirling told the Times. "We were having a good time and this broke out."
USC fan Michael Lane of Los Angeles said he was tailgating with friends in the lot when the melee broke out around him.
"People from USC and UCLA were fighting against each other," Lane said. "It was bottles being thrown and different things happened ... I saw a person come out with a bloody face."
Qualls said that the last time the annual rivalry game was held at the Rose Bowl in 2008, there were about 50 arrests, but he didn't think any of them were for assault.
"It doesn't happen at normal college football games," he said.
The brawl occurred before most fans or either team had arrived at the Rose Bowl, but thousands of tailgating fans spent most of the day gathered around RVs or barbecues in quiet Arroyo Seco, waiting for the late kickoff dictated by television coverage.
UCLA's rivalry with USC is among the most intense in college football, pitting two schools separated by just 13 miles between USC's downtown campus and UCLA's Westwood address. The rivalry divides fans from every section of Los Angeles, sometimes even splitting families.
UCLA was overshadowed while the Trojans won seven straight Pac-10 titles during the past decade.
Saturday's USC victory – the Trojans' fourth straight – in the 80th meeting between the teams was for nothing but civic pride, with the Bruins failing to qualify for a bowl game and USC banned from the postseason by NCAA sanctions.
Associated Press writer Andrew Dalton in Los Angeles contributed to this report.
Related
Popular in the Community