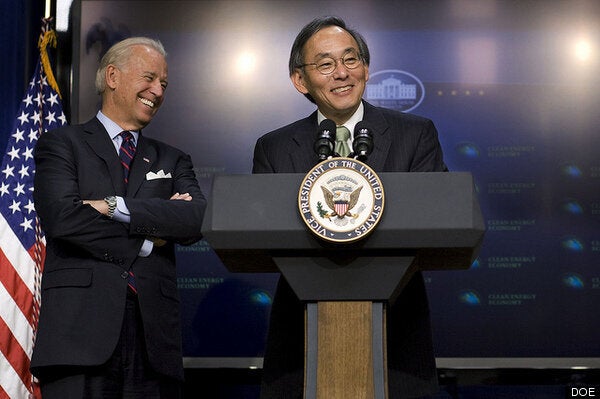 Chinese President Hu Jintao's arrival in the United States this week will spur a national conversation on a range of bilateral issues. One issue that deserves attention is an emerging success story: our work together to accelerate clean energy research and development.
For more than 30 years, science and technology cooperation has been a cornerstone of U.S.-China relations. From working to advance basic research in physics and chemistry to fighting disease to planning for natural disasters, joint U.S.-China science and technology initiatives have benefited the citizens of both our nations. Now, we have expanded our work to promote the development and deployment of clean energy technologies.
Cooperation with China on clean energy is good for Americans and good for the world. As the world's largest producers of energy, consumers of energy and greenhouse gas emitters, the energy and climate challenge cannot be solved without the United States and China. What we do -- or do not do -- in the coming decades matters to the entire world.
Additionally, by collaborating with China on clean energy research and development, we can bring down the costs of clean energy technologies for families and businesses. We can promote export opportunities for American companies, creating new jobs here at home. And we can help ensure that the United States leads in clean energy innovation, which is critical to our prosperity in the 21st century.
Both the United States and China recognize that we can make more progress by working together than by working alone. Each country brings complementary strengths to the table. The United States remains the leader in the most innovative technologies, with our world-leading research universities and national laboratories, pioneering businesses and entrepreneurs, and well-developed financial and legal infrastructure. China has experience and expertise with rapid, large-scale deployment of technologies. As the world's fastest and largest growing energy market, China can serve as an important global testing ground for new technologies.
Through strong collaboration, we can develop and deploy new clean energy technologies that promote economic prosperity while reducing carbon pollution. That is why, in November 2009, President Obama and President Hu launched an ambitious program of cooperation that covers energy efficiency, renewable energy, cleaner uses of coal, electric vehicles, shale gas and more.
This week, I will be meeting with my Chinese colleagues to advance progress on a flagship research initiative: the U.S.-China Clean Energy Research Center. The research center was established to facilitate joint research and development by teams of scientists and engineers from the U.S. and China and to serve as a clearinghouse to help researchers in each country. It focuses on the high-priority research areas of building efficiency, electric vehicles and carbon capture and sequestration. In addition to the U.S. and Chinese governments, it includes participation from academic institutions and the private sector. A central feature of the program is that intellectual property developed jointly will be shared between our countries.
One of the most important steps to promote innovation is to respect and protect intellectual property rights. Inventors need to know their hard work will be rewarded. In recent years, China has made strides to improve its intellectual property system, but more must be done. The United States continues to work with Chinese authorities to ensure rules and regulations are enforced. We also continue to work to ensure that China's innovation policies provide a fair and level playing field for American companies doing business in China.
While the United States is competing for leadership in energy innovation, we have much to gain by cooperating with China. Together, we can develop and test new technologies, accelerate their deployment, and bring down their costs. We can boost exports and create new jobs. We can enhance energy security and cut pollution. And we can build a sustainable energy future for the U.S., for China and for the world.
Popular in the Community