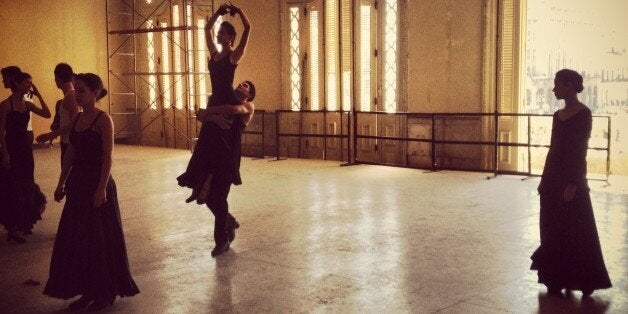 For 15 years, I have used music, art, film and theater to co-create productions with Cuban and American artists, including The Closest Farthest Away, which was the first and only production to be written, produced and performed by artists from the U.S. and Cuba.
An allegory for our historic relations, it told the story of a young American man and Cuban woman who were in love, but couldn't share the same physical space. Produced using holographic-video projection, dozens of actors and musicians from each country appeared on the same stage together in Havana and Miami. The creative use of technology allowed both countries to reflect on the absurdity of our situation. With renewed diplomacy between long-time foes, cultural bridges will become easier and should lead the way.
Art and Innovation Is Our Most Effective Language of Change
Diplomacy must always be hand crafted to the idiosyncrasies of each nation. In the case of Cuba, non-traditional methods will be more effective than resorting to our 20th Century foreign-policy guidebook of hard power. We need to avoid old polarizing terms such as "capitalism vs. socialism" or "democracy vs. dictatorship," and create a new vocabulary of shared goals such as creativity, entrepreneurship, technology, participation and innovation.
Cubans are a highly cultured and social people who look toward their artists as their thought leaders. They spend much of their free time going to local music, dance, film or sporting events. Cubans respect the U.S. for our music, film and baseball. Our artists have consistently been the most effective group at working together throughout our history, including Ernest Hemingway, Dizzy Gillespie, Duke Ellington, George Gershwin, Aaron Copland, Ernesto Lecuona, Herbie Hancock, Chucho Valdez and Desi Arnaz.
Let's begin with what has already worked and build from there, because the emerging generation of artists will continue their course for the rest of us to follow.
If we are going to have a new relationship, let's start with our space. We should operate in a new building that is disassociated from images of our past. Our current U.S. Interests Section in Havana is soaked in U.S.-Cuban political trauma facing a large anti-imperialist protest square.
What if our government put out a national call to both Cubans and Americans for architectural-design submissions and then allowed both citizens to vote online for the best design, to be commissioned as our new embassy? It could be an opportunity to become the first contemporary addition to Havana's eclectic skyline of colonial, modern, Art Deco and Soviet fabric.
It could double as an innovation and technology center, featuring a state-of-the-art performing-arts theater and lecture hall, a large gallery space for exhibits and a modernized classroom. Our ambassador could program the best of both U.S., Cuban and international performance, film, visual art, TED Talks, technology conferences, salons, science exhibits and a lecture series. The classroom could offer free English-language classes for Cubans and Spanish classes for foreigners, along with business, design and technology courses. Americans could host an online multi-media site and in-country station to reach all people with cutting-edge programming and discussions from around the world.
Our path to success lies in sharing the best of our society to inspire bottom-up opportunities for exchange. Soft power will more successfully influence our neighbor to take a new direction that inevitably steers toward free, participatory economics and politics.
Cuba has great potential. As Christopher Columbus described in 1492, "This is the most beautiful land that human eyes have seen." Havana was always the most advanced city in Latin America, until 1959. Even after being suffocated by politics since their beginning, their people have remained as intellectual, healthy, inventive, proud and charismatic as you can find anywhere.
We must seize this momentary opportunity to powerfully but carefully change the course of our history. Creativity will be our key.
This post is part of a Huffington Post blog series called "90 Miles: Rethinking the Future of U.S.-Cuba Relations." The series puts the spotlight on the emerging relations between two long-standing Western Hemisphere foes and will feature pre-eminent thought leaders from the public and private sectors, academia, the NGO community, and prominent observers from both countries. Read all the other posts in the series here.
If you'd like to contribute your own blog on this topic, send a 500-850-word post to impactblogs@huffingtonpost.com (subject line: "90 Miles").
Calling all HuffPost superfans!
Sign up for membership to become a founding member and help shape HuffPost's next chapter