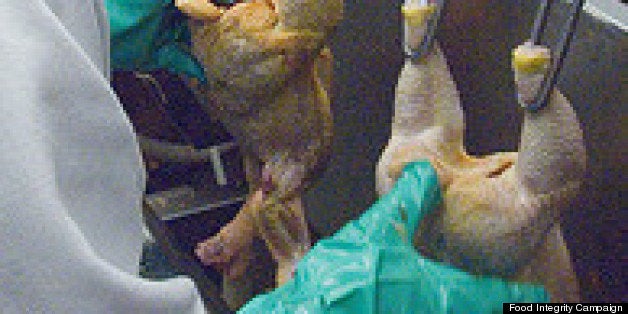 At 50 years of age, Sherry Medina didn't expect to be on disability, seeking early retirement. Committed to bringing awareness to consumers and others working in her sector, she recently made the courageous decision to blow the whistle on Big Ag's liberal and unrestricted application of hazardous chemicals in poultry processing.
Like others in her position, Sherry takes pride in her work as a USDA poultry inspector, where one of her primary duties is to protect the public from foodborne illness. But since she became seriously ill as a result of heavy chemical use in the plant where she is stationed, she worries that her days of looking out for consumer wellbeing are numbered.
According to Sherry, the chemicals used in the plant where she inspects poultry have seriously impacted her health. An affidavit she released to GAP (made public last month) details the extent of these health problems, including asthma attacks, sinus problems, and even organ damage. Her failing health has seriously impacted her lifestyle and may have ended her 16-year career as an inspector.
Sherry isn't alone in developing adverse reactions to chemicals used in poultry processing. As highlighted in a recent Washington Post article, chemical problems seem to be cropping up in plants all over the country. For several months my investigations for the Government Accountability Project's Food Integrity Campaign have led to numerous encounters with inspectors and plant workers who suffer similar symptoms.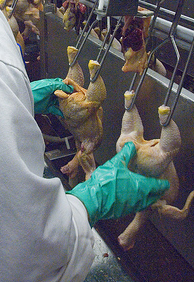 As Sherry notes, heavy chemical use wasn't always the norm in the poultry industry: "My parents and grandparents worked in the same plant and none of them have ever experienced the symptoms I'm having today." In fact, it wasn't until 2006 that Sherry notes she started feeling the impacts. At that time, Sherry was at the (formerly) Goldkist plant in Ellijay, Georgia. Her initial problems included difficulty breathing, skin and eye irritation, and coughing and sneezing. Others working in the plant were also becoming ill. Though manageable, she knew these health problems weren't normal, and decided to take action.
After identifying the link between chemical use and the health problems workers experienced, Sherry filed a health hazard report at the plant. It took the Food Safety Inspection Service (FSIS) nearly six months to act on the complaint. When an FSIS evaluation was finally completed, it became clear that Goldkist had failed to properly ventilate the workplace -- a key recommended precaution in reducing the harm posed by many chemicals, according to Material Safety Data Sheets (MSDS) provided to the plants by manufacturers. Due to inadequate ventilation, employees were constantly enveloped in hazardous chemicals. Only one attempt (unsuccessful) was made to fix the problem, a year later, according to Sherry. In the meantime, she was diagnosed with asthma.
For a short time, before being sent to her current station at Tyson Foods, Sherry worked at a processing plant in Albertville, Alabama -- Wayne's Farms -- that did not heavily administer chemicals throughout their processing operations. This company used an "offline reprocessing" system to clean carcasses. Rather than douse each bird on the line in a multitude of chemicals -- as is the standard in "online reprocessing" - this alternative system allows workers to remove contaminated birds from the line to physically clean them. While she was stationed at this plant, her symptoms improved significantly.
Unfortunately, at the plant where Sherry is currently stationed -- Tyson Foods in Albertville, Alabama -- problems with chemicals are much worse. Since arriving at this plant in 2010, her health has deteriorated. Shortly after her arrival, Tyson began using peracetic acid in processing. Two months after the plant began using this chemical, nearly all of the inspectors started getting sick. "I felt as though I couldn't breathe in the plant," recalls Sherry. Relying on the FSIS to fix the problem, inspectors started filling out health hazard reports. An evaluation of the plant was conducted and Tyson implemented a new ventilation system, but similar to the Goldkist plant, this was not enough to fix the problem.
Plants like Tyson tend to use chemicals in sanitation, maintenance, and processing. For example, in addition to chemicals used for processing poultry, Tyson Foods uses Pine-Sol and 409 to sanitize other areas of the facility, such as bathrooms, hallways, and the inspectors' offices. But USDA doesn't conduct independent studies on the effects these chemicals have on those exposed. Instead, inspectors rely on plants to provide them with MSDS reports for information on side effects, which they receive from manufacturers.
Not only can these chemicals cause health problems on their own, but Sherry and other inspectors worry that when mixed together, these chemical combinations may be harming their health in ways that are unknown to manufacturers, the industry, and the USDA. When Sherry sought answers to her questions about the mixing chemicals in the plant, she didn't get far because nobody had the answers.
Sherry and other inspectors also worry about the effects chemicals may have on the public. The Washington Post article points out that USDA has yet to research consumer health risks posed by consuming poultry treated with these chemicals. The FDA has the only information available on these risks, which they acquire from data provided by chemical manufacturers.
Following a series of illnesses, including a serious asthma attack that sent her to the emergency room in the fall of 2011, Sherry was left with no choice but to leave the plant and file for disability in December of that year. Though she knew this absence could mean the end of her career, she followed her doctor's advice and left the plant for good after he asked whether sacrificing her health was worth keeping her job.
Sherry has begun making regular doctor visits, including to a lung specialist who advised her not to return to the plant. Out of work for more than a year, she has only recently been able to reduce the amount of daily medication she takes. Her doctors have informed her that they have witnessed an increasing amount of patients coming from the Tyson plant with similar symptoms, including respiratory infections, eye irritation, and the development of serious allergies.
According to Sherry, inspectors and plant workers alike are hesitant or even afraid to admit they're becoming ill. In particular, vulnerable company employees know they are expendable, and risk termination if they speak out against the visible dangers of chemical use in processing.
In the past, the Food Integrity Campaign has worked with numerous federal whistleblowers who have come forward with information about threats to our food supply. We're grateful for the protections granted to federal whistleblowers -- including USDA inspectors like Sherry -- put in place with the passage of the Whistleblower Protection Enhancement Act (WPEA) last fall, which better protects those charged with enforcing food safety laws. Unfortunately, meat and poultry industry workers are not granted similar protections. This is why it is critical that employees of conscience, such as Sherry, take a stand when they see industry wrongdoing.

After feeling powerless for so long, Sherry now knows it's her duty to speak out on behalf of those inspectors and plant workers who fear retaliation for voicing their concerns. As a Union Officer, she plans to continue fighting against the use of dangerous chemicals in poultry processing, starting with her petition urging Tyson Foods to stop using excess chemicals. Join Sherry's fight by signing her petition today!
Alyssa Doom is Investigation & Outreach Coordinator for the Government Accountability Project, the nation's leading whistleblower protection and advocacy organization.
Related
Popular in the Community