An exclusive report from The Guardian on Monday indicated that the staff in the Natural Resources Conservation Service unit at the United States Department of Agriculture were advised to refrain from using the phrase "climate change" in their research ― but the NRCS insists this never happened.
"The Natural Resources Conservation Service has not received direction from USDA or the Administration to modify its communications on climate change or any other topic," Kaveh Sadeghzadeh, NRCS's communications director, said in an email to HuffPost.
On Monday, The Guardian reported that they'd obtained emails that had explicit instructions from USDA officials to NRCS staffers to use language like "weather extremes" instead of "climate change." The 65 emails included in the report, which range in dates from January to July, suggest the following swaps: "resilience to weather extremes/intense weather events: drought, heavy rain, spring ponding" instead of "climate change adaptation"; "build soil organic matter, increase nutrient use efficiency" instead of "reduce greenhouse gases"; and "build soil organic matter" instead of "sequester carbon."
Sadeghzadeh told HuffPost that "these emails, sent in the first days of the new Administration, did not reflect the direction of senior agency leadership."
However, mere days after President /www.huffingtonpost.com/topic/donald-trump"}}" data-beacon-parsed="true">Donald Trump's inauguration, deputy chief for programs at the NRCS, Jimmy Bramblett, said the following in the first email in The Guardian's report:
"It has become clear one of the previous administration's priority is not consistent with that of the incoming administration. Namely, that priority is climate change. Please visit with your staff and make them aware of this shift in perspective within the executive branch."
The director of soil health, Bianca Moebius-Clune, said in another email that the switch in phrasing is intended to "not change the modeling, just how we talk about it." Another employee, in response to the proposed word changes, said they'd "prefer to keep the language as is," noting the importance of "maintaining the 'scientific integrity of the work.'" But the employee did also note that the documents in discussion were meant for the "executive committee" and not public consumption.
Sadeghzadeh told HuffPost that they "continuously evaluate" their "messaging to America's farmers, ranchers, and foresters as they work to implement voluntary conservation on their operations to improve the health of our soil, air, water, and habitat."
The NRCS' site section on climate change has remained unchanged.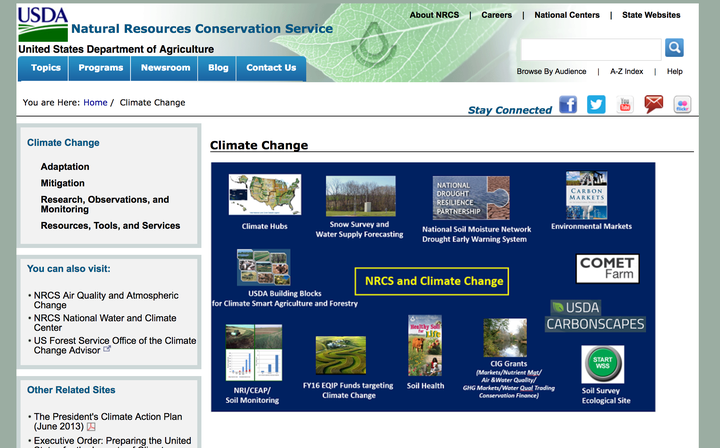 REAL LIFE. REAL NEWS. REAL VOICES.
Help us tell more of the stories that matter from voices that too often remain unheard.
BEFORE YOU GO
PHOTO GALLERY
4 Surprising Places At Risk From Climate Change