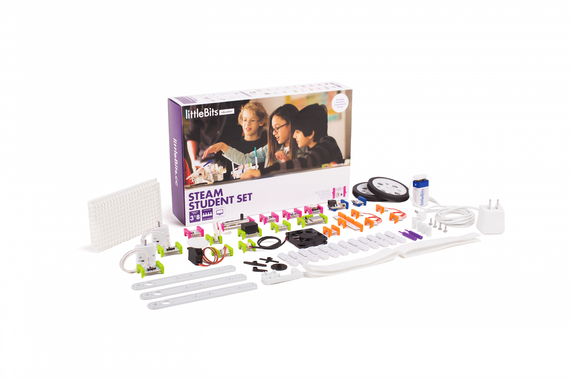 Image Source: littleBits.cc
As parents we have all been there. The kids have a really good year in school. It feels like those countless hours of reading to them and making every trip to the supermarket a math problem are totally paying off. You see their mind expanding, that thirst for knowledge in their eyes, the ability to problem solve...and then summer hits.
Can littleBits STEAM Student Set End Summer Brain Drain?
This summer we are fighting back against brain drain. We will be using the littleBits STEAM Student Set to have the kids work on projects and keep those wonderful minds active. What is littleBits STEAM Student Set you ask?
We just happen to have a full video that reviews the littleBits STEAM Student Set -
STEAM stands for Science, Technology, Education, Arts and Math. The concept is to get kids excited about learning on all of these topics. It is a move away from traditional - let's just learn more reading, writing and math.
It is no secret to any parent, the more you make learning fun, the more the child will want to learn. LittleBits has done a fabulous job of making circuits, science and general design incredibly fun and accessible.
The Teacher's Guide Will Make You Smile
It is not often I read the manual that comes with a tech product and smile. The Teacher's Guide with the STEAM Student Set is wonderful. The 120+ page Teacher's Guide connects challenges to NGSS and Common Core standards, and inspires you to take concepts further.
While the littleBits STEAM Student Set is clearly geared toward a classroom environment, I think it makes a wonderful "at home camp" for kids who like to make, experiment and learn. As a bonus, parents will love being able to build and explore like a kid again.