But is it the genuine article?
A user's silly auction of a handwritten note containing only the word, "The" on eBay Australia has attracted at least 44 bids, with the top bid at time of writing a whopping $10,099 AUD (that's about $9,320 in U.S. dollars).
According to eBay, the auction began on May 22 with a bid of $0.99. At first users placed bids of a few dollars, but then things heated up. Three days after the auction began, bids in the thousands came rolling in.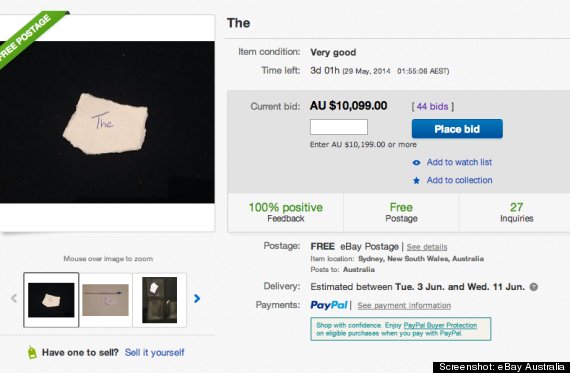 The seller, whose user name is "sweatyman," writes:
Handwritten with blue ballpoint pen, on a torn piece of Reflex A4 paper, this versatile word can be used in literally thousands of sentences. For example:

"The dogs have escaped again"
"I will buy some meat from The local deli"
"What's The time?"

Or, you know: "What's The point?"
It's unclear if the item will actually sell, although it would be mildly amusing to see one of the most commonly used articles in the English language sell for thousands of dollars.
Popular in the Community