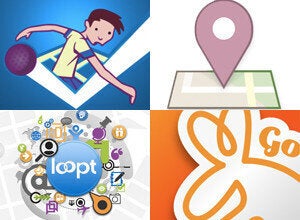 Facebook said yesterday that "millions" are using Places, its recently-launched "check in" application. Foursquare boasted that 20,000 of its 4 million members earned its "I voted" badge. Gowalla celebrated its 20 millionth check-in, and SCVNGR made headlines for going global and being the first to take advantage of Google's Place API.
Location-based social networking services, such as Foursquare, Gowalla, and Loopt, are a hot topic in the tech world. Yet despite these milestones, a recent study from the Pew Research Center offers sobering statistics on the extent to which they've taken off among mainstream users.
The finding: Most aren't checking out check-in services.
Just 4% of online adults use location-based services, Pew reports, adding, "On any given day, 1% of internet users are using these services."
The Pew study also found that the share of men (6%) using these location-based services is double the share of women (3%). Geosocial services were found to be more popular among online Hispanics than online whites or blacks--according to Pew, "10% of online Hispanics use these services," versus 3% of online whites and 5% of online blacks--and users between 18 and 29 years old were much more likely to take advantage of the check-in services: "8% of online adults ages 18-29 use location-based services, significantly more than online adults in any other age group," Pew notes.
It remains to be seen whether Facebook Places, which launched in August of this year, will help take location-based services mainstream. Pew's survey was conducted between August 9 and September 13 of this year, with Places barely a month old.
We want to know how HuffPost readers compare to the "online adults" surveyed by Pew. Take our poll and weigh in below--do you think these services will catch on? Why or why not?
Calling all HuffPost superfans!
Sign up for membership to become a founding member and help shape HuffPost's next chapter