As our global landscape continues to evolve and devolve, we find ourselves at a time with an unprecedented opportunity to strengthen bonds and increase stability. We have an ability to learn about, replicate and build upon solutions happening in communities less engaged due to political, commercial or security constraints places like Myanmar, Cuba, Bhutan, Tanzania, Uganda, among many others.
The best way we can achieve this is through smart, targeted opportunities for exchange and engagement. I have been fortunate to experience this through my media nonprofit organization, Students of the World, founded over 15 years ago. Since our inception, we have sent teams of emerging creatives to communities across the globe to tell stories of progress and shine a light on solutions happening in communities halfway around the world.
I most recently experienced this as a part of an innovative initiative called Fringe Diplomacy. Fringe was born out of the work of the Aspen Institute Global Alliances Program and the Richardson Center for Global Engagement with an aim to go beyond the bureaucratic and resource constraints of traditional diplomacy. The concept of Fringe is grounded in the idea that in order to build up emerging economies, to strengthen ties with markets and to create opportunities for innovative ideas to spread across borders, we must create ways for entrepreneurs, investors, philanthropists and small to medium businesses to engage with counterparts in other countries. We often see these types of exchanges at the political or large corporate level. But for those of us who have an interest in investing in, spreading our technology to or collaborating with businesses in emerging markets, it is quite difficult to even know where to begin.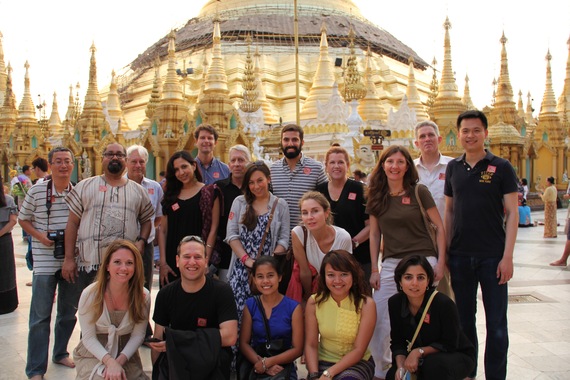 I recently returned from a Fringe trip to Myanmar (Burma). My travel companions hailed from all over the world: India, Tanzania, the United States, Bosnia, Laos, Vietnam and Thailand. Through this experience, I came to know a country I had previously only known as a place of intrigue, of rich history, of tumultuous past and of a very recent emergence into the global market. I came to appreciate the efforts of Burmese entrepreneurs, NGO employees, of homemakers, of Ministers, of independent filmmakers, of telephone companies and of tech investors. I learned of the needs, challenges and opportunities in this newly emerging market; I also fell in love the hospitality, the optimism and the determination I found amongst its people.
There was so much more than learning in this country we were there to do real work with a goal of tangible results. Building upon the previous delegations' experience in Myanmar, we were focused on small, scalable energy solutions with a particular emphasis on clean cookstoves.
For many of us, clean cookstoves conjures up the task of taking out gloves, scrub brushes and household grease cleaner. That is the absolute opposite of what faces over 2.6 billion people globally. Over one third of our global citizens cook their meals over open flames using charcoal, firewood and other solid fuels to feed their fires. While these resources enable them to cook the meals they need to survive, they are extremely pollutant and deadly. Three billion people rely on solid fuels to cook and the World Health Organization estimates that over four million people die every year as a result of pollutants coming from cooking, heating and kerosene lamps. Four million.
This is a vast global problem, that doesn't get much attention. The better and more important news is that we have solutions. And that is solutions, plural. Innovative designs, materials and technologies can make wood and charcoal cookstoves that reduce smoke pollution in a household by 70 percent, and reduce the fuel consumption by half half the wood, half the trees. Members of our delegation represented some of the most innovative organizations and companies providing smart, sustainable solutions to this problem including: CQuest Capital, Vietnam's Green Generation, SNV Netherland and the Global Alliance on Clean Cookstoves.
Myanmar's fifty-four million citizens cook almost exclusively with wood or charcoal. Clean cookstoves do not exist in the country yet. This presents a tremendous opportunity to do business and have impact to do well and do good. The primary challenge is that clean cookstoves are more expensive than traditional ones. And for a poor population, this might seem as an impossible barrier. That is where the innovation and creativity come to play in Fringe.
There are solutions that have been successfully implemented elsewhere in the world: from financing solutions and carbon credits to financial partnerships with wood suppliers. In order to identify the local problem and create the appropriate local solution, one needs to bring those who have worked on similar problems elsewhere, introduce them to potential partners and collaborators, and set a tone of constructive and equal partnership between them and the local population.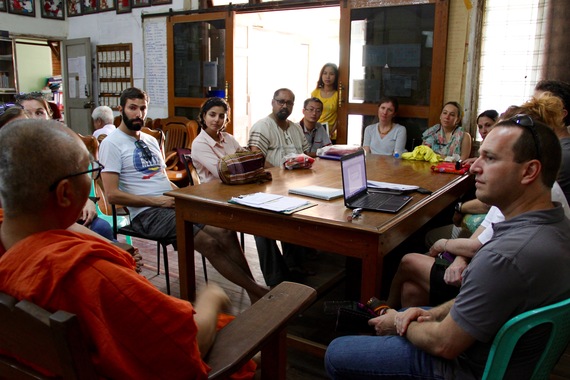 This is Fringe's special sauce: it curates a passionate group, it lowers their cost of engagement, increases their access and provides the environment for tangible partnerships. In the case of Myanmar, this resulted in a legislative effort led by the local Ministry of Environment and Forestry aimed at including clean cookstoves in import tax exemption, which will reduce their costs by about 30 percent and launching a joint awareness campaign aimed at educating the local population about the rewards of clean cookstoves. This will open the door for clean cookstoves companies, to enter the Myanmar market, do good business and positively impact the lives of the Burmese people.
Be it cookstoves in Myanmar, agriculture technology in Tanzania, early stage investments in Colombia or water treatment facilities in Cuba, this is where we see Fringe at work. Fringe Diplomacy responds to local priorities, bringing those who are passionate about solving the common challenges to help provide the right tone for constructive partnerships. Fringe is for the curious, the bold, the compassionate, the doers and the dreamers.
While the definition of Fringe can mean "not a part of the mainstream," it is my sincere hope that the ideals and model of Fringe Diplomacy is expanded upon. Fringe allows us the opportunity to use our imaginations to provide smart, targeted solutions with large impact; it is a concept whose time has come and one that I hope others replicate.
This page contains materials from The Huffington Post and/or other third party writers. PricewaterhouseCoopers LLP ("PwC") has not selected or reviewed such third party content and it does not necessarily reflect the views of PwC. PwC does not endorse and is not affiliated with any such third party. The materials are provided for general information purposes only, should not be used as a substitute for consultation with professional advisors, and PwC shall have no liability or responsibility in connection therewith.
Related