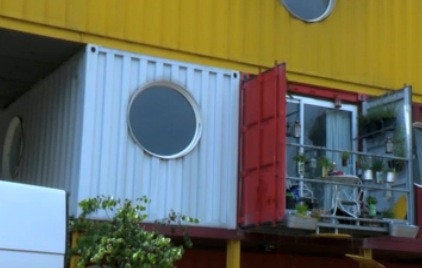 Kathryn Findlay is the Principal Director of Ushida Findlay Architects. Gaining prominence in the nineties, the practice is known for its use of experimental design and progressive technology. This was demonstrated most recently when they were appointed as delivery architects for Anish Kapoor and Cecil Balmond's ArcelorMittal Orbit, the tallest sculpture in the 2012 Olympic Park. One of Findlay's most notable projects was the Soft and Hairy widely imaginative house in Japan, inspired by Salvador Dali's statement that future architecture would be 'soft and hairy'. Extending these ideas Findlay guided Crane.tv around London, showing us her favourite impermanent structures, demonstrating the adaptability of our city and the possibilities for the future.
We first meet Findlay in front of Madame Tussauds where she makes us notice the Westminster Council pollution measuring box. Wrapped in rough wooden screens and hidden, Findlay qualifies the structure as being both invisible and beautiful.
Our third and final destination is Trinity Buoy Wharf located in London's Docklands. We follow Findlay into the Lighthouse, which is no longer used as a lighthouse, but as the home to Longplayer, a one-thousand-year long, captivating musical composition, developed by Jem Finer. It began playing at midnight on the 31 December 1999, and will continue to play without repetition until the last moment of 2999. A few meters away we discover Container City, a network of studios made out of colourful ship containers where people live and work.
Our architecture tour ends there. Findlay, looking at the River Thames, adds: "That's the idea of this ebb and flow. You know, we're beside the water, which ebbs and flows and people should realise that's how we're living."
Crane.tv App now available for Nokia devices from the OVI Store
REAL LIFE. REAL NEWS. REAL VOICES.
Help us tell more of the stories that matter from voices that too often remain unheard.