 Zaheer Salim Khan stood out from the other young men when I first met him two years ago. "We're really going to have to work with this fellow," I thought to myself.
Zaheer grew up and still lives in Shivaji Nagar, a slum community of about 600,000 in eastern Mumbai. Most families live side by side in 10 by 15-foot homes that line the slum's winding, narrow pathways. Women spend their days washing clothes in doorways, tending to children, cooking. Many men work in the informal labor market as carpenters or embroiders. Shivaji Nagar is also home to Mumbai's largest dumping ground -- a literal mountain of garbage.
When we met, Zaheer was a lanky young man with a mischievous smile who regularly skipped school. He cursed nonstop. He loved "eve teasing" a term used in India to describe the common and generally accepted practice of sexually harassing girls and women in the street. The oldest of three, he admittedly wasn't very responsible at home.
"Abusing others was the way of life for me," he told me a few months ago when he visited my office in Mumbai.
But that's not the case anymore.
"Now when I look back, I realize the difference (in my life)," Zaheer said, "and I think that's what is my turning point."
Zaheer, 21, credits his turnaround to a program that married the sport of cricket with lessons on gender equality. Called Parivartan, which in Hindi means "transformation," it was designed and evaluated by my organization, the International Center for Research on Women (ICRW). We modeled it after Coaching Boys into Men program at Futures Without Violence (formerly Family Violence Fund). Apnalaya, a local partner that has been on the ground in Shivaji Nagar for generations, implemented Parivartan.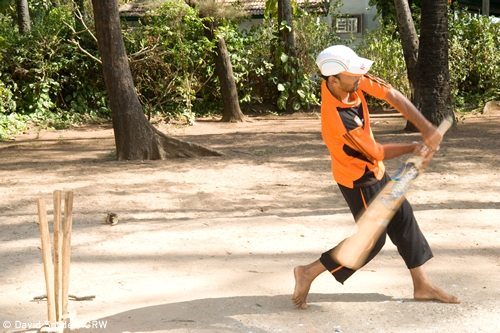 It's critical to involve men and boys in efforts to advance gender equality, and Parivartan used cricket to draw 10- to 16-year-old boys into discussions about treating women with respect and as their equals as well as about reducing violence against them. We challenged boys to question traditional notions about manhood and men's and women's roles in society. After three years, we found that Parivartan indeed helped shift attitudes and behaviors among many youth. Our findings demonstrated that using the sports environment to address gender issues is a promising model. While the formal program is finished in Mumbai, Parivartan is now expanding its focus and working with a new group of youth in rural Karnataka, in southern India.
In India, the impact of deep-rooted gender norms can play out in a variety of ways: Some men feel they have the right to physically or verbally abuse their wives. Others believe they're entitled to dictate what their wives or girlfriends wear or how long their hair is. Brothers feel only their sisters must handle household chores. Sexually harassing women on the street, in trains, at the market, is seen as an acceptable boys' sport. In many cases, respecting women means controlling them.
Parivartan aimed to begin changing such attitudes and behaviors among boys and young men. We worked with two groups: One in Shivaji Nagar, with informal cricket coaches like Zaheer - whom we called mentors - and young cricketers; and with formally-trained school cricket coaches who taught boys from middle and upper-income families in downtown Mumbai.
The issues we covered were just as challenging for the older mentors and coaches as they were for the young cricketers. By the end, our research showed that some important changes took place among everyone - most significantly, youth reported being less tolerant of physically abusing women. Their perceptions about what it means to be a man -- that you have to "act tough," that you don't talk about your problems and that you are not faithful to your girlfriends -- also shifted.
Zaheer is just one example of that.
"Gradually, as part of this program..." he told me that day in my office, "I started questioning my identity, my attitude, the way I behave and treat myself, my family, neighbors and especially girls and women in my locality and elsewhere."
Today, Zaheer is back at school. He had repeated the 10 grade more than once, but now is in 12. He has a job at a nonprofit in Mumbai that works on social issues. And he's receiving formal training in cricket coaching.
"I have an ambition in life," he said.
I see how Zaheer has become a much calmer, focused young man. He's energized and engaged. He has plans now. While I don't know if the lessons of Parivartan will stick as Zaheer and others grow into adulthood, seeing the transformation in him gives me a kernel of hope.
It will be up to each of them to make it happen
Photos courtesy of David Snyder for ICRW
Popular in the Community