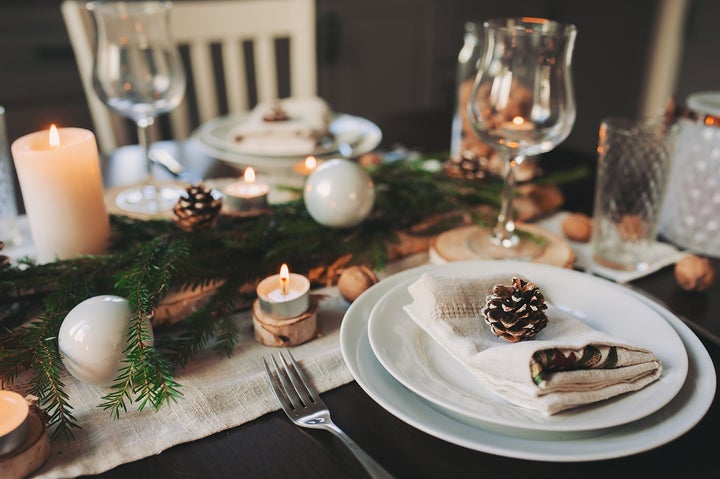 The holiday season is almost upon us, and with it, the anticipation of celebrating with our family and friends. Flowers are a wonderful way to capture the exuberance of the holidays as you decorate for your guests. Whether you prefer a more traditional take on holiday décor or are looking for an alternative approach, flowers give you many options to add warmth and beauty to your home in your own unique way.
Traditional holiday floral décor is built around colors, plants, and scents that bring back happy memories. To capture this feeling of nostalgia, seasonal greenery garlands are a perfect addition to your space. You can accent your garland with red, white, and pink blooms or decorate it with pine cones and ornaments. Either way, the aroma of pine will help set a wintery holiday mood. The large bell-shaped blooms of amaryllis, in red, white, pink, or striped make a lovely cut flower arrangement for the holidays as well. Finally, with proper care, white or red potted poinsettias will look beautiful for weeks. To make them look even more elegant, repot them in white ceramic pots.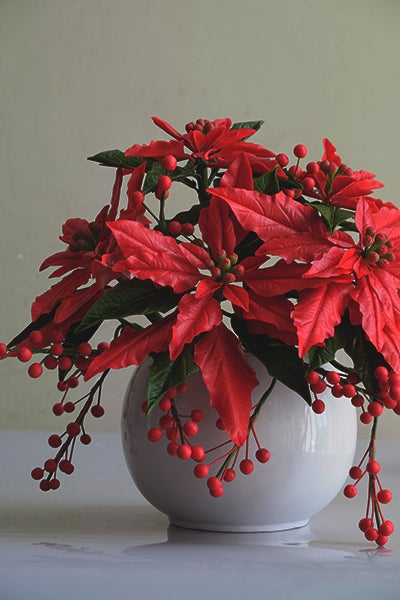 If you prefer a more unconventional look to your holiday décor, try decorating your garland with seasonal produce like kumquats, persimmons, oranges, pears, or pomegranates. You can also incorporate herbs or other foliage such as magnolia leaves into the garland itself. To give your cut flowers a sophisticated flair, opt for a single-variety arrangement that features tulips, ranunculus, paperwhite narcissus, or amaryllis, all stars of the winter season.
Another modern way to change up your holiday décor is to vary the color scheme. Choose a color palette of two different hues (preferably an unexpected or dramatic combination) and use that throughout your home. Think burgundy and gold, teal and silver, hot pink and orange, gray and green, and so on. If you want to add a third color, stick with a neutral such as brown, taupe, or charcoal grey to set off your main colors.
You can also dress up your dining room table with a table runner created out of greenery. First, use clippings from the bottom of your Christmas tree as the base. Add candles, either votives or colored tapers, down the length of the table, and nestle rose heads amongst the greenery and around the base of the candle holders. For extra ambient lighting, curl fairy lights into a tall glass cylinder and place on the table. A well thought out but simple decoration down your table will be sure to impress your holiday dinner guests!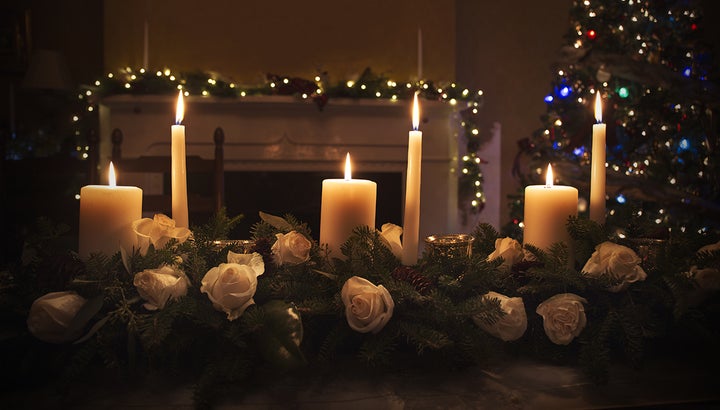 Whether you're hosting an intimate party for a few friends or gathering the entire family for a holiday extravaganza, flowers add an extra air of grace to your events. At Rachel Cho Floral Design, we strive to go beyond the ordinary, offering our clients individualized service and inspired design. We hope you take advantage of the beautiful flowers this season has to offer, and we wish you happy holidays!
Related
Popular in the Community