You've seen them everywhere, from the landmarks to the event announcements: Snapchat geofilters. Even the minority who are not on Snapchat have seen the screenshots of Snaps of their friends with filters on Facebook, Twitter, and Instagram. Geofilters are changing how we communicate in the same way that hashtags changed how we search on social media.
When Snapchat was first launched, it was a quick message-on-image platform. Its ability to destruct messages seconds after being opened was the variable that set it apart from all the other social media apps out there. Snapchat was founded on FOMO (see a story in 24 hours or miss it), has morphed into a communication giant that everyone wants to emulate, from Facebook live video to Instagram Stories. FOMO is a driving force behind building community on social media, and geofilters are the next step in that direction.
Geofilters are community and event based. This means that when you step into a new city or concert, a new geofilter will pop up. People can collect geofilters in the same way that they collect Pokémon. In an age where individuality is celebrated more than in any previous generation, users want their Snaps to have the freshest filters. They want their friends to know just where they are and what they are up to. Companies know this, and to strengthen their reach, many have turned to having geofilters created to celebrate their events and companies themselves.
The first time I came into contact with a custom geofilter was for Barnes & Noble. They were having their B*Teen Book Festival, and I was doing a reading and workshop with the teens. When I went to post about it, I saw Barnes and Noble's new B*Teen geofilter, and it blew my mind. The fact that I was a part of this event and that it was big enough to yield its own geofilter filled me with such pride. And I was so happy to see all the Snaps I received with the same geofilter back, meaning that all those people were supporting me at the festival. The geofilter felt exclusive, and unlike the snaps that are easy to send, making a geofilter takes time and effort. I became an instant geofilter fanatic.
And now anyone can create their own geofilters. There are many talented designers and great new platforms out there who are already revolutionizing the geofilter game. A great example is Pepper Filters, a cool platform where Snapchat users can drag and drop designs and submit to Snapchat. They make filter creating fun and easy, citing that "even grandma can do it."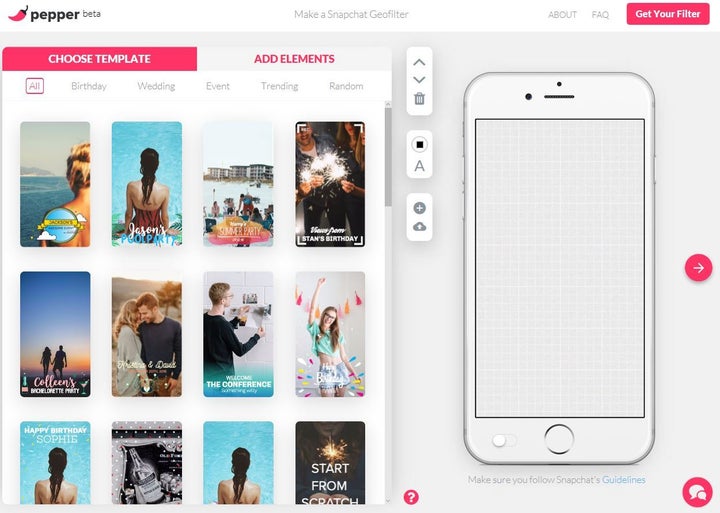 Geofilters are doing a lot more than just changing Snapchat. They are also revolutionizing how we communicate and giving a creative voice to many others in the process. Online platforms have provided people with so many new means of communication and expression, and geofilters are a great new way that many people can do so while connecting with like-minded people in their communities.
Related
Popular in the Community