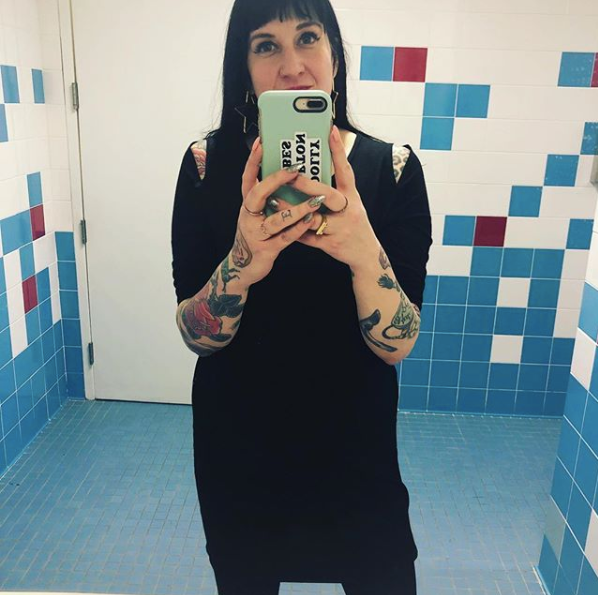 While it may not be the stuff of romantic comedies, I have to admit I take a certain pleasure in answering "He slid into my DMs" when people inevitably ask my boyfriend and me how we met.
It gets worse: The DM in question was in response to a decidedly untasteful cleavage shot masquerading as a question about what to wear to a work Christmas party. My face wasn't even in the picture!
But as sleazy and superficial as this all sounds, it somehow led to the most fulfilling (and feminist!) relationship of my life. And it all happened after I gave up actively dating.
When I turned 34 around this time last year, I seemed to suddenly and definitively reach my lifetime tolerance for bad male behavior. And that behavior loomed largest in my dating life. In my experience, "dating while feminist" meant opening myself up and being vulnerable while also subjecting myself to one sexist microaggression after another.
Every woman I know has a horror story about this. One woman I know was only daring to exist in a dating space when she received a message to her inbox reading simply "you are unattractive." Another found herself rarely pursuing dating relationships because she couldn't handle the stress of men trying to violate her boundaries by pushing for unprotected sex. Nearly everybody I know reports "aggressive" and "entitled" behavior from men on dating apps and in person on dates.
Beyond that, I disliked what felt like the time-killing soullessness of the face-swiping apps that had replaced more traditional dating sites. I lasted 24 hours on Tinder and not much longer on Bumble before deciding that these apps and the selection of self-described entrepreneurs and exercise-routine-detailing bros that I found on them just weren't for me. Yet those apps seemed to be the only realistic option left for people who ever hoped to find a partner.
Since I wasn't interested in swiping, I figured there was a good chance I'd just continue to enjoy my single life for the foreseeable future, maybe revisiting the idea of love when my son was grown up and out of the house and I had more mental energy. I'll only be 46 then. (I sometimes did the mental math.)
While I wasn't on any dating sites or apps, I was open to accepting, on a case-by-case basis, invitations from men I happened to meet in non-dating spaces. This resulted in the occasional date with someone I met organically while out in the world (imagine!), but my most fruitful source of romantic intrigue came from social media. I went out for a few months with a writer acquaintance after we started flirting over Twitter. And (in a bit of foreshadowing?) I had drinks and later a respectful sexual encounter with a friend of a friend who started following me on Instagram one day.
Social media, while certainly not free from the misogyny I'd experienced in the dating world, allowed me my own space to express a curated but authentic version of my bold, unabashedly feminist personality; interacting with men through that lens felt a little like forcing them to engage on my terms. My Instagram, in particular, was set to private: To even follow me you had to literally request permission. And if you abused the privilege? That's what the "block" button was for.
Years of writing about my personal life on the internet had left me with a modestly healthy follower count, and once I started using Instagram's story feature, they started to engage with me more intimately than before. On any given day, I might be getting direct messages about something I wrote in 2003, the shoes I'd worn to work that day or the best place to buy plus size lingerie.
About the latter: A lifelong oversharer with a kinky, sex-positive "brand" and an attention-seeking streak, it didn't take me long to start using stories ― with their temptingly temporary digital life that gave the illusion of semi-privacy ― as the repository for the occasional sexy selfie.
I posted them for the same reason I posted any selfie ― because I feel pretty on a given day, because I was wearing something cute (albeit a swimsuit or a piece of lingerie), because it felt good and empowering to create an image of myself ― flawed, imperfect, a solid size 12/14 to boot ― and declare it sexy, whether you like it or not.
But with the sexy selfies came a certain amount of sexual attention. Which, in an environment where I felt such a sense of agency and control, it turned out I did not hate.
And so I began several interesting flirtations through Instagram. There was the dude I'd dated through OkCupid a few years back and lost track of until the app brought us back together. The dude I'd met years ago at a concert whose work schedule was too crazy to ever actually meet up. The dude who lived across the country and with whom I'd once had a very intense and satisfying vacation fling. They all showed up in my DMs, summoned by the siren song of me posting my cleavage on the internet.
Sure there was the occasional interaction that felt creepy or unwanted (As an ex-boyfriend put it, "If you put out the bird feeder, you're gonna get some raccoons") but for the most part Instagram felt like a pleasant, low-pressure way to express my sexuality and get compliments from cute guys on the reg.
And that's all I was expecting when I started chatting with B., who sent an enthusiastic response to that epic shot of my lingerie-clad breasts immediately followed by "I'll leave your DMs now. You're a great writer!"
I joked that it was the world's most respectful DM slide. In the weeks of DM-ing, and then texting, (and sometimes both simultaneously) that followed, B. would prove himself to be not only respectful but kind, mature, emotionally present, dedicated to equality without being performative about it ― basically the exact opposite of all those dudes I was trying to avoid on Tinder. The only catch was that he lived in Chicago while I was in New York.
When I flew to visit him for the first time, it was supposed to be just a fun, sexy rendezvous to culminate our months of flirtation ― a "ho weekend" as my friend Taryn referred to it when I told her my plan.
Instead, B. and I had had what was by far the best sex of either of our lives, and then lay in each other's arms listening to the 1990s country music we both liked, talking and making out until I had to catch my early flight. We'd exchanged breathless I love yous before we saw each other again.
That was almost eight months ago, and after many round-trip tickets between New York and Chicago, and countless hourslong phone conversations, B. recently decided to relocate so we could build a future together. He now lives a subway ride instead of a plane ride away.
When I think about it, I can hardly believe that a guy in Chicago who wrote me a message on the app people use to show off their lunches ended up being THE GUY and that that app brought him to me. God bless big beautiful breasts I guess.
Popular in the Community