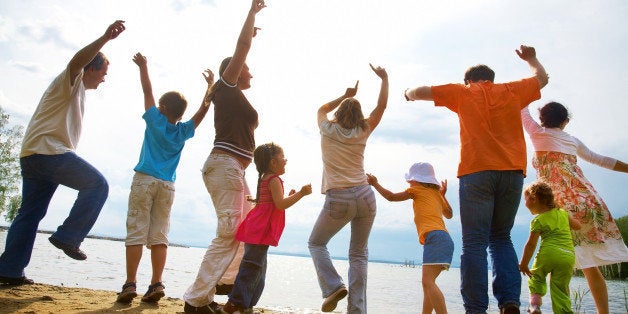 A big family weekend. Lots of relative. Outfits to choose; some to pack. Don't want to be late for anything, but how can I get everything together on time? And I'm not even fully prepared for next week's schedule yet.
But wait!! I need to put a different spin on things. In fact, I already did.
Yes, there is a big weekend planned. Do I want to spend my time worrying about the minutiae, or do I simply want to enjoy the moments? I'm happy to say that I decided put aside any thoughts of work, chores, and deadlines, and will simply enjoy.
Two wonderful and special life-cycle events are taking place this weekend. In fact, they are happening in two different cities! Just think of how lucky I am to be included, and able, to do both.
I'm going to have an opportunity to see cousins and an uncle whom I've not had been able to see in so long. It's like a slice of my hometown that, to me, is, especially at this point in my life, like a little slice of heaven.
A younger cousin will pass a milestone in his life, and I will have the honor of being there to witness the whole thing. I'll be able to think back to when he was so young, and contemplate how he has matured and become such a special, kind, and considerate young man.
I will then drive the four hours from one city to another and see a whole different side of the family. Sons, daughters, their spouses and their children will all be there, plus many different friends with whom I'll have a chance to catch up.
Another young relative, this time a grandchild, will celebrate her first birthday. How did time pass so quickly from the delivery room to her first birthday?
When I woke up Friday morning I will admit I was in a panic, wondering how I would get everywhere and do everything. And, then, my mindfulness kicked in.
What is most important? The only things that really matter this weekend are family and friends; I'll have plenty of time to enjoy both.
What can wait? I can put away thoughts of work, next week's schedule, and office papers that need to be organized and filed.
How can I lower my stress and anxiety? I can take deep breaths and mindful moments. I can thank the world for allowing me to be present in this place and time so I have the privilege of being with and celebrating those for whom I hold such love.
A few years ago I would have been more stressed than looking forward with anticipation. I would not have known how to handle the stress and anxiety, what questions to ask myself, or strategies to slow my racing heart. I am thrilled that sweet anticipation is what now fills my mind and my heart.
I've said it before, and I'll say it again. This attitude is the result of my allowing mindfulness meditation to show me how to slow down, de-stress, 'smell the flowers' each and every day, and live my life in the present moment... enjoying the steps along the way.