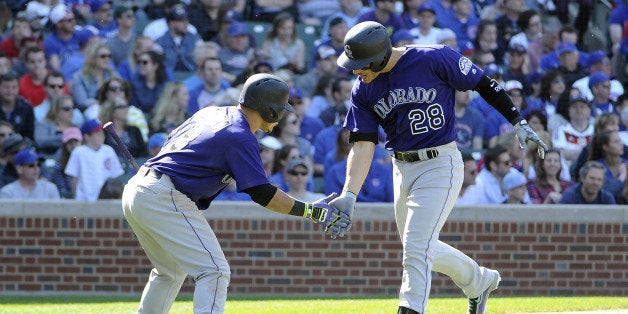 Welcome back to the fantasy baseball classroom where we're learning about advanced statistics that give us a leg up on the competition. Our first articles were about a hitter's BABIP as well as hard-hit rates. We then looked at pitchers and their SIERAs. Now we turn back to hitters. We'll now dissect a few plate discipline metrics that go beyond walks and strikeouts.
The Importance of Looking Beyond Strikeouts and Walks
It used to be perfectly acceptable to say that Player X strikes out or walks "a lot" in conversation, but we can do better than that. Let's look at a big power bat from last season, Nolan Arenado, to illustrate our points. Last season Arenado had a 16.5 percent strikeout rate with a 5.1 percent walk rate.
Arenado is currently mashing, but those stats overshadow what looks to be insane growth at the plate. As of this writing on May 5, Arenado is both walking and striking out 9.4 percent of the time. Now for the million dollar question: Is this growth sustainable or just noise?
Here is where the fun can really begin. Instead of just looking at how often a player's at-bat ends in a strikeout, we can now see how frequently they swing and miss. Why limit ourselves to evaluating the player solely by the end result when there are many data points from within the at-bats?
Advanced Plate Discipline Metrics
There are two items on the agenda for today, swinging strike rate and something called "O-Swing rate". That may sound overwhelming, but I promise it'll be okay. Statistics such as these can speak to two things: how the batter is performing and how pitchers are attacking them. We're focusing on the hitter here, pitchers come next. You can find Arenado's dashboard for these stats here.
It's what it sounds like, how often a player swings at a pitch and misses. If Arenado, or any batter, is more "locked in" at the plate, then it would stand to reason that he isn't so fooled by a pitch that he swings and misses as much. This can also be important because as we know, a batter who whiffs a lot as opposed to at least fouling off a pitch ("spoiling it") is going to strikeout more.
Let's stick with Nolan Arenado as his 2016 has shown growth. We covered how in 2015 he struck out 16.5 percent of the time, and this came with a 10.5 percent swinging strike rate. So far in 2016, Arenado has cut down his strikeout rate to 9.4 percent! How much should we believe in that improved rate? Well, his swinging strike rate has dropped to 6.7 percent thus far. Very interesting, this leads one to believe there might truly be something here.
O-Swing rate can also be referred as "chase rate". This is because it refers to how often a batter swings at a pitch thrown out of the strike zone. The idea here is that pitches thrown out of the zone are more difficult to square up, though there are certainly hitters that break the mold and are notorious "bad ball" hitters (e.g. Vladimir Guerrero). Lower O-Swing rates also mean that batters are working counts better.
In general, strikes are easier to hit than balls and more readily hit with authority. There's a reason batting tees usually sit right in front of you above the little "home plate" design. Pitches in the strike zone allow for the barrel of the bat to meet the ball as the hips turn with arms extended. Those are optimal power conditions.
Speaking of optimal power, let's use Mr. Arenado again to illustrate. His 38.5 percent O-Swing percent was tied for tenth-highest in the league last season. Through the first month of the 2016 season Arenado has a 30.5 O-Swing rate, good for 55th. Needless to say, that is a massive improvement. So not only is Arenado whiffing less, but he's also chasing dramatically less pitches out of the strike zone. This means pitchers aren't buying as many cheap strikes or outs off of Arenado. They have to throw more strikes (or walk him).
This brings up a point worth noting. First-pitch strikes are important, but it's actually the pitch following a 1-1 count that is crucial. So far on 2-1 counts, Arenado has a .360 average with four homers (27 plate appearances) versus a .259 average with one homer after falling into a 1-2 count (31 plate appearances). Neat, right?
Exploring With Other Players
As of May 5, Yasiel Puig is batting .255, the exact same average as his 2015, with a nearly identical BABIP and hard-hit rate. His strikeout rate sits at 21.8 percent after posting a 21.2 percent rate last season. However, his swinging strike rate is 17.0 percent, which is much more than the 13.9 percent from last season (and it was 11.9 percent in 2014). His O-swing rate has gone from 33.7 percent to 39.7 percent. This is troubling.
Another big riser? Tampa Bay's Evan Longoria, whose strikeout rate is up 1.7 percent (19.7 to 21.4) even though his swinging strike rate has jumped a whopping 6.3 percent (10.1 to 16.4). His O-swing rate has jumped from 30.6 to 39.3 percent! Tread carefully.
Arizona's Yasmany Tomas' swinging strike rate is up 0.7 percent and yet his overall strikeout rate has fallen 5.4 percent. This could mean a correction is coming, but it also allows me to segue into a caveat. It is possible for hitters to change their approach with two strikes, such as choking up on the bat and trying to protect the plate.
As always, no one statistic can tell you everything. These are meant to assist and encourage further discussion, to advance your understanding beyond the box score, to help you win. You better believe that we use these metrics and more to fuel our Waiver Wire recommendations at RotoBaller. Come on by.
Calling all HuffPost superfans!
Sign up for membership to become a founding member and help shape HuffPost's next chapter