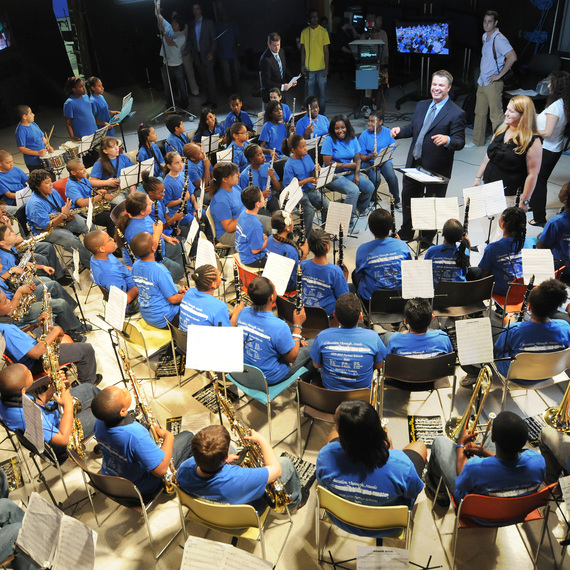 In the early 1990's I was hired as the principal of a school that was slated for closure in one year, and so my job was to prepare the students to transition to other schools. That's not a job many people would want. But I saw it as important work; to create a wonderful last year for these students, students whose future would be shaped by what happened in that one year.
So we added one program, Education Through Music, which brought music education to all students in the school, as a core subject. I saw first-hand how introducing music education into the curriculum immediately brought excitement to the school. Students were more engaged, dedicated to their studies, with higher self-confidence and academic achievement improved overall. All of these changes happened with just the introduction of music education into the school.
What happened next no one, including myself, saw coming. It was decided to keep the school open, and the school won a Blue Ribbon School of Excellence Award from the U.S. Department of Education. This award was won, in part, due to the data that demonstrated the improved academic achievement of students.
Research empowers teachers and supports leadership. Research helps to set clear expectations, measure student understanding, and provide support for strategic planning and improvement. I've known in my heart for years that providing music education in schools serves as a catalyst to improve academic achievement, motivation for school, and increase self-confidence. Being able to say that what I know is backed by research makes all the difference in the world.
Over the past 20 years, we worked to bring the Education Through Music program to other schools, and today, we serve 15,000 students in 28 schools. As the program has grown, there has been much anecdotal evidence that the program is improving academic achievement.
Several years ago, we hired a full-time research manager to evaluate the effectiveness of the programs in these schools. For a small non-profit, this is a position that is not typical. But more and more, policymakers, funders, educators, board members, and supporters want data that shows a program works.
We have used our research results to strengthen the program and make it more effective, finding areas for improvement. The data we collect plays a central role in our professional development, and continues to improve our curriculum. Research results can provide an opportunity to make a good program great, and we have used our findings to continually improve individual schools and the overall program.
This month we are releasing our latest research report. The study found three key findings.
1) ETM students show greater academic achievement than their peers in non-ETM schools. The ETM program supports learning in the academic areas of Math and English Language Arts (ELA). Comparative data from the New York State (NYS) Assessment suggests that students within ETM schools have greater academic achievement than those in NYC public schools that have similar demographic populations. Furthermore, ETM students' academic achievement is positively correlated to their musical achievement, based on performance measures from the NYS Assessments and the ETM Music Assessment.
2) ETM has a positive impact on students' general development. The ETM program is important to students' development in a variety of social and emotional measures, as indicated by survey responses from students, classroom teachers and parents. Most notably, respondents reported that the program helped students within the areas of self-esteem, creativity, and positive attitude.

3) ETM's partnership school communities highly regard the music program. The overall program is perceived as a necessary and positive school presence, as indicated by survey responses from classroom teachers, principals, and parents. In particular, classroom teachers regard the program's music instruction as beneficial to their students' learning in all areas.
We have been striving to create a program that supports education reform, and is proven to work. It is popular in education to bring programs to scale and then determine their effectiveness or tweak problematic areas. With Education Through Music, I can say we've done the opposite. Our research shows that we have a high-performing, comprehensive program and we now hope to grow the program on a national scale.
To see the full study, visit http://etmonline.org/evaluation
Support HuffPost
The Stakes Have Never Been Higher
Related
Popular in the Community