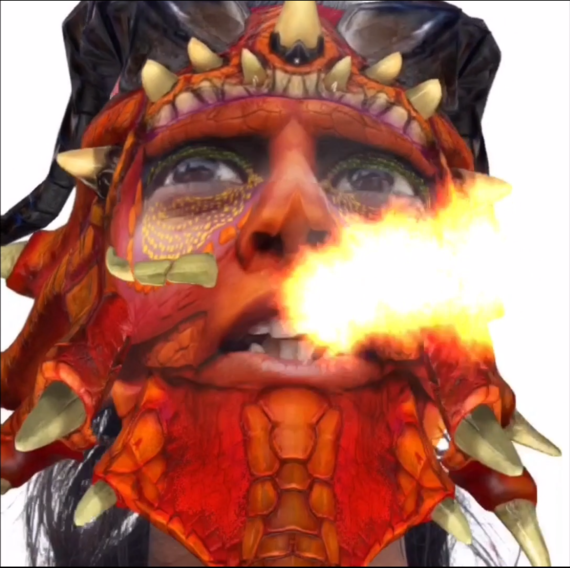 Yusuf Omar is a cellphone trailblazer. He finds unconventional uses for apps like Snapchat, Facebook Live, and 360 video for telling serious news stories, most of which are viewed on small screens.
Omar is the new mobile editor at the Hindustan Times, one of India's largest English newspapers, with a print circulation of more than 1 million, and is bringing 750 journalists up to speed about what works best on mobile. That's no small task, especially at an institution with a legacy of traditional reporting for nearly 100 years, but he's as prepared as anyone to build and lead the world's largest mobile journalism team. His most recent accolades include winning the Mobile Journalist of the Year 2016 at MojoCon in Dublin, and South Africa's Vodacom Journalist of the Year Editor's Choice award in 2015.
In a recent piece on young rape survivors, Omar used Snapchat's digital facial-masking capabilities to hide the identity of the speakers, while still keeping visible the eyes and the nuances of facial expressions. Scroll down to watch the video below to see how this simple, powerful approach works.
I recently spoke with Omar about how he came up with this idea, how freelancers can get started with Snapchat, and why you don't need to worry too much about the equipment you use--a smartphone really is all you need to get started.
Q. Your story about the rape survivors on Snapchat looks completely different than what everybody else is doing, and it's conceptually different. The young women were able to use the Snapchat filters to tell their stories in a way that shows their expressions and yet they're anonymous at the same time. How did you come up with the idea?
A. We had already been toying with this idea of using Snapchat as a storytelling tool beyond the emojis and the funny, cute stuff.
We had experimented with it. There was a big controversy about a movie called "Udta Punjab," about drugs, and we said, "Okay, how easy is it to actually buy drugs in Punjab?" I went and shot it on Snapchat because I felt that if the phone gets stolen, if the police take it, it's on the cloud and it's safe. And that's a narrative that we've been seeing playing out around the world, especially with the Black Lives Matter movements, with the amount of police brutality, the need to get things up onto the cloud.
In India it was different. Everybody was under the age of 18 and here, by law, you're not allowed to show the identities of somebody that's been sexually abused. I needed to find a creative way to hide their identities. For the longest of time broadcasters have used blurring, they've silhouetted, they've even tried putting masks on people, real makeup. I thought, "There had to be a better way with tech," and Snapchat was that way.
Firstly, it built a rapport with myself and the young women that were being interviewed. They got to flip some of the funny Snapchat filters and we had a bit of a connection. And then, they had the sense of being empowered about being able to choose which filter would represent them, which was very important. Secondly, I wasn't the one holding the red button. I didn't say, "Action." I left them with the phones and I walked away. They weren't telling their story to me, but to themselves looking into this phone like a mirror. Basically a selfie, and a stream of consciousness, delivering the most horrific story of their lives.
People got to identify with these young women. They got to look at them in the eyes -- and the eyes they were enlarged and inflamed. They were bigger than life. The old saying that, "The eyes are the window to the soul," really does ring true when you're talking about interviews. It goes a long way in people being able to trust and interrogate somebody's story.
So, for all of these reasons we took part of Snapchat, which has been used for absolutely childish, playful nature, and found a serious application for it. And I think that's how journalists need to treat all platforms. They need to look beyond the gimmicks and beyond the purposes that the features were designed, and look to what they are actually capable of.
Q. What suggestions do you have for a freelancer or somebody in a newsroom who doesn't have an editor like you, but who wants to explore these possibilities?
A. Do it, and use data to justify your storytelling propositions. If you can show tangibly that you've produced something else from another platform but managed to migrate that audience back to your core product, then you have a winning formula. And the benefit of digital, unlike those other platforms, is the numbers are tangible. You know exactly how many people have viewed it, how many people have commented on it. But it's that migration that I encourage people to focus on.
I encourage people to go to whichever platforms you want, but push people between your content. If you're doing a 360 video, post your print or your written link in that section so that they move to the written and vice versa. Push them in each direction.
There always will be resistance. It's about bringing people into the process. I think that's the trick. You've got to make everybody feel like they are a part of your successes and your failures.
Q. A lot of people feel intimidated by not being able to create something with high production values. What thoughts do you have for people who only have a smartphone, without a whole team behind them?
A. I think that the world has never been more forgiving of shaky, handheld, poorly lit bad audio. That defines the YouTube generation. People are increasingly less interested in Spielberg quality of video and more interested in compelling storytelling. The most viral video that we've ever done here at Hindustan Times was a piece called "The Ugly Indian."
It got 5 million views in about as many days, and there's nothing special about it. The shots are shot on an iPhone. The subtitles are all weird sizes. The audio's not great. But it's a story that people relate to -- the ideology of a group of people that are cleaning up their cities and not waiting for government, not waiting for institutions. The story trumps everything, and that hasn't changed since the great books of our time. Platforms have changed and tools have changed, but that fundamental trick, that fundamental skill, if you will, is what will differentiate you. Not your ability to put the technical stuff together. I don't think anybody cares outside of journalistic circles, to be honest.
Q. Are there any rookie mistakes you could advise people against?
A. If you look at digital video right now, it's almost become a running joke that they all have subtitles. They all have yellow and white texts. They all have music like a music video. We fall into the trap of becoming Facebook factories of coming up with a formula that we think works with social. And before you know it, every single news agency are doing videos that pretty much look exactly the same.
I think that you need to constantly be doing something new. Look to the best for examples of what's working, but don't imitate them.
Q. Any other thoughts on how journalists can see these tools beyond the way they're conventionally used?
A. I'm scared by how many hopeless romantics I meet who come into this newsroom as interns and say, "Oh, but I just want to be a writer." Or, "I just want to take photos and that's all I'm going to do."
Nowadays, you really have to play across every platform for your own survival. This industry has never been more exciting in the types of technologies that we're working with. It's also been the first time where somebody who is savvy technologically and on platforms is trumping the person that might have more experience in the stories that they tell.
I've had the privilege to cover the Syrian Civil War, to cover all sorts of foreign affairs. Not because I was the best journalist in the room, but because I was the cheapest. I could go there and I could deliver photographs, and 360 videos, and tweet, and I could do a video. And I could still write your print story. We're seeing less jobs being offered for journalists, and they're increasingly looking for coders, developers, social media superstars. The notion that you're just a writer, that you're just a photographer, that you're just a coder doesn't exist anymore.
REAL LIFE. REAL NEWS. REAL VOICES.
Help us tell more of the stories that matter from voices that too often remain unheard.