On Monday, I returned from a beautiful trip to Kenya; however, the question I am most often asked is this: "Do you have Ebola?" Some people say it with sarcasm and others are completely serious. For the record, Kenya is not an area impacted by Ebola. However, this is a valid question. Nearly every American tourist I encountered while in Kenya expressed some concerns about it. Now that I am home and watching the news, there seems to be a deep focus on Ebola.

There are many fears and myths concerning Ebola, and one doctor is using social media to combat the fears and stigmas attached to it. This person is Dr. Richard Besser. In an age where social media is often relied upon as the most current source of information, Dr. Besser decided to use his platform as the ABC news chief and medical editor to educate people about Ebola. He also hopes to calm fears associated with it. Dr. Besser explains, "So many people are scared and have questions they want answered. Social media is a great way to connect with our audience and the general public. During this Ebola scare, I have been responding to several hundred tweets every day as well as posting articles on both Twitter and Facebook."

Weeks before my trip, I did have thoughts about rescheduling it. During one of Dr. Besser's morning tweet chats, I sent a tweet to him asking if Kenya is an Ebola-infected area. He did reply back indicating that Kenya is not part of the impacted region. I did make personal efforts to help ensure a safe and healthy journey. Before traveling there, I did obtain my recommended travel vaccinations. However, I must add that while I was in Kenya, I had no fear of contracting or being exposed to Ebola. During my stay at the hotel, I talked with two hotel employees about Ebola. Both women said, "Please go home and tell your friends that we do not have Ebola here. We are not West Africa."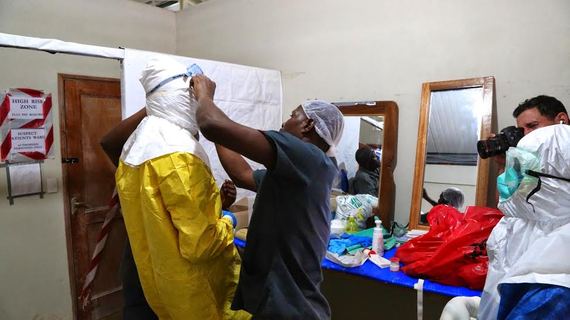 Dr. Richard Besser suits up with a personal protection suit before entering an Ebola ward in Monrovia, Libera. Photo credit: Dr. Richard Besser, used with his permission.
Dr. Besser is also using television to provide accurate Ebola information. He is making regular appearances on Good Morning America and ABC World News to give the most current Ebola updates. After each of his television appearances, he conducts a Tweet Q & A sessions. People are given the opportunity to get their own questions answered, and valuable information is also shared. Dr. Besser adds, "Twitter is a great way not only to share information, but also to share reassurance that we are going to get through this. Even though you are limited to 140 characters, I find that sometimes I can really connect to another person and ease their concerns."

In addition, Dr. Besser, along with ABC World News Chief Anchor George Stephanopoulos used Facebook to hold a Town Hall and reached 10 million people. "We've been inundated by questions about the Ebola virus on all of our platforms and wanted to connect and answer what we could," said Subrata De, ABC News VP of multi-platform newsgathering.

Dr. Besser has traveled Liberia twice because it is one of the countries hit hardest by Ebola. It is in essence the ground zero for Ebola. While there, he blogged and tweeted about the situation in an effort to show the world exactly what was happening, and how the people in Liberia are impacted by Ebola. As a former head of the CDC, he has been a vocal supporter of the efforts to stem the outbreak in West Africa and calm fears of people in the United States. He truly understands the worries people have about Ebola. "The biggest concern people have is with their own risk. How do you get Ebola and how can we be sure? I try to remain level, even when some tweets are a bit hostile and answer as factually as I can. I share what we know and what we don't know. Hopefully by doing that, I build trust."
Kristin Meekhof is the co- author of the upcoming book- Just Widowed. You can follow Kristin Meekhof on her journey at http://kristinmeekhof.com/.