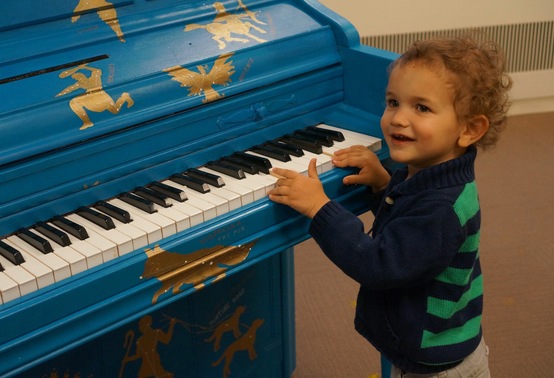 Most art is "destination art." We need to have special knowledge to even be aware of its presence; then, in order to see it, we need to seek it out.
Some art, in contrast, is created to be "stumbled upon." You can find it on your way to work, as you walk through the park, as you're sitting in a cab, stuck in traffic.
"Stumbleupon" art is democratic. It's surprising and delightful to see something where -- just yesterday -- there was a patch of sidewalk or a vacant plaza.
While I am among the biggest fans of New York City's established museums, galleries, theaters, libraries -- I am convinced that it's what's out in the open and accessible to all that makes New York City the greatest city in the world.
So, I am excited that this week is the start of Sing for Hope Pianos, a joyful burst of music and color across the five boroughs. And I'm overjoyed that the free iPhone app we created as a sponsor of Sing for Hope Pianos will -- in a small way -- make it easier for people to find (and play!) the street pianos near them, schedule pop-up concerts, attend concerts, and check in to win bragging rights and prizes.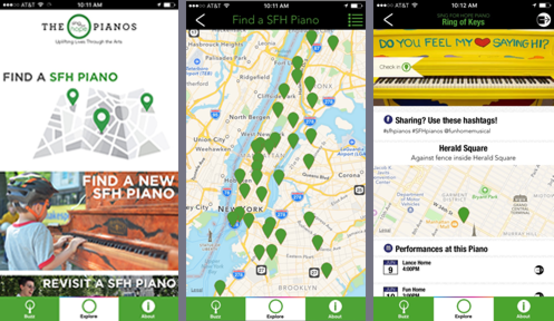 Culture Craver's partnership with Sing for Hope is a perfect example of the type of fortuitous stumbleupon moment that can happen in New York City. Monica Yunus -- the co-founder of Sing for Hope -- and I happened to sit down next to each other at an event and start chatting. A long-time admirer of SFH (both the Pianos installation and the organization's mission), I was overjoyed when she and her co-founder, Camille Zamora, agreed to let Culture Craver, the company I created with my husband Ari Edelson, build a mobile app for them that would help more people experience more SFH Pianos.
We created a test version last summer. For 2016, we upgraded it, enhancing the mapping and geo-location functionalities; building the concert scheduling tool; and enabling people to check in to keep track of the pianos they'd seen.
We created Culture Craver because we believed that mobile technology could help people develop deeper relationships with the cultural world around them -- discovering more, learning more, experiencing more, and connecting more with other people.
Put another way, culture alone is good; culture shared is better. And the sharing power of today's technology is unparalleled in human history. (One can only imagine what Mozart would have shared with his iPhone if he'd encountered a street piano!)
A few years into our quest to make the culture world better using technology, we're overwhelmed (usually in a good way) by all of the possibilities. There are so many ways that technology used in intelligent ways can make culture more accessible, engaging, illuminating, social. And there are people out there -- like Monica and Camille -- who recognize the creative possibilities of technology.
With that, I think I'm going to stop writing, and try to become the first New Yorker to see all 50 pianos (just kidding, sort of).
Calling all HuffPost superfans!
Sign up for membership to become a founding member and help shape HuffPost's next chapter