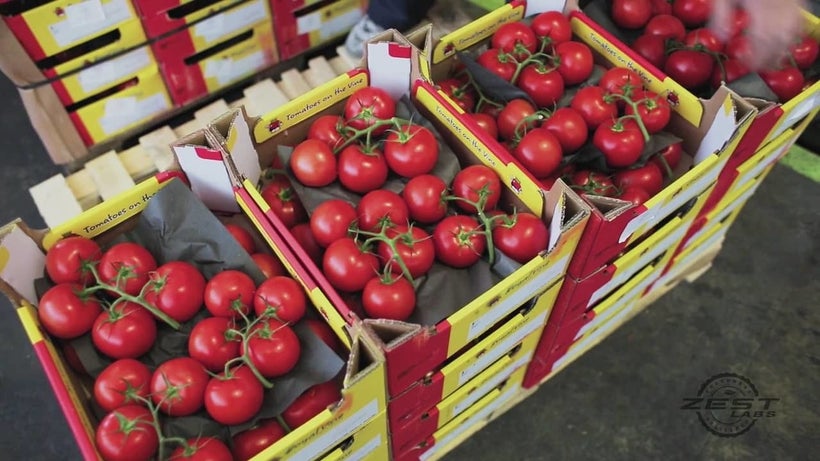 The USDA estimates that more than 30% of all food products in the United States are thrown away, costing the nation more than $161 billion per year.  This is often due to an inefficient supply chain that struggles to keep produce cool, and therefore fresh enough, from farm to store.
The temperature of produce is crucial, with even seemingly minute changes in the rate at which crops are placed in the correct temperature having a significant impact on the shelf-life of the produce.  Not only does this make for a whole lot of food waste, but it also makes it hard for consumers to trust the used by date on the produce itself.
Such challenges have encouraged a number of fascinating projects that aim to try and solve this problem and provide supply chain managers with real-time insights into the produce as it travels from field to store.
One interesting approach comes via Switzerland's Federal Laboratories for Materials Science and Technology, who have developed a sensor that is shaped like a piece of fruit so it can travel alongside real fruit and 'spy' on the conditions in the pallet or crate.
The sensor is designed to simulate the real fruit as closely as possible, not only in its size but also its composition.  The fake fruit is then packed in with the real stuff and travels along with it, with data emitted that can be analyzed to gauge the temperature of the crate during transportation.
Accurate representation of each fruit is achieved by X-raying the produce, with an algorithm then used to create the average shape and texture of the fruit.  The researchers then determine the exact composition of the fruit's flesh and simulate this in the lab.  This is then sent to a 3D printer, where a mold is created complete with sensors inside to record the data.
Suffice to say, whilst the approach is undoubtedly accurate, it is at a very early stage and has issues to resolve.  For instance, the data is not currently capable of being transmitted wirelessly to supply chain managers, and the cost of each sensor is around £40, so not only is it relatively pricey, but real-time analysis is not currently possible.
One company that's attempting to bring this to market is California based Zest Labs.  Their technology doesn't aspire to the same level of granularity as the Swiss project mentioned above, but founder Peter Mehring is nonetheless confident that the improvements they do offer provide all stakeholders in the supply chain with significant value.
Indeed, he suggests that initial applications of their technology have allowed retailers to save roughly half of the 18% of produce that goes to waste, thus representing a significant boost to their bottom line.
The technology itself monitors the produce at the pallet level, and provides real-time feedback to enable accurate and prompt decision making to be done on the spot.  So, for instance, if produce is 'ageing' too quickly, it can be re-routed to a closer store to ensure it retains a decent shelf-life.
The data generated also allows the company to provide prescriptive, corrective actions that take into account a range of variables, including the state of the produce and its volume, together with daily demand and the freshness standards required for shipment.
"Zest Fresh provides an end-to-end solution for managing freshness, using automated data capture and Cloud-based, real-time analytics to enable workers to make the best decisions," Mehring says. "By knowing the condition of each individual pallet, and the current constraints at each process step, Zest Fresh can optimize the trade-offs at key decision points in real-time, making it easy for workers to do the right thing."
As with any new technology, the route to market has not been an easy one, especially as the industry has tended to favor experience and intuition over science and data, but with food waste such a pressing economic, social and environmental issue, it's great to see the technology moving from lab to market.
Check out the video below to learn more about Zest Labs
Calling all HuffPost superfans!
Sign up for membership to become a founding member and help shape HuffPost's next chapter
This post was published on the now-closed HuffPost Contributor platform. Contributors control their own work and posted freely to our site. If you need to flag this entry as abusive,
send us an email
.