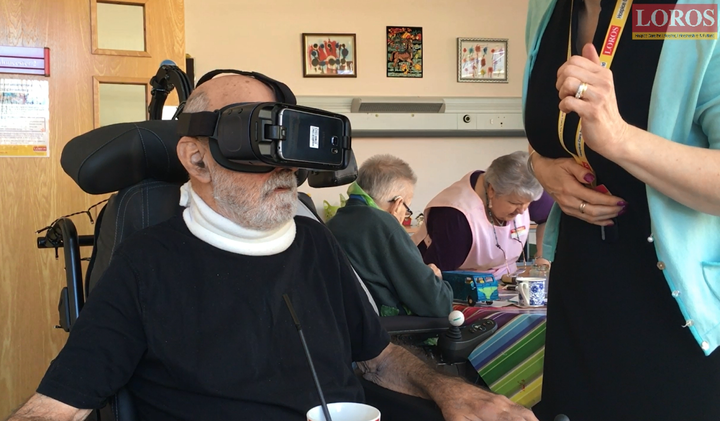 I wrote recently about an interesting application of virtual reality to help patients rehabilitate after an injury. Immersive Rehab aims to help these people by offering both neurological and physical rehab in a virtual environment. Users perform the same kind of movements they would attempt in physical rehab, but they are grabbing and interacting with items virtually. The idea is that they trick the brain into thinking they are engaging with real objects, and thus make important gains in their mobility.
The venture is part of a number of fascinating projects using virtual reality, especially in healthcare. Another of these arrives via a hospice in Leicester, which is using VR to help patients battling with terminal illnesses.
VR for the terminally ill
LOROS Hospice have developed a VR based film to help terminally ill patients see the world from the comfort of their bed. Users are transported to a familiar location for them, whereby they can interact with family and friends.
"You soon relax, it's just like you're there, I loved it" one user said, as he experienced 'walking through' Leicester's Bradgate Park. "I nearly waved at somebody, as they walked past."
"Since being diagnosed with MND, we can get out but I can't spend a lot of time out of the wheelchair, so being able to have these experiences through the glasses is really good," they continue.
It's believed to be the first project of its kind in the UK, and is designed to help users relax as they're taken away into a more familiar environment, which is especially important given the limited mobility of many of the patients at the facility.
"This is a really exciting project for us, and I believe we are the first Hospice in the country to have specifically commissioned such a film as a therapeutic tool using a familiar local setting," LOROS say. "We recognise that some of our patients are often restricted to where they can go due to their illness, so we wanted to help give them the opportunity to still enjoy life wider than their restrictions allow, through virtual reality."
The facility hope to develop a number of films so that they can eventually offer patients a library of valuable experiences. What's more, they aspire to offer the films to other, similar facilities in the future so that a wider range of people can benefit from them.
It's a fascinating project, and I encourage you to watch the video below to see it in use.
Popular in the Community