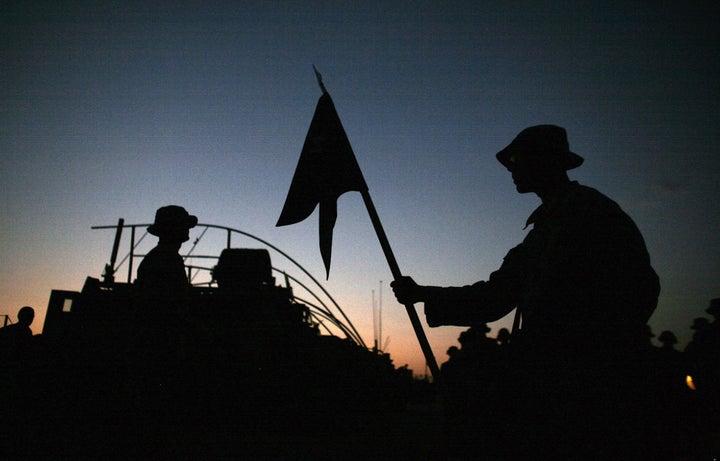 This is Day 5 of Operation Thriller, the USO's authors' tour to the Persian Gulf. Steve Berry, Andy Harp, James Rollins, Douglas Preston, and David Morrell are there on behalf of the International Thriller Writers and the USO. See Day 1, Day 2, Day 3 , and Day 4 on HuffPost. Here's what happened today:
The morning started with another steep climb out of Mosul on a C-130 Hercules. The ride was smooth with a quick layover, engines running, in Baghdad where a five-ton piece of equipment was wheeled into the cargo hold with us. It was chained down in less than ten minutes by a nimble and efficient crew, coming to rest and looming over Steve Berry, who eyed those chains with concern. But all went well. Our ride ended in an undisclosed location, a former Hussein-era Iraqi military base now operated by joint forces, an expansive airfield that extends as far as the eye can see.
The day continued with a series of military "meet and greets." We visited a continuous line of soldiers and airmen both at these events and at impromptu gatherings along the way. The stories we were told continue to motivate us. Logistics prevented us from bringing books to distribute, but what astonished us was the number of books brought by service members to be signed. This tour has been specifically designed to fill a gap. Lots of rock stars, athletes, and celebrities come regularly to show their support. But never has a group of writers made this journey. The military personnel noted this fact and have been thrilled at the chance to talk about books and writing. As one soldier said, "this was one USO tour I was especially looking forward to."
An additional highlight of the day involved the base's fire department where airmen demonstrated the ultra-modern fire trucks that protect the flight line. We learned how they deal with emergencies and crashes.
As night fell, we ended the day at our first visit to a USO center. It was particularly special on Veteran's Day. The service members were treated to an open-air barbecue featuring ribs, chicken, and steak, along with baked beans and potato salad. The chef noted that the BBQ sauce was "homemade" with available ingredients. It worked. We visited with many of the attendees who wanted to talk about their favorite books and the writing process, including some generals.
But here's a fact that we've come to realize over the past days. Our military is made up of a surprising global diversity: people from all walks of life and a number of foreign countries. For example, a soldier friend of our USO photographer, Mike Theiler (his photos can be seen at www.uso.org), is originally from the Sudan and now lives in Minnesota. He serves in the U.S. Army as a translator because of his fluency in Arabic. He told us that when first arriving in Minnesota, on a frigid, snowy day, that he thought the ground was "covered in sugar."
Related
Popular in the Community