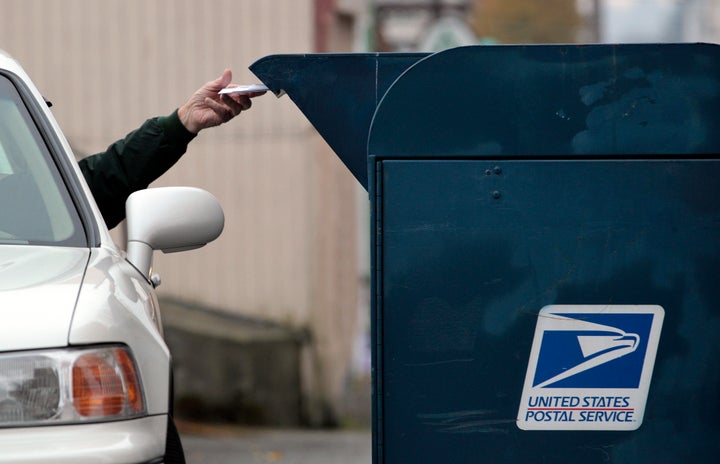 "Grandma may soon have to get in the car and drive 100 miles for her medicine," worried Bill Snodgrass, the owner of a USave Pharmacy in a small Nebraska town. Each week, his store ships hundreds of prescriptions to far-flung customers, many of whom are elderly people in remote communities where the closest pharmacy can be more than an hour's drive.
Still, for years, Snodgrass has been able to count on the U.S. Postal Service's First-Class Mail system for next-day delivery to customers.
But all that could change when the nearby mail-processing plant shuts down this spring as part of a massive nationwide consolidation proposed earlier this week by the postal service, which has been crippled financially by soaring labor costs and plummeting mail volume.
Closure of the processing plant near USave would delay the pharmacy's deliveries by at least two days. "That means my customers won't get their diabetes supplies or their heart medicine on time," said Snodgrass. Medicaid restrictions prevent many customers from pre-ordering, he added. "So I'll either stop shipping prescriptions or switch to FedEx or UPS -- which cost me three times what the USPS currently charges."
Small business owners across the nation are bracing themselves for the postal service's latest plan to avert its own bankruptcy. Distribution nightmares and cash-flow interruptions top their list of fears, as regulators review the proposal to close half the nation's 500 mail processing plants and 15,000 of America's 32,000 local post offices. The cuts could save the cash-strapped agency around $2 billion a year, but will inevitably lead to slower delivery times.
Next-day mail, which accounts for 42 percent of all USPS parcels, would be delayed at least one day under the proposed plan, according to internal predictions.
"Consumers and commercial organizations will be able to adapt to the changes in the service standards," USPS officials assured regulators in hearings on Wednesday, noting that most customers said they "would not want a significant price increase in lieu of the service standards change" and tend to perceive the changes as "a very reasonable response to the financial problems the postal service faces."
But for some small businesses, the service changes will ultimately lead to higher shipping costs. That's because slowing delivery times effectively leaves many USPS customers -- including those businesses that rely on the postal service to ship time-sensitive products like overnight prescription drugs -- with little choice but to switch to private mail carriers like FedEx and UPS, which continue to offer next-day service, but at rates that are often significantly higher than those of USPS.
"They're privatizing the postal system piece by piece through outsourcing and downsizing, selling off assets, closing down post offices and driving business to private mail companies" says Steve Hutkins, a professor at New York University. "You can't just convince Congress and the country to privatize the entire system, so they're privatizing it through the back door."
Critics warn that the changes could create cash-flow interruptions for many businesses, as it starts to take longer for paper invoices shipped through the mail to reach customers and for payments to then come back to vendors. "Under the changes, that check that used to come in a day or two, if it's mailed on Wednesday, won't arrive until Monday," said Chuck Zlatkin, the legislative and political director of the New York Metro Area Postal Union. "For business owners operating on the edge economically, those extra days make a big difference."
And while business owners are increasingly switching to electronic billing, a recent study by the Aberdeen Group, an enterprise research firm, found that nearly 80 percent of businesses still use snail mail to bill clients.
"There are more hard-copy financial transactions out there than people think about, and probably even more so for businesses that aren't heavily engaged in the Internet and are in rural areas where broadband services are less accessible," said Tonda Rush, president of the National Newspaper Association, an advocacy group for local periodicals, which are also expected to suffer under the new service changes.
"The main concern for small business owners is price and reliability," says Steve Chou, the founder of Bumblebee Linens, an online wedding linens company, which has been utilizing low-cost USPS shipping since it launched as an eBay business a few years ago. "We've used USPS because it's cheap and we can pass lower shipping costs on to our customers." But USPS has been increasingly less reliable than FedEx and USPS, Chou adds. "My greatest fear with these cutbacks is that the postal service will become even more unreliable, meaning more delays and more lost packages."
Chou already uses FedEx for orders on tight deadlines and expects that, following the cuts, he'll turn to FedEx much more often. "Unfortunately," he added, "we'll have to offset the increased price of shipping with increased product prices."
Proponents of the service cuts argue that it's about time the agency recognized its next-day service was unprofitable and ended it. Increasing rates, USPS claims, was less popular with customers than service changes. Plus, the law prohibits the post office from raising postage fees faster than inflation.
But the question before the regulators charged with finalizing the cuts still remains: should the postal service, a quasi-governmental agency that receives no funding from Congress, be allowed to act like a business and reduce the frequency of deliveries to cut costs, or does it owe to its tax-paying customers -- including small businesses -- to provide services that have proved incapable of turning a profit?
Related
Popular in the Community