An aircraft carrier that survived atomic bomb tests after World War II has been found off the coast of San Francisco near the Farallon Islands -- and scientists say it's "amazingly intact."
The National Oceanic and Atmospheric Administration recently located and imaged the sunken U.S.S. Independence as part of an ongoing two-year mission to map and study historic shipwrecks in California waters.
New look at an old ship. A remotely controlled submarine, dubbed Echo Ranger, took 3-D images of the 622-foot-long ship last month using a low-resolution sonar system (see video above). The images show the ship's hull, flight deck, and what appears to be a plane still in the carrier's hangar bay.
(Story continues below image.)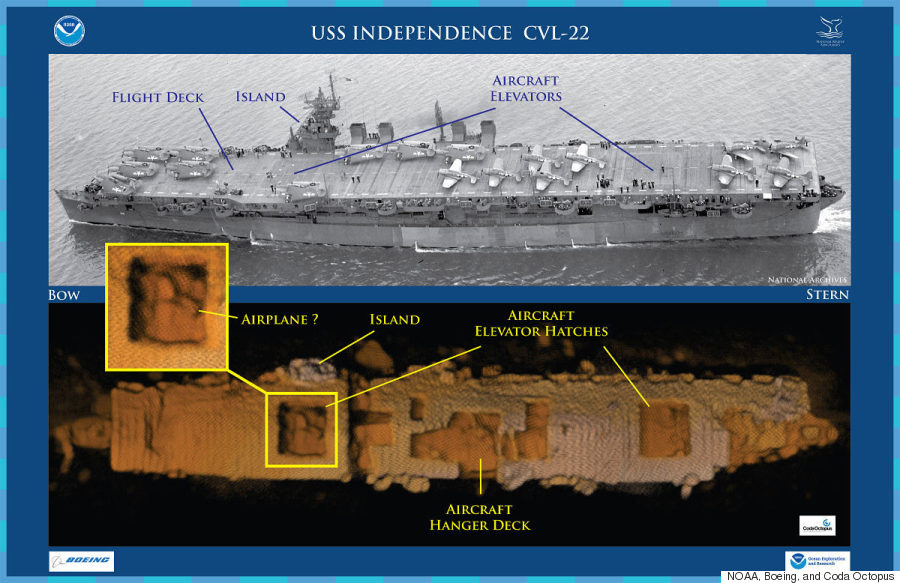 A historic photo of USS Independence CVL 22 (top) and a 3D low-resolution sonar image of the shipwreck (bottom). Click image to enlarge.
The ship was damaged by shock waves, heat, and radiation as a result of the tests and was sent back to the U.S., where the Navy used it to study decontamination. The fear of its sinking led the Navy to scuttle the ship on Jan. 26, 1951. The location of the ship's sinking was a long-held secret -- until now.
"But the risk to the public now is extremely small," Vetter said.
REAL LIFE. REAL NEWS. REAL VOICES.
Help us tell more of the stories that matter from voices that too often remain unheard.
BEFORE YOU GO