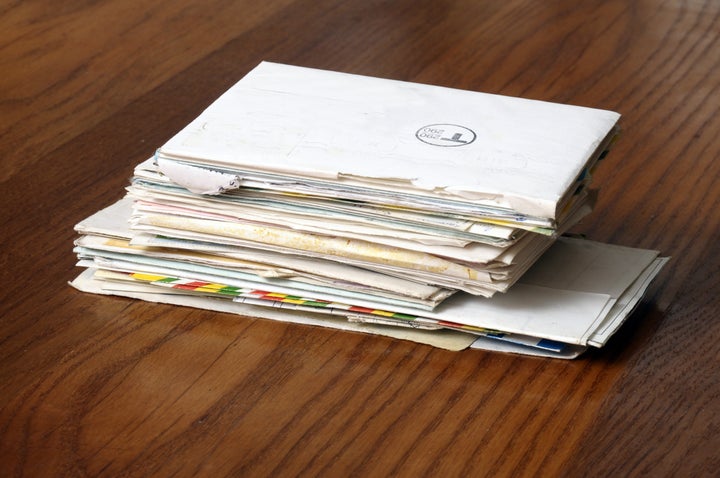 December 31, 1862 -- the day the USS Monitor sank. December 31, 2012 marks the 150th anniversary of the loss of this famed Civil War ironclad, along with 16 of her crew members. She went down in a storm off the coast of North Carolina and remained at the bottom of the ocean until 10 years ago when recovery efforts succeeded in bringing the ship to the surface. Along with the vessel was a surprise -- a pair of skeletons in the turret. But which of the 16 were they?
I've been exploring this topic over the course of the Monitor's sesquicentennial, and would like to turn my attention to a young crew member by the name of Jacob Nicklis. Nicklis was born on March 29, 1841 in Buffalo, New York to German immigrant parents.

Baptism of Jacob Nicklis of the USS Monitor
That his relationship with his parents was a close one can be seen in this letter he sent from the Monitor near Newport News, Virginia just six weeks before his untimely passing at age 21. In it, he explains to his father that he wasn't keen on serving on the Monitor, saying, "I did not want to volunteer for her but all the rest of the boys from our place did so I joined with them." He goes on to say that he "does not like the boat very well on account of her accommodations."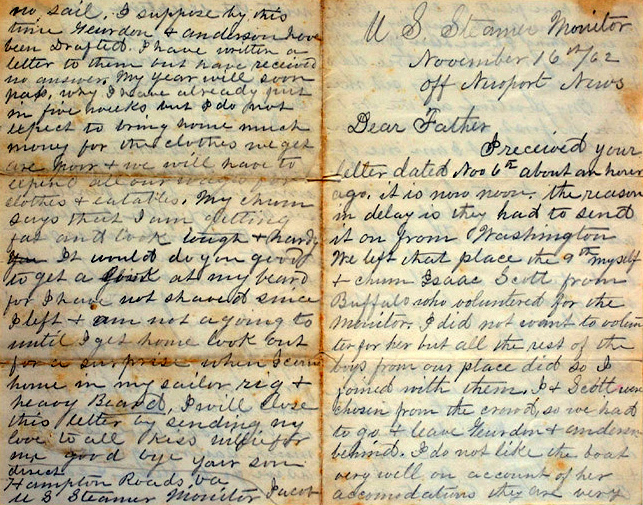 November 16, 1862 letter from Jacob Nicklis of the USS Monitor to his father
Initials on a Spoon
In an earlier article, I shared characteristics of the two skeletons and evidence that points to certain of the 16 sailors who perished that night. Nicklis is one of the more likely candidates for the younger of the two who is estimated to have been 17-24 years old.
His height, age and occupation (ordinary seaman) all make him a good fit, but one factor weighs against him. Isotopic testing performed on the teeth from both sets of remains indicated that they were European-born. This seemed to rule out Nicklis due to his New York birth and childhood, but I found myself favoring him anyway -- partly because I don't know enough about isotopic testing to convince myself of its accuracy, but more because of a personal item that was also found in the turret.


Spoon found in the turret of the USS Monitor engraved "JN," the initials of Jacob Nicklis
At the time, silverware had not yet been commoditized, so it was not unusual for sailors to have their names or initials engraved on pieces they brought with them. Several such pieces were found on the Monitor, and one spoon sported the initials "J.N." Jacob Nicklis was the only sailor on board with those initials, and the spoon was found roughly where the left front pocket of one of the skeletons would have been. Of course, this does not constitute proof as there are other explanations for how the spoon could have settled there, but it certainly warrants a closer look at Nicklis.
Facial Reconstruction
Earlier this year, forensic experts at the Louisiana Repository for Unidentified and Missing Persons Information Database at Louisiana State University reconstructed the faces of both crew members whose remains were found. As with isotopic testing, it's difficult for the non-practitioner to gauge how much emphasis to put on the results, but the images give us at least an approximation of what they might have looked like. The pictures were widely shared in the hope that some family members might step forward with other photos for purposes of comparison.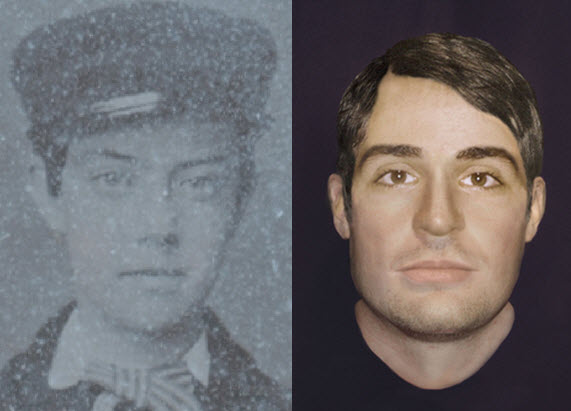 Is this Jacob Nicklis?
One such photo that is believed to be of Jacob Nicklis does exist, but it's difficult to draw conclusions. Nicklis initially enlisted in the Navy at age 16, probably a slender youth as most would have been at that time. Could he have grown into the wider-jawed individual seen (on the right) in one of the reconstructions? The image below of one of his brothers suggests that it's possible, but there's one more factor to consider.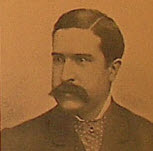 The Golden Ring
One of the two skeletons was found with a gold ring on the fourth finger of his right hand, which led to speculation that this particular sailor could have been married -- an intriguing possibility since only a few of the 16 were married. But if that were the case, many wondered why the ring would have been on the right hand instead of the left. Could this be a custom imported by a European-born sailor or a matter of practicality to protect the ring from some specific wear-and-tear? Or maybe it wasn't a wedding band at all.
Given the potential usefulness of the ring for identification purposes, it's worth remarking that the purported photo of Jacob Nicklis shows him wearing a ring on the fourth finger of his right hand. Perhaps as an oldest son, he was given a family heirloom, in which case, the input of an expert jeweler might be of value. Is there anything about the ring, for instance, that might hint of German origins, like those of his parents?

Is this the ring that was found on the hand of one of the USS Monitor skeletons?
DNA Will Tell
Jacob Nicklis was American-born, and based solely on isotopic testing, this would seem to rule him out. But if we leave the certainty of that assertion open to discussion, his physical characteristics, coupled with the presence of the spoon and ring (I'll leave you to make your own determination with regard to the facial reconstruction), make him a promising prospect. Fortunately, DNA should render a final verdict.
Two types of testing -- mtDNA (passed maternally) and Y-DNA (passed paternally) -- can be attempted to identify older remains in situations such as this one. For both, genetic samples from living relatives must be provided so scientists have something to compare the results to. While maternal lines for this purpose have died out in the extended Nicklis family, it might be possible to test personal effects or even remains of selected, deceased relatives. Y-DNA testing is somewhat if-fier for history mystery scenarios, but the upside is that Jacob Nicklis has living paternal relatives.
So DNA should give us an answer, but in the meantime, what do you think? Could Civil War Naval hero Jacob Nicklis be one of the mystery skeletons found in the USS Monitor?
Related
Popular in the Community