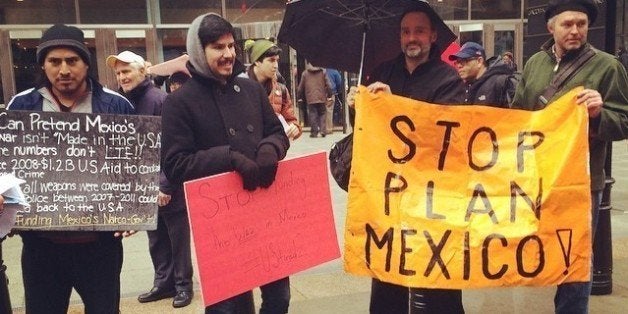 A symbolic 43 cities across the United States planned a nationwide campaign in solidarity with the 43 missing students in Mexico on Wednesday. The vigils not only asked for justice but demanded an end to the Mérida Initiative, a billion dollar U.S.-Mexico security cooperation agreement also known as Plan Mexico.
The national campaign, #USTired2, is the English counterpart of Mexico's #YaMeCansé campaign that rose to prominence after 43 students disappeared on Sept. 26 in Iguala, Guerrero, Mexico. Shortly after their disappearance, the Mexican Attorney General's office said that police delivered the students to members of a drug cartel.
At least 12 mass graves were found during the investigation, none with the remains of the 43 students. In early November, the government announced that gang members had confessed to incinerating the bodies, though DNA testing has yet to be presented to confirm their deaths.
Protests in Mexico and around the world have sought to shed light on the case, which many Mexicans say is just one example of the systematic corruption in the country.
The United States' vigils hoped to expose this reality and target the Mérida Initiative, which according to the Department of State has appropriated $2.1 billion in funds from the U.S. Congress to fight the Drug War with training, equipment and intelligence since FY 2008. The #USTired2 campaign, however, argues that Mexico's extensive human rights violations should render the agreement obsolete. Protesters base their demand on the Leahy Amendment, which states that the Department of State must reassess its assistance to foreign security forces if "gross human rights abuses" have been committed by the recipient.
In 2010 Human Rights Watch said the United States looked into withholding funds but decided to move forward after concluding that Mexico had fulfilled its human rights requirements.
The international advocacy organization did not agree with this action, saying that "releasing these funds would send the message that the United States condones the grave human rights violations committed in Mexico, including torture, rape, killings, and enforced disappearances."
In a World Report published this year by Human Rights Watch, the organization repeated their concerns, noting that in June 2013 Mexico's National Human Rights Commission (CNDH) said they were investigating 2,443 disappearances in which they had found evidence of involvement by state agents.
Take a look below at the vigils being held across the country over the disappearance of the 43 Ayotzinapa students:
(HuffPost's Christy Havranek and Chris McGonigal contributed to this report.)
PHOTO GALLERY
Protests For The Missing Mexican Students
REAL LIFE. REAL NEWS. REAL VOICES.
Help us tell more of the stories that matter from voices that too often remain unheard.