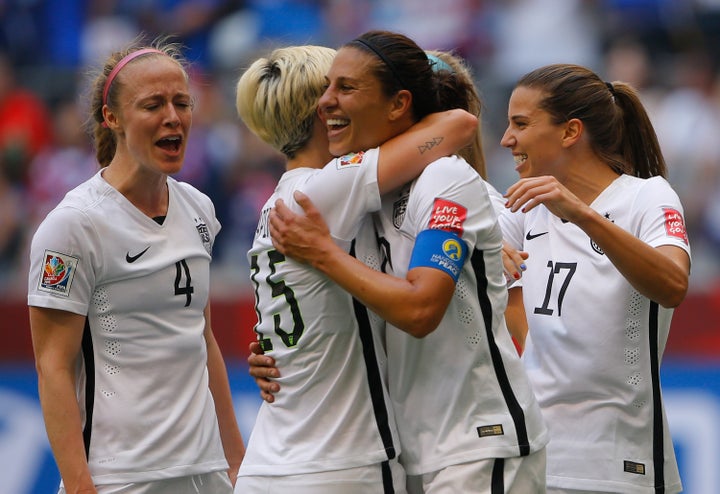 After five members of the United States Women's National Team filed a complaint against U.S. Soccer over equal pay Thursday morning, an American sporting great spoke out about how they should be compensated.
"#USWNT absolutely deserve to be treated fairly in all ways," former U.S. Men's National Team great Landon Donovan said on Twitter.
"Both #USMNT and #USWNT should be paid commensurate w/ the revenues they produce, not based upon what the other makes," he added.
Such a viewpoint makes intuitive sense, and it is common in debates like these. The US Men's National Team and USWNT, in such a model, would bargain for a set percentage of the revenues they generate, rather than basing salaries on what the other receives. They might not end up with "equal pay," but there's an argument it'd be "fair." And in this instance, it may even lead the USWNT past the USMNT in total pay, given that U.S. Soccer projects the women will generate more revenue than the men in each of the next two fiscal years.
That may be true for the USWNT in the current environment, after their third World Cup win last year and as they prepare to enter the 2016 Olympics as the gold medal favorites. However, this isn't just about this year and it isn't just about the Americans. Australia and Colombia's women's national teams both threatened their federations over pay and funding this week. And in that sense, the model Donovan touted has a major flaw: It fails to address that the market for women's sports face social and economic hurdles that men's sports never have. And that that's hardly their fault.
The revenue-based argument might make sense if international soccer existed in a market in which sportsmen and women have been afforded the same opportunities to succeed. But it doesn't. So basing USWNT pay -- or any international women's team's pay -- solely on a market force like "revenue-generated income" ignores the ways in which the gatekeepers of international soccer have systematically suppressed the women's game for years, keeping them from having the chance to generate similar revenues.
Women's soccer receives far less investment than the men's game in most countries. But 100 years ago, the problem was even larger. Though women began playing soccer in Europe in the 19th century, they were often kept separate from men's associations, and some countries, like England and Germany, went so far as to ban them from playing the sport or joining official associations.
This wasn't a decision based on market forces: With many of England's men away fighting during World War I, women's teams in Europe could draw tens of thousands of fans to the grounds to see them play. Only the bans demolished the sport, and did so largely because those in charge didn't want women to play. The English Football Association, for instance, argued that the sport was "quite unsuitable for females" in prohibiting women from accessing sponsored grounds and resources in 1921.
The countries that didn't go so far as to ban women from soccer didn't exactly promote the sport in 1985 either. Japan and the United States, now international powers, didn't start national women's teams until the 1980s (the USWNT played its first match in 1985, 13 years after Title IX became law). Women weren't prohibited from playing. There just wasn't anywhere for them to play.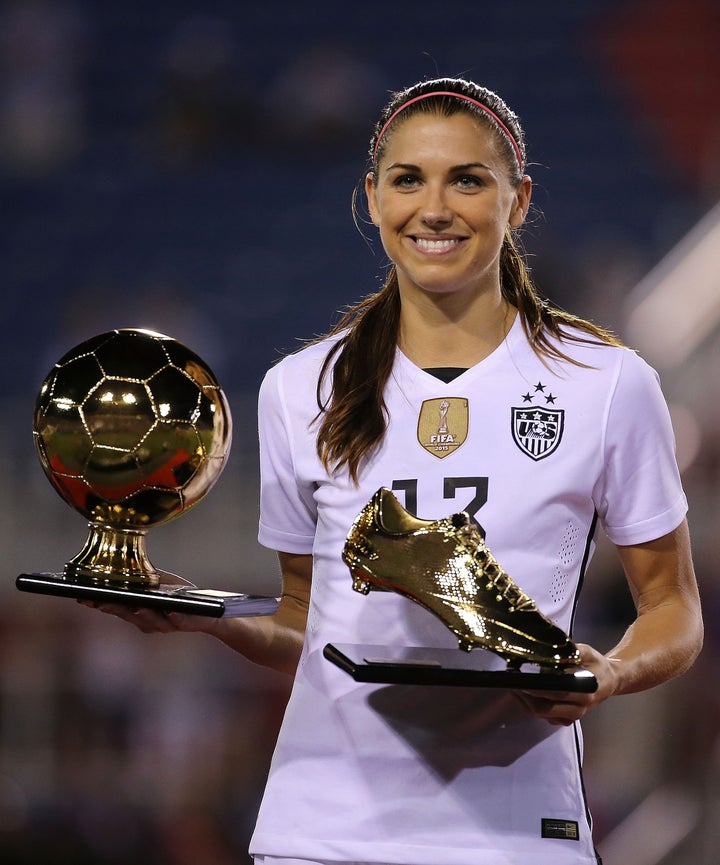 FIFA, the sport's global governing body, has similarly done little to promote, invest in, or support women's soccer throughout its history. It launched the first men's World Cup in 1930; the first official Women's World Cup didn't follow for another 61 years. The 2015 Women's World Cup was the largest and richest of the seven FIFA has held. But even it was greatly underfunded compared to the quadrennial extravaganzas for the men, and it was promoted much less.
Yet history shows that whenever women's soccer has been given a modicum of attention and investment, it has thrived.
The Women's World Cup, too, is growing. It started with just 12 teams in 1991. There were 24 in Canada in 2015, thanks in part to growing interest, in spite of a lack of investment, in countries from Costa Rica to Spain.
And there is no better example than the USWNT. Though its players do not receive equal pay or, according to them, equal treatment to the USMNT, support from the national federation has turned it into arguably the world's foremost soccer power. Its World Cup victories have drawn record TV audiences for soccer in the United States and have helped draw massive crowds not just to its matches, but also to those of the fledgling National Women's Soccer League -- which is thus far the most successful attempt at an American pro league yet, in part because it has the partial backing of U.S. Soccer and the Canadian national federation.
"You've got to first make the investment before you get that return."
These teams have proven there is an appetite for women's soccer and that it's certainly capable of generating global popularity, if given a proper chance to succeed. But they need that chance. And while the USWNT's fight may be with U.S. Soccer, it also could send a message to the rest of the world about compensation for women players too.
"I think it's also the women saying, 'Hey, FIFA, you as well,'" said Julie Foudy, the captain of the 1999 USWNT World Cup winners who now contributes to espnW. "You have this market you haven't tapped into yet, and with a small investment, you can open up a huge market. You've got to first make the investment before you get that return. That was the hardest step. That was the step we had to badger U.S. Soccer on 20 years ago. At the end of the day, it's going to come back ten-fold, or a million-fold."
There is an incredible market for men's soccer because FIFA, its national federations and regional confederations, and private investors have spent a century or more giving it every chance to grow and succeed into the behemoth it is today.
The women's game, meanwhile, has reached its current level largely in spite of the barriers that have been erected in front of it, without the opportunity to build the sort of popularity -- or revenue-generating potential -- the men enjoy. It's impossible to know whether women's soccer could ultimately match the men, because the same market that exists for men's soccer has, for most of the sport's history, been inaccessible to women at all.
U.S. Soccer, as it reminded everyone in its response to the complaint Thursday, has done better than most in affording women the opportunity to succeed. Still, in the United States and especially in the rest of the world, to insist that women's soccer players only deserve equal pay when they can generate equal revenue applies a standard to their sport that they've rarely, if ever, been given the chance to meet.
Related
Popular in the Community