Recently I was given a rare opportunity to see United Talent Agency's highly regarded mentoring program in action. Hosted by Laura Roenick and Rene Jones. The program, which is in collaboration with University High School, is comprised of some 15-20 dedicated agents who take a break from deal-making to offer their guidance and support to a select group of high school seniors.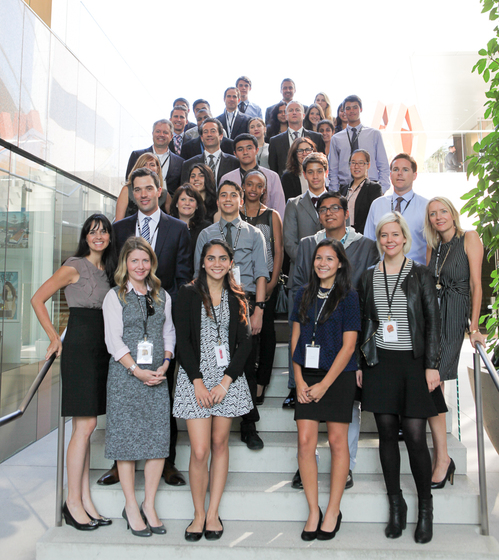 The agents hail from nearly every department of the agency, including talent and literary for TV, film and digital media, Corporate Communications, Client Development, Advertising and more. The program's aim is to guide, nurture and inspire the students, all of whom are at a pivotal point in their lives as they prepare to graduate high school and begin college or careers.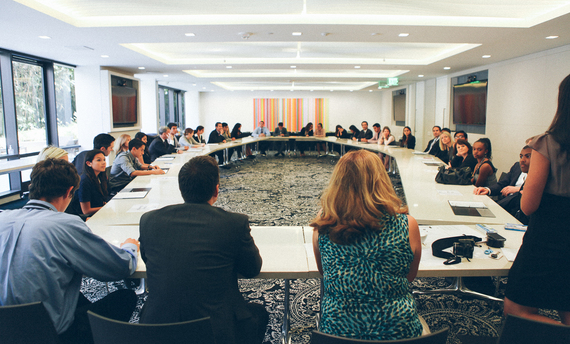 After passing through UTA's elegant lobby, the students were shepherded into a vast conference room in which the tables were arranged in a giant semi-circle. Here the student-mentees got paired up with their mentor-agents, and everyone promptly got down to business. The first matter at hand: Both agents and students alike must sign contracts affirming their commitment to the program. This includes showing up at every session, establishing and striving toward specific goals, and maintaining strict Grade Point Average requirements (for the students, of course).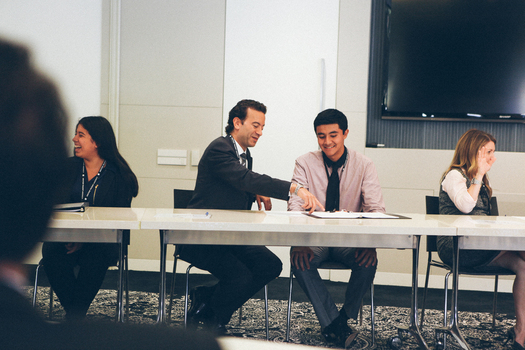 Literary agent Jon Huddle (left) says: "My parents did not have any experience with the college application process as we know it today. My father attended vocational high school and did not go to college. My mother grew up in a single parent first generation immigrant household and lived at home while she attended Hunter College in NYC."
As someone who regularly speaks at schools, youth detention centers, I know what a challenge it can be to hold the attention of - much less inspire - today's teenagers. Watching the mentors engage with the students, it soon became clear to me that these agents were not merely looking to add philanthropic fodder to their bios; they were genuinely enthusiastic about using their knowledge and experience to influence the lives of others. And the excited looks on the teens' faces only validated this. It's a look that I'm quite familiar with, and it's truly priceless.
Eric Davidson, the principal at University High, fully supports the program. He said, "Youth are greatly influenced by adult models in their lives. The UTA mentoring program provides an experience that inspires transformation in each student and reflects the best characteristics of apprenticeship. The program is a model that needs replicating."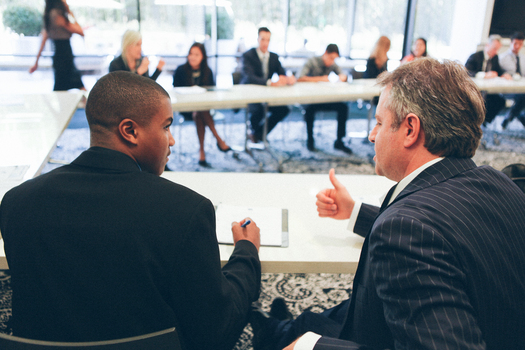 Corporate Communications Chris day (right) says: "Even though I attended a very college-oriented high school (NYC's Stuyvesant H.S.), I remember that college prep, summer job prep, how to interview, etc., always seemed somewhat mysterious to me, so when the opportunity came to help someone young unravel these things, I jumped at it. Witnessing a mentee discover that they, too, really can find a way to pay for college or that they can overcome any other barrier is a thrilling moment, and knowing you've helped them gain new skills and confidence is a powerful reward."
The agents may take 10% from Hollywood's top talent, but as mentors they are giving back 100% - and therein lies the key to the success of the program.
"Photo credit by Frank Castro, Contributed Todd Weinger"
Calling all HuffPost superfans!
Sign up for membership to become a founding member and help shape HuffPost's next chapter