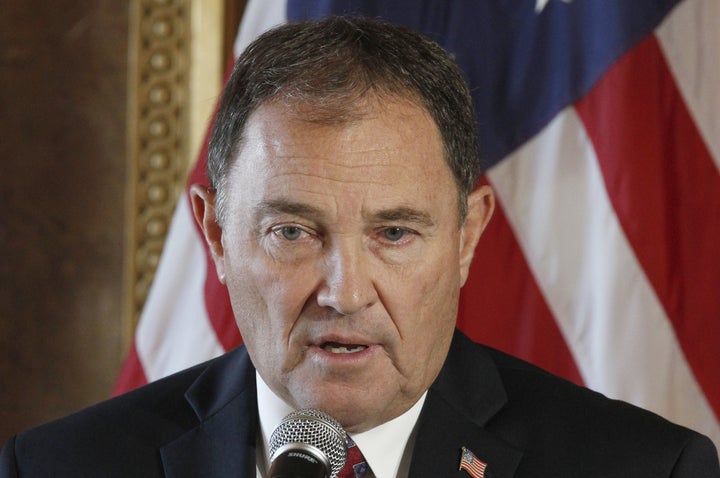 NEW YORK― Utah Gov. Gary Herbert (R) signed a bill into law this weekend that requires doctors to tell women that medication abortions can be reversed midway through the process ― a claim that is unsupported by science.
Medication abortions involve taking two separate medications, mifepristone and misoprostol, within two days of each other. The first drug blocks progesterone and sheds the uterine lining, and the second causes a full miscarriage. The Utah law, passed by the GOP-controlled House and Senate, claims that a woman can stop her abortion after taking the first pill by ingesting the hormone progesterone. Doctors' groups dispute that theory.
The author of the bill, Rep. Kevin Stratton (R), said it helps women be more "educated" about their decision. "If you're pro-choice, I would say that it helps you be educated in making the choice," he said in an interview with the Deseret News. "If you're pro-life, it gives an opportunity to look at the options if a decision is made to reverse course."
Republicans in five states have passed or tried to pass "abortion reversal" bills, and a federal judge in Arizona blocked a similar law in 2015 after ACOG called it "tantamount to quackery." The legislation is based on a single study of six women who had taken a dose of mifepristone and then tried to reverse their abortions. Four of the women in the study were able to continue their pregnancies. But mifepristone alone only works 30 to 50 percent of the time to end a pregnancy, so researchers say there is insufficient evidence to claim that it was the dose of progesterone that halted the abortions.
The Utah bill is the latest in a trend of state legislatures encouraging doctors to give women false or incomplete information about abortion. Last week, the Texas Senate approved a bill that would permit doctors to lie to women about fetal abnormalities in order to discourage them from choosing abortion. And Republican lawmakers in Texas and Kansas have passed legislation requiring doctors to tell women that abortion is linked to breast cancer ― another medically unsupported claim.
But "abortion reversal" laws could actually put women's health in danger by encouraging them to take a hormone that "can cause significant cardiovascular, nervous system and endocrine adverse reactions as well as other side effects," according to ACOG. The doctors' group recommends that instead of listening to politicians, women who change their minds halfway through a medication abortion have the same chance of success by "doing nothing and waiting to see what happens."
Popular in the Community