 This article is the first in a six-part series about the drug war and police reform.
OGDEN, Utah -- It's late summer, and the house at 3268 Jackson Ave. has been boarded up for months. The front door, riddled with bullet holes, is pasted over with police tape and a "No Trespassing" sign. As Erna Stewart pries open the door, shards of glass from the edges of its already shattered window fall to the ground.
The air inside is stale and hard to breathe. Belongings are strewn about. There's a dusty television, an answering machine, a computer printer still in its box, some video games stacked on bookshelves. The police have ripped up sections of floor that had been soaked with blood, leaving a scar in the bathroom and another in the kitchen.
More bullet holes call out from all sides: the walls, the doors, the ceiling, the floor, the windows, the molding, the kitchen cabinets. Two of the bullets hit the brick siding of a neighbor's house. One pierced a bedroom window. The trail of damage leads out to the pock-marked backyard and the shed where Erna's brother-in-law, Matthew, attempted to take refuge.
Between 130 and 250 bullets were fired in all, according to various accounts, an arsenal's worth. A cleaning service recently found a bullet while vacuuming.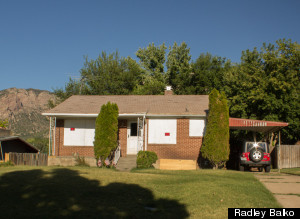 Matthew David Stewart's home in Ogden, Utah.
In the basement, in a small room to the left of the stairs, there's a large pile of tubing and plastic containers. It's here that Matthew David Stewart, a 37-year-old Army veteran, committed the crime that precipitated the armed raid on his home -- an assault that left one police officer dead and five others wounded, and eventually led to Stewart's death as well. It's here that he grew marijuana.
Michael Stewart says his son, a former paratrooper, suffered from post-traumatic stress disorder, depression and anxiety, and may have been self-medicating. Others have suggested that he smoked pot to alleviate his shyness and social awkwardness. Perhaps the pot was simply for pleasure. There were 16 plants in all. But there is no evidence that he ever sold the drug, and there were no complaints from neighbors.
Still, on the night of Jan. 4, 2011, 12 members of the Weber-Morgan Narcotics Strike Force assembled in the parking lot of the church across the street from Stewart's house. At 8:30 p.m., according to a neighbor, they exchanged high-fives. Then they broke down Stewart's door with a battering ram.
The police claim to have knocked and announced themselves several times. But Stewart said he never heard them. He worked the graveyard shift at a local Walmart and was asleep at the time. Awaking to the sound of armed men storming into his house, he jumped out of bed, naked, threw on a bathrobe and grabbed his 9-millimeter Beretta.
Who shot first remains in dispute. But after exchanging fire with the officers for about 20 minutes, Stewart dove out a bedroom window and attempted to take shelter in the shed behind his house. The police opened fire on the shed, "lighting it up," as one officer later put it. Stewart, who had been shot in the arm and the hip, crawled out and surrendered.
One of the members of the strike force, Jared Francom, 30, had been shot seven times, and died at the scene. Stewart was arrested, taken to the hospital for his injuries, and charged with murder. Weber County Attorney Dee Smith speaks during a news conferenceFriday, May 24, 2013, in Ogden, Utah.
Francum's death elicited a wave of "cop killer" outrage directed at Stewart. Eight days after the raid, Weber County Attorney Dee Smith announced that he'd be seeking the death penalty. As more details emerged, however, a growing chorus of critics began to question whether the aggressive police tactics had really been necessary, and whether the battle on Jackson Avenue could have been avoided entirely.
"It's very clear that middle-of-the-night arrest warrant servings by armed officers need to be reconsidered," the editors wrote.
In the months following the raid, a number of other controversial police actions hit the news. Police in Salt Lake City broke into the home of a 76-year-old woman during a mistaken drug raid. A SWAT team in Ogden went to the wrong address in search of a man who had gone AWOL from the Army and ended up pointing its guns at an innocent family of four. Two narcotics detectives shot and killed a young woman in a suburb of Salt Lake City as she sat in her car.
Together, these incidents have spawned a budding police reform movement in Utah. At the head of it, Stewart's family members have been joined by a political odd couple: Jesse Fruhwirth, a longtime progressive activist rabble-rouser, and Connor Boyack, a wonky libertarian with a background in Republican politics. And independently, in Salt Lake City and Salt Lake County, the police chief and lead prosecutor have already begun to adopt some unconventional, reform-minded approaches to crime and punishment.
That Utah, one of the most conservative states in the country, would become a hotbed for police reform, is surprising. But these reformers have carefully crafted their approach, honed a message that seems to be resonating with the community, and won over some early converts. As botched raids and excessive SWAT-style tactics have gained increasing notoriety around the country, other communities may soon be looking to Utah as a model for less aggressive but more effective approaches to public safety.
The tip about the marijuana plants came from an ex-girlfriend of Stewart's named Stacy Wilson. They had dated for about a year and a half but broke up in the summer of 2010. Erna Stewart introduced them. "I still feel guilty about that," she says. "He caught her cheating on him, they broke up, and it ended really badly. She was angry with him. He was heartbroken. She tried to get him fired from his job. She really had it out for him."
Wilson reported Stewart to a tip line that the Weber-Morgan Narcotics Strike Force, a federally funded anti-drug task force that serves both counties, set up to collect information about illicit drugs.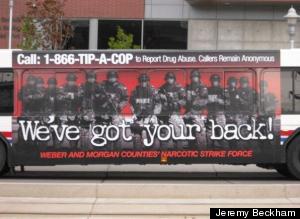 An ad for the Weber-Morgan Narcotics Strike Force.
In a bus ad promoting the initiative, the strike force members pose in full SWAT attire: armor, face masks, camouflage and guns. The tip line number is at the top of the ad, along with a plea for citizens to report "drug abuse," a term more often associated with drug use than with distribution. Below the photo, the ad reads, "We've got your back!"
According to police documents, Wilson called the tip line in November 2010, two months before the raid, and spoke with Officer Jason Vanderwarf. Vanderwarf visited Stewart's house three times, but no one answered. After finding what he described as signs of a marijuana grow, however, he filed an affidavit to get the warrant.
That appears to be the extent of the investigation. The police never ran a background check on Wilson to assess her credibility. In fact, after their initial conversation, Vanderwarf said that he was "unable to contact her." He later told investigators that "She kinda fell off the face of the earth."
Neither Wilson nor officials from the Ogden Police Department and Weber County Sheriff's Department responded to requests for comment.
There was also no investigation of Stewart himself, and the warrant makes no mention of any evidence that Stewart had ever sold drugs. The Salt Lake Tribune later obtained a threat assessment document -- the criteria some police departments use to determine whether to send a SWAT team, or to ask a judge for a no-knock warrant. For Stewart's case, all of the criteria -- the presence of dogs, weapons, surveillance and "other" factors -- were listed as "unknown."
As a result, when the members of the strike force moved on Stewart's house, they weren't wearing bulletproof armor or carrying the ballistic shields and powerful rifles typically used in SWAT raids.
"I don't think they thought anyone was living there," Erna Stewart says. "They called it a 'low-level' raid."
A few months earlier, Stewart's brother Gabriel -- his roommate at the time -- and some friends had gotten into an altercation at a party. The other men had followed Gabriel Stewart back to the house, where the fracas continued. After someone called the police, the men left -- but they promised to come back to burn down the house.
Matthew David Stewart played no part in the altercation, and he was asleep when it happened. But Gabriel told him about the threat later. "I think it may have been in his head when he woke up the night he was raided," Erna Stewart says.
Statements by Matthew David Stewart's neighbors support his assertion that he didn't know police officers were in his house. They told Stewart's attorneys and the local media that they heard gunshots first, then lots of yelling, but never any police announcement.
Photos of the police taken after the raid show strike force members wearing dark, dingy clothes. Some are wearing black hoodies. One is wearing a Cheech & Chong t-shirt. The police say the raid team wore bulletproof vests that clearly identified them as police, and removed them after the raid, before the photos were taken. But there's evidence that at least some of the officers weren't. One police dashcam video, for example, shows several of them scrambling back to their cars to get their vests after the shooting begins.
What is clear, however, is that if instead of raiding the house, the police had simply arrested Stewart as he was leaving to go to work, or as he was coming home, or even at his job at Walmart, there would have been two fewer funerals in Ogden.
Before the raid, Erna Stewart, 31, had considered becoming a cop. "I had done some ride alongs. I had bought my own gun, and I knew how to clean it. I was trying to figure out what I wanted to do with my life, and I thought I'd either be a police officer or a personal trainer."
She's now a personal trainer. "It wasn't even the raid itself that turned me off to cops," she says. "It was the way they treated my family after it happened. We got hate mail from cops and their families. I mean, the way we were treated in the community ... it just made me jaded. And angry."
It also motivated her. Soon after the raid, Erna quickly became the family's liaison to the press, and she's since become a leading advocate of reform.
In the days and weeks after the raid, the task force, the district attorney and other Weber County officials began to malign Matthew David Stewart in the media. A "source close to the investigation" first told the Ogden Standard-Examiner that police had found a picture of Stewart "dressed as a terrorist," and "posing in a suicide bomber's vest" in the house. The police reported that they had found a bomb in Stewart's closet and child pornography on his computer. Matthew David Stewart during the third day of his preliminary trial atSecond District Courthouse in Ogden on Nov. 2, 2012.
He was portrayed as a violent, anti-government extremist. Wilson, his ex-girlfriend, told investigators that Stewart had once told her that if the police ever came for his marijuana plants, he'd "go out in a blaze," and he'd "go out shooting." She claimed that he didn't believe the federal government had the authority to collect taxes, and that he had told her of plans to shoot up the IRS after he lost his job there working as a security guard.
Family members say that Stewart was a government skeptic who could sometimes indulge in conspiracy theories, but that Wilson and the police's portrayal of Matthew was an exaggeration.
"I know the drug war really bothered him," his father Michael says.
"He was passionate about the way the government was going. He didn't like it," Erna adds. "I remember he was really upset about what Obama was doing with indefinite detention. But he was never volatile about it. I think he just internalized it. It made him sad."
In one postcard he sent to his sister from jail, Stewart cautioned her against vaccinating her son, because, he explained, he didn't trust pharmaceutical companies. In another, he told her that despite his depression, he refused to take anti-depressants. He didn't trust them or the companies that made them.
Michael Stewart, a private investigator, says his son lost his security job for accessing IRS computers without authorization. "He worked the night shifts. He got bored. So he started surfing the web on the computers inside. He probably accessed some conspiracy websites," Stewart says. "That's what got him fired."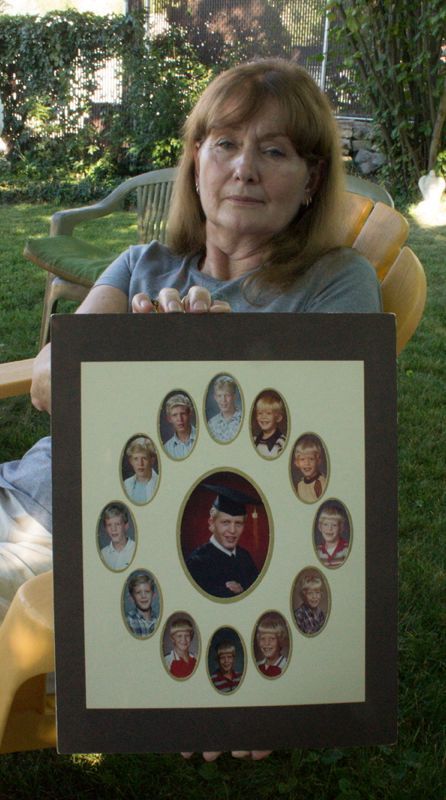 Sonja Stewart holds pictures of her son Matthew David Stewart.
"He would sometimes go on the Internet and read sites like Infowars. He'd start to question things like how 9/11 happened. I would get on him about it, because it always put him in a bad mood," Erna Stewart says. "But he never expressed any desire to hurt anyone."
The photo of Stewart dressed as a terrorist was actually him posing in an Osama bin Laden Halloween costume, his family says. Regarding the bomb that police allegedly found in a closet, an agent from the federal Bureau of Alcohol, Tobacco, and Firearms later told the Salt Lake Tribune, "to characterize it as a bomb or device is not accurate."
"He and his brother were trying to build smoke flares once. Remember, they were in the Army," Erna Stewart says. "So he probably had some chemicals to make smoke flares. That's probably what it was."
"Matt was really shy. He was introverted. A little nerdy. You could tell he was a child of the 80s," she says. "He wore his jeans up high, he liked video games and fantasy novels. We'd give him a hard time about it. Socially, he didn't have a lot of friends. But once he felt comfortable, he was the sweetest guy."
Stewart didn't do well in jail. Judging by the letters he wrote to his family, his mood clearly darkened as the months wore on. The jail conditions, the way the public perceived him, and the isolation began to break him down. At one point, the extremely fit former paratrooper told one of his sisters that he had quit exercising.
"Everyone says I'm looking great in the newspaper pictures of me. I see a man that was betrayed by someone he thought he loved, who's [sic] world was destroyed, where everything he once cared about was stolen from him, everything he found holy was defiled," he wrote. "Now he is locked in a box away from those he loves, with the worst weight on his shoulders."
In May, a judge ruled that the search warrant for Stewart's home and the raid were both legal -- a huge setback for Stewart's argument that he was acting in self defense. A little over a week later, at 12:50 a.m. on a Friday morning, a guard found Stewart hanging in his jail cell. His was the third suicide at the Weber County Jail in seven months.
"Matthew had his problems. He had severe social anxiety," Erna Stewart says. "And things got worse after the breakup. But we were working on all of that. He was getting so much better. He was doing so fricking good until all of this happened. He was going to the gym with us. He was laughing a lot. He was just doing so well."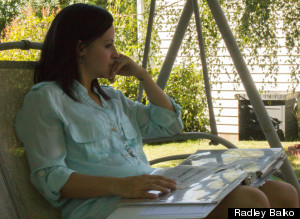 At a public forum in August, where this reporter also spoke as part of a book tour, Stewart fought back tears while talking about her late brother-in-law. She then quickly collected herself to confidently tick off a list of changes wants to see from area police.
She wants an end to home-invasion raids to serve search warrants for non-violent crimes. She wants more transparency. She wants a civilian review board, so police accused of wrongdoing aren't investigated by their fellow cops. The audience bathed her with applause.
Stewart says her role as family spokesperson -- and later, as a voice in the broader reform movement in Utah -- came naturally. "I knew that no one in the family was fully operational after the raid," she says. "So I had to step up. I've always been outspoken, and not easily intimidated. And the more and more I got involved, the more I thought this is where I belong."
In August, Stewart received a phone call from the Ogden police. More than 19 months after the raid, they were calling to let her know that, despite their earlier allegations, they had never actually found any child pornography on her brother-in-law's computer.
"That's about par for the course," she says. "They told the world he was a pedophile, attacked him in the press. Now, months after he's dead, they quietly call to say they were wrong."
HuffPost writer and investigative reporter Radley Balko is also the author of the new book Rise of the Warrior Cop: The Militarization of America's Police Forces.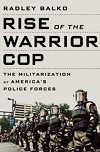 Before You Go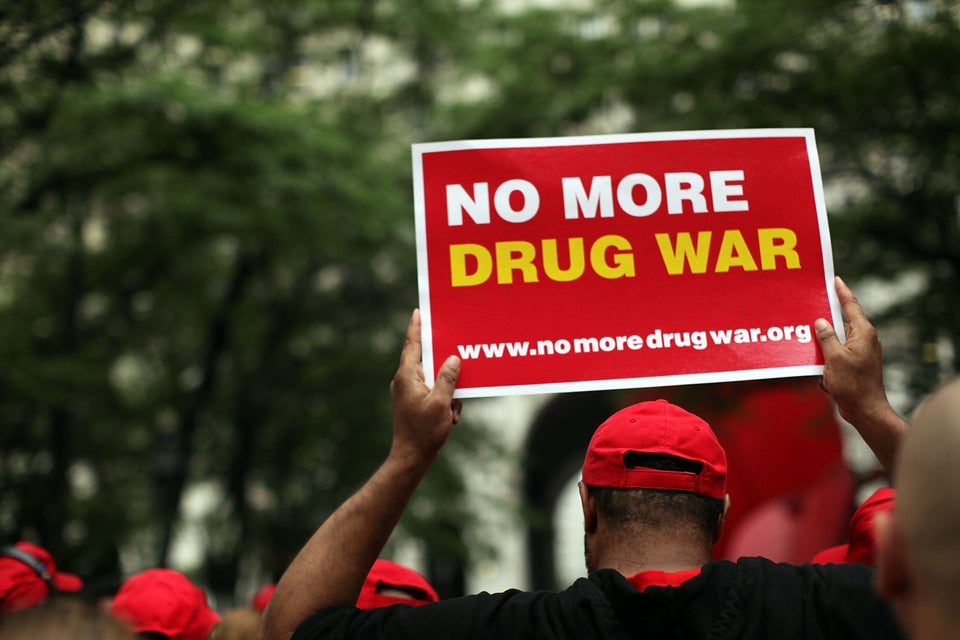 27 Reasons Why The U.S. Shouldn't Lead The War On Drugs
Popular in the Community